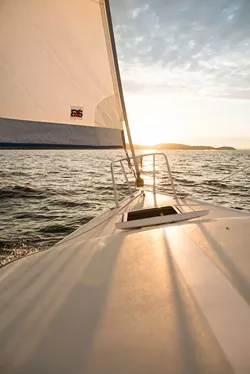 As the 13th largest lake in the U.S., Lake Champlain truly shines in the summertime. Its sparkling blue waters can accommodate just about everyone who wants to dive in.
No, really: If every single Vermonter — about 626,000 residents — were to jump into Lake Champlain at once, the level of the lake would rise a scant 3.68 micrometers.
So if you're summering in Vermont, there's no excuse not to explore this beautiful body of water. From swimming to snorkeling to sailing, there are many ways to get your feet wet. Read on for a sampling. Bon voyage!
Swimming
Monica Donovan
Diving into Vermont's waters
The simplest way to commune with Lake Champlain is just to don a swimsuit and jump in. But first, you'll need to know where to go.
This isn't Florida, but the Burlington area has several hot spots for beachcombers. South Burlington's Red Rocks Park is known for its wooded paths and dramatic cliffs but is also home to a waterfront with excellent views.
Close to downtown is Oakledge Park, a favorite place for swimming, picnicking, barbecuing and people watching. North of downtown, swimmers can jump in the lake at Leddy Park, which is often less crowded than other city beaches. If the sun's too strong, cool off inside Leddy's ice-skating arena.
The biggest of Burlington's beaches is 45-acre North Beach, a popular spot among campers, RV owners and daytrippers. Right on the sand, the Beach House restaurant serves up everything from gyros to hot dogs to curries. No wonder this sandy strip is always packed; the lakeside location is hard to beat.
Snorkeling & Scuba Diving
For underwater fun, head to Burlington's Waterfront Diving Center. It rents and sells all the flippers, face masks and rebreathers you'll need for snorkeling or scuba diving in Lake Champlain. The shop also offers a wide variety of classes, from an introductory snorkeling clinic to a master scuba-diver course, and even charters boats to dive sites near the lake's historic shipwrecks. More than 300 sunken ships sit below the surface, largely intact in the cold, dark water. To view them without getting wet — and to learn their fascinating stories — take a shipwreck boat tour ($15-39) at the Lake Champlain Maritime Museum, located 30 miles south in Vergennes.
Standup Paddleboarding
Stephen Mease
Paddleboarding at the Burlington waterfront
Standup paddleboarding (SUP) is a hybrid of surfing, kayaking and a core workout. Ali Marchildon, "chief wahine" at Burlington's WND&WVS shop, calls it "the fastest-growing water sport in the world." It's caught on in Vermont, and for good reason: Gliding over Lake Champlain's glossy surface, with the mountains and city rising around you, is undeniably appealing.
"It's very accessible and, really, anybody of any age and any fitness level can find success right off the bat," Marchildon says. "You don't need a huge amount of practice or lessons in order to have fun doing it."
Besides selling and renting SUP gear, WND&WVS offers courses and free SUP demos twice a week. Paddlesurf Champlain hosts a weekly group paddleboard tour that departs from Burlington's Oakledge Park. Its SUP lessons cost $30 per hour; board rentals are $15 per hour and $55 for the whole day.
Jet Skiing
Jet Skis are the motorcycles of the water: fast, loud and show-offy. For daredevils who love to feel the wind in their face, they're also an easy and exhilarating way to explore the shoreline, drop anchor for a swim and dock for a snack-bar break — all in the course of an afternoon.
Check out Sail Lake Champlain in Isle La Motte, an hour north of Burlington. Depending on the vehicle's size, $75 or $90 will get you an hour of Jet Ski time. With quieter waters and stunning views, the Champlain Islands are an ideal place to zip around.
Kayaking, Canoeing & Dragon Boating
Courtesy Of Dragonheart Vermont
Lake Champlain Dragon Boat Festival
If you prefer to explore the lake at a leisurely pace — appreciating the curves of the shoreline, watching the sun glint off the water's ripples — opt instead for a boat with paddles. Canoes and kayaks are in ample supply in Vermont, and renting is affordable.
Umiak Outdoor Outfitters bills itself as Vermont's leading paddle sports shop. Kayak rentals, which Umiak offers at Burlington's North Beach, range from $20 for two hours to $50 for six; canoe rentals also top out at $50.
Would you rather share your boating experience with all of your friends? Consider Vermont's dragon boat scene. These long paddleboats — with an ornate dragon head at the bow and tail at the stern — seat up to 20 people and congregate at the annual Lake Champlain Dragon Boat Festival, which raises funds for cancer survivors. Sign up to participate in the August 2 event at Burlington's Waterfront Park, or cheer on the spectacle from the boardwalk.
Boating
Oliver Parini
Powerboating on Lake Champlain
Not interested in paddling? Opt for a powerboat rental. It practically guarantees a sunny summer afternoon's enjoyment.
In Colchester's Malletts Bay, just a short drive north from downtown Burlington, Bay Harbor Marina has four powerboats for rent: two 17-foot bowriders with inboard/outboard motors, and two 21-foot, 50-horsepower pontoon boats. Check with the marina for current rates. In North Ferrisburgh, Marine Plus has six powerboats for rent, ranging from a 14-footer with a 9.9-horsepower engine to a 260-horsepower, 22-foot craft. Daily rates range from $165 to $350; fuel and launch fees are extra.
Want to feel the wind in your sails? Burlington's Lake Champlain Community Sailing Center offers classes for all levels, in small dinghies up to 23-foot keelboats. An hour's rental is $30 to $55. If you're here for a longer visit, check out the season passes.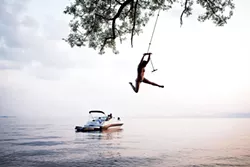 Monica Donovan
Rope-swinging into Lake Champlain
Lake Champlain, unofficially known as the sixth Great Lake, is vast. Where to pilot your boat once you've rented it? In addition to the sparsely populated Champlain Islands, Valcour Island — about 30 miles north of Charlotte on the New York side — is a popular spot. This uninhabited island offers hiking trails and plenty of interest for the history buff, as it figures into the story of Revolutionary War traitor Benedict Arnold. Wherever you go, keep an eye out for Champ, the legendary lake monster.
If you're content to let someone else drive, consider calling up Burlington's Whistling Man Schooner Company. In addition to offering daily cruises during the summer sailing season, Captain Mike Crowley hires out his boat, the 43-foot-long Friend Ship, for private functions of up to 17 passengers. Rates range from $370 for an eight-person, two-hour cruise on a weekday to $1,920 for a 12-person, eight-hour cruise on a weekend. BYOB!
Finally, for those who wish to see the lake in style and comfort, Northern Lights and the Spirit of Ethan Allen offer scenic cruises with all the amenities. These large tourist boats gently ply the lake multiple times a day, serving up food, drink and, often, musical entertainment. Both lines offer cruises of various durations and costs, as well as the option to charter their boats and even to rent them out for weddings. Ahoy!
Profitez du lac Champlain cet été
Treizième plus grand lac aux États-Unis, le lac Champlain brille de mille feux l'été venu. Tous ceux qui souhaitent y plonger peuvent profiter de ses flots bleus scintillants.
Et je n'exagère pas! Si tous les habitants du Vermont — soit environ 626 000 personnes — s'y baignaient en même temps, le niveau du lac monterait d'à peine 3,68 micromètres.
Si vous passez l'été au Vermont, vous n'avez donc aucune excuse pour ne pas explorer ce magnifique plan d'eau. Baignade, plongée en apnée, voile, tous les moyens sont bons pour vous mouiller. Lisez ce qui suit pour en savoir plus. Bon voyage!
Baignade
La façon la plus simple de profiter du lac Champlain, c'est d'enfiler son maillot et de sauter dans l'eau. Mais encore faut-il savoir où aller.
Ce n'est pas la Floride, mais la région de Burlington offre plusieurs lieux de baignade intéressants. Au sud, le parc Red Rocks est réputé pour ses sentiers boisés et ses falaises escarpées, mais aussi pour son accès au lac offrant de magnifiques panoramas.
Près du centre-ville, le parc Oakledgeest un formidable endroit pour se baigner, pique-niquer, faire un barbecue et observer les passants. Plus au nord, les baigneurs peuvent sauter dans le l'eau au parc Leddy, souvent moins fréquenté que les autres plages urbaines. Si le soleil est trop fort, il est possible d'aller patiner à l'aréna du parc.
La plus grande plage de Burlington, North Beach, s'étend sur 45 acres et est très prisée des campeurs, des amateurs de véhicules récréatifs et des excursionnistes. Campé directement dans le sable, le restaurant Beach House sert de tout : gyros, hot-dogs, caris, etc. Pas étonnant que cette bande sablonneuse soit toujours bondée : ce paradis riverain est dur à battre!
Plongée en apnée et en bouteille
Pour vous amuser sous l'eau, rendez-vous au Waterfront Diving Center de Burlington. Vous pourrez y louer ou y acheter palmes, masques, appareils à circuit fermé et tout le nécessaire pour faire de la plongée en apnée ou en bouteille au lac Champlain. On y offre également un large éventail de cours, tant pour les débutants que pour les experts, et des bateaux nolisés pour se rendre aux sites de plongée situés à proximité d'épaves historiques. Plus de 300 navires reposent largement intacts sous les eaux froides et sombres du lac Champlain. Pour en apprendre davantage sur ces histoires fascinantes sans vous mouiller, réservez une croisière d'interprétation (de 15 à 39 $) au Lake Champlain Maritime Museum, à 48 km au sud, à Vergennes.
Planche à rame
La planche à rame est un hybride du surf, du kayak et de l'entraînement du tronc. Selon Ali Marchildon, « vahiné en chef » à la boutique WND&WVS de Burlington, il s'agit du « sport aquatique connaissant l'essor le plus rapide dans le monde ». S'il a tout de suite trouvé des adeptes au Vermont, ce n'est pas par hasard : en effet, glisser sur la surface lisse du lac Champlain, avec les montagnes et la ville en arrière-plan, voilà une perspective plutôt attirante.
« C'est un sport très accessible, dit Ali. N'importe qui, peu importe son âge ou sa forme physique, peut le maîtriser rapidement. Pas besoin d'avoir beaucoup de pratique ni de suivre de nombreux cours pour y prendre plaisir. »
En plus de vendre et de louer de l'équipement, WND&WVS offre des cours et des démonstrations de planche à rame gratuites deux fois par semaine. Paddlesurf Champlain propose une excursion de groupe hebdomadaire au départ du parc Oakledge à Burlington. Ses cours de planche à rame coûtent 30 $ l'heure. On peut y louer une planche pour 15 $ l'heure (55 $ pour toute la journée).
Motomarine
Rapides, bruyantes et un peu « m'as-tu-vu », les motomarines sont essentiellement des motos aquatiques. Pour ceux et celles qui aiment sentir le vent dans leur visage, elles constituent un moyen facile et exaltant d'explorer la côte, de s'arrêter pour un brin de baignade et d'accoster pour manger et boire — tout ça dans un après-midi.
Arrêtez-vous à Sail Lake Champlain, à l'Isle La Motte, à une heure au nord de Burlington. Selon la taille de l'engin, vous pourrez profiter d'une heure de motomarine pour 75 $ ou 90 $. Les îles du lac Champlain, caractérisées par des eaux plus calmes et des vues superbes, sont l'endroit idéal pour une excursion.
Kayak, canot et bateau-dragon
Si vous préférez explorer le lac plus doucement — en appréciant les sinuosités de la côte et l'éclat du soleil sur les flots ondulants —, optez plutôt pour une embarcation à pagaies. Les canots et kayaks ne manquent pas au Vermont, et la location est abordable.
Umiak Outdoor Outfitters se targue d'être la meilleure boutique de sports de pagaie au Vermont. La location de kayaks, à partir de North Beach à Burlington, coûte 20 $ pour deux heures et 50 $ pour six heures. Pour louer un canot, il vous en coûtera également 50 $ maximum.
Pour vivre une expérience nautique avec tous vos amis, songez au bateau-dragon. Ces longues embarcations à pagaies — ornées d'une tête et d'une queue de dragon à l'avant et à l'arrière — peuvent accueillir jusqu'à 20 personnes. Le Festival annuel de bateaux-dragons du lac Champlain est l'occasion d'un grand rassemblement de ces bateaux dans le but de recueillir des fonds au profit des survivants du cancer. Inscrivez-vous à l'événement, qui se tiendra le 2 août au parc Waterfront de Burlington, ou encouragez les participants depuis la promenade.
Bateaux
Manier la pagaie, ce n'est pas pour vous? Louez plutôt un bateau à moteur. Plaisir garanti par un bel après-midi d'été!
À Mallets Bay, dans la municipalité de Colchester, situé à une courte distance en voiture du centre-ville de Burlington en allant vers le nord, la marina Bay Harbor a quatre bateaux à moteur en location : deux à pont ouvert de 5,1 mètres avec moteurs en-bord/hors-bord et deux bateaux-pontons de 6,4 mètres et de 50 HP. Vérifiez auprès de la marina pour connaître les tarifs courants. À North Ferrisburgh, Marine Plus a six bateaux à moteur en location, allant de l'embarcation de 4,2 mètres avec moteur de 9,9 HP à celle de 6,7 mètres avec moteur de 260 HP. Les tarifs quotidiens vont de 165 $ à 350 $ (carburant et mise à l'eau en sus).
Pour avoir le vent dans les voiles, le Lake Champlain Community Sailing Center de Burlington offre des cours de voile pour tous les niveaux, que ce soit dans de petits dériveurs ou des quillards de 7 mètres. La location pour une heure va de 30 $ à 55 $. Si vous êtes là pour un plus long séjour, envisagez un permis de saison.
Le lac Champlain, qu'on considère parfois comme le sixième Grand Lac, s'étend à perte de vue. Où mettrez-vous le cap une fois votre bateau loué? Outre les îles du lac Champlain, très peu peuplées, l'île Valcour — à environ 48 km au nord de Charlotte, du côté de l'État de New York — est un lieu prisé. Cette île inhabitée offre des sentiers de randonnée et une foule d'attraits pour les mordus d'histoire. Elle est notamment liée à Benedict Arnold, connu pour sa trahison durant la guerre d'indépendance des États-Unis. Peu importe votre destination, gardez l'œil ouvert, car vous pourriez apercevoir Champ, le monstre légendaire du lac.
Si vous préférez vous laisser conduire, allez voir du côté de la Whistling Man Schooner Company, à Burlington. En plus d'offrir des croisières quotidiennes durant l'été, le capitaine Mike Crowley loue son bateau de 13 mètres, le Friend Ship, pour des excursions privées pouvant accueillir jusqu'à 17 passagers. Les tarifs vont de 370 $ pour une croisière de 8 personnes pendant 2 heures la semaine à 1 920 $ pour une croisière de 12 personnes pendant 8 heures le weekend. Apportez vos boissons!
Enfin, pour ceux qui souhaitent découvrir le lac dans le luxe, le Northern Lights et le Spirit of Ethan Allen offrent des croisières panoramiques grand confort. À bord de ces imposants bateaux de plaisance, qui fendent doucement les flots plusieurs fois par jour, on peut boire, manger et, bien souvent, profiter de spectacles musicaux. Des croisières de différentes durées sont offertes (les coûts varient), et vous pouvez même noliser un bateau, que ce soit pour un mariage ou un autre événement. Tout le monde à bord!