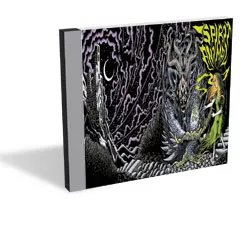 (Bear Minimum Records, CD)
Through the late 1980s and early '90s, hardcore and punk rock adopted a sensitive side: emo. Washington, DC's Rites of Spring opened the floodgates, and emo eventually bloomed into a commercial success. The music industry capitalized on this untapped genre and swept its original intent under Hot Topic's rug.
Burlington's Spirit Animal are here to keep it real. Closer stylistically to those early punk pioneers than to the current generation of chart climbers, Spirit Animal have emerged as a newly refined beast. Their new five-song, self-titled EP is quick and concise and drives with passion.
The compositions here are tight and catchy. Although at times teetering on the line of mainstream, the band doesn't cross it. Spirit Animal have traded in the raw breakdowns of their first release, Pizza Party, for a more focused sound. It seems a natural evolution.
The opening song, "Wind," begins much differently than fans might expect; forceful vocals immediately announce a new chapter for Spirit. But as the song progresses, characteristically emotive guitar melodies ground it back to the band's familiar style.
The members of Spirit Animal are childhood friends — and two of them siblings — which suggests a comfortable chemistry. Drummer Dan Smith stamps this outing with confidence and dexterity. Rhythm guitar player John Flanagan (ex-In Memory of Pluto) gives the EP an overall rounded feel, while lead guitar player Bill Jandl peppers it with tasteful melodies. Vocal duties are shared between him and Zach Jandl. The brotherly duo — who played in IMOP with Flanagan — meld together strongly with equally bold deliveries.
The EP's production is to be applauded, as well. Vocals, although considerably affected, blend seamlessly over animated guitars. The bass and drums form a tight, relentless machine throughout.
"Teeth," the EP's pinnacle song, clearly illustrates the new direction of Spirit Animal. It soars with purpose and leaves an impression in barely more than two minutes. The song showcases Zach Jandl's prominent vocals, while leaving room for a sonic backdrop of unpredictable but refreshing progressions.
It is difficult to determine where the band's musical roots were cultivated, and that's a good thing. Borrowing hooks from the likes of Texas Is the Reason, with riffs in the vein of the Foo Fighters and At the Drive-In, Spirit Animal have broad appeal.
Spirit Animal leaves you with the feeling that the band is on to something great — they may well be packing shows beyond Burlington in years to come. In fact, one of the band's strengths is its live show. See for yourself at Spirit Animal's EP release party this Saturday, February 25, at Burlington's BCA Center.