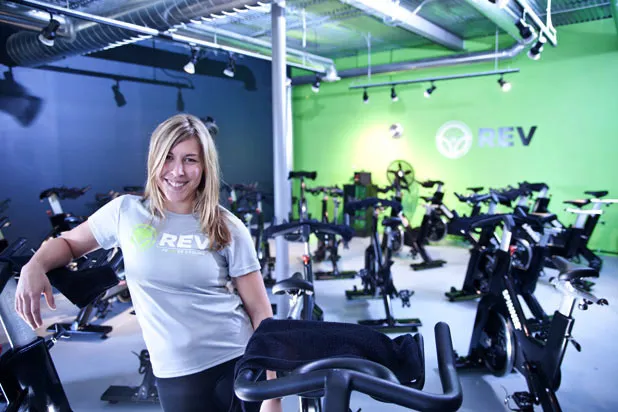 Matthew Thorsen
Sarah DeGray
A new beat thumps from 696 Pine Street in Burlington, and it's not the hip-hop dancers at nearby South End Studio, the frozen-yogurt machines at SoYo or clanging dishes at New World Tortilla. It's AC/DC's "Back in Black" pounding from instructor Sarah DeGray's iPhone as she leads a dozen riders through the very first class at REV Cycling Studio.
As one of the slightly saddle-sore participants on a Spinner bike, I have little time to fantasize about the burritos and fro yo that may await me after class. Instead, I'm frantically adjusting my resistance, pedaling furiously and, yes, having fun while listening to DeGray and her equally inspiring music, which ranges from Flo Rida to Madonna.
"You guys are beautiful, keep it up!" shouts this 28-year-old former federal legal assistant through her headset. She's spinning her own bike on a platform in the neon-green, gray and black studio, a 1200-square-foot space so new that the glue is still drying in certain spots. "I love you even if you hate me!" DeGray adds.
She's working us hard, but we don't hate her. Because what thousands of avid Vermont cyclists actually do hate is the seasonal switch from taking long summer rides on smooth, farm-lined roads to going literally nowhere on a trainer, alone at home.
While nearly every local gym offers some sort of spinning class, it's hard to justify the cost of a health-club membership just to fight for a seat once a week. Enter REV, which aims to revolutionize how Chittenden County stays cycling not just in the winter, but beyond — hence the tagline "foREVer cycling."
Gyms devoted to indoor cycling have been multiplying in other cities. SoulCycle, started in 2006, now has studios on both U.S. coasts, while similarly styled Flywheel has expanded as far as Dubai. Other urban gyms are sweating to catch up with these studios, which boast instructors with personalities as attractive as their calorie-burning workouts.
That kind of magnetism makes DeGray just the right, ahem, fit to bring Burlington its first dedicated, boutique-style indoor cycling studio. She grew up in Brattleboro and has lived in the Queen City on and off between political science studies at Hobart and William Smith Colleges (bachelor's) and the New School (master's). During several years working as a legal assistant, U.S. Senate intern and paralegal, DeGray kept thinking about the feeling she had after a spinning class she took at the Maastricht Athletic Club while studying in the Netherlands in 2005.
"I absolutely loved it," DeGray recalls of learning to spin in Dutch — and losing 20 pounds. "The music was exhilarating … the great thing about fitness is that it transcends even language barriers. I was hooked even without fully understanding the language being spoken to me. I felt it in my body, and I saw the changes physically."
In DeGray's studio, I can understand the language being spoken — it's about intervals, high intensity and low impact.
DeGray discovered the empty space while driving down Pine Street last spring and enlisted her friend, photographer and part-time DJ Jonathan Couture, to transform it into a blend of industrial chic, state-of-the-art gym and hip nightclub style. Tucked behind a wall of handsome blond-wood cubicles, near two artfully draped changing areas, are 20 Spinner bikes, which DeGray retrofitted herself after finding them in California. An electric-chartreuse wall provides a jolt of energy.
"I've been all about the green since the beginning," DeGray explains. "The color to me is just fierce energy and happy … it's what REV is all about."
REV is also all about the music, which in our initial class includes Florence & the Machine, Coldplay, Annie Lennox and Snoop Dogg. "I'm a total music person," DeGray says, and promises theme classes ahead featuring '80s music, disco and Lady Gaga.
DeGray coaxes us to let our feet find the beat, which helps us whether we're standing on our pedals to ramp up for an intense "hill climb," or recovering on a "flat road." There are occasional happy whoops and hollers from my fellow participants, including triathlete Nancy Ovitt. She's one of four other instructors whom DeGray has recruited to staff the various classes at REV, which are held every day. Classes focus on interval training, uphill rides and endurance regimens.
While SoulCycle and Flywheel charge upwards of $30 for a class, at REV a single ride is $15; a 50-ride pass costs $450, or $9 per ride. There's a 10 percent discount for students, teachers and federal employees, perhaps reflecting DeGray's recent stints in academia and law.
For now, she's put those pursuits on the back burner. "I know people who wake up at age 50 and say, 'Shoot, I didn't follow what I wanted to do,' or they wait until retirement for their hobby," she says. "I just didn't want to wait that long. I'm already in debt with student loans, and I thought, I can go into deeper debt and go to law school and be unhappy, or I can go into deeper debt and try this and at least be happy — broke and happy."
By the time DeGray tells us there are only two songs left in the hour-long class, I'm feeling happy, too. I may even be hooked, though I haven't pushed myself hard enough to get the "runner's high" that DeGray swears she feels after a tough climb or a sprint on the bike.
Hurricane Sandy pushed back her official grand opening to November 12, but DeGray says she timed the debut of REV to coincide with some of the darkest days for Vermonters seeking fitness options. "It's great for athletes who are cross-training; it's great for novices; it's great if you are recovering from injury," she says. "You can tailor your ride to your individual fitness level, yet you have the energy of the group and the instructor to help you get through the class and challenge yourself."
Beyond fitness, DeGray says she hopes to see REV become a community-building social space. "I want people to come here and let down their hair, leave their stress at the door and sweat it out on my floor," she says.
Indeed, as the last lines of David Guetta's remix of "Sweat" blast from the stereo, there's a surprising amount of cumulative perspiration, considering the 30-degree temperature outside.
"That wasn't so bad, was it?" DeGray asks, beaming. "You guys kicked ass!"
REV Cycling Studio, 696 Pine Street, Burlington. Open daily; hours and class times vary; single ride $15, 50 for $450. Info, 585-1013. revindoor.com