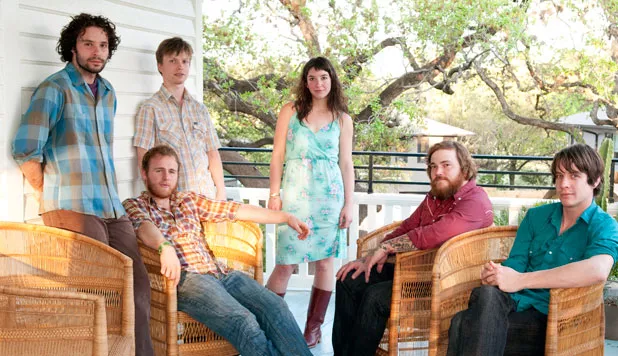 If you ever needed proof that success can be bittersweet, just ask Blind Pilot of Portland, Ore. The band has been touring relentlessly since 2006, canvassing the West Coast several times over … on bicycles. But as their debut album 3 Rounds and a Sound began to attract national acclaim and the chamber-pop duo grew to a six-piece, they found themselves playing larger and larger stages alongside such notable folks as Andrew Bird and The Decemberists. The time came to put away childish things, which for these cycling enthusiasts meant trading in two wheels for four. At least for now.
In advance of their upcoming performance at the Higher Ground Showcase Lounge, Seven Days caught up with Blind Pilot drummer and cofounder Ryan Dobrowski by phone from a rest stop in Texas where the band was — sigh — gassing up the van.
SEVEN DAYS: Now that Blind Pilot are touring by more conventional means, do you find yourself missing the old bike-touring days?
RYAN DOBROWSKI: Oh, sure. That was part of the initial reason we started this whole project. I mean, not the whole reason, but a big part. And while we're really excited that people all over the place want to hear the music and we're able to just tour, I think spending a day riding bikes is a lot more enjoyable than sitting in a van.
SD: Did those experiences shape what the band has become?
RD: I think so. There's that sense of not wanting to do things in certain ways that the music industry is set up [for]. We want to continue touring as much as possible, but we want to keep it exciting and enjoyable for all of us. So, after we get the next album recorded, I think we're planning on doing another bike tour between the time that the album is finished and when it is actually released.
SD: You are now touring as a six-piece. Is it challenging to rearrange the songs for a larger ensemble?
RD: Not really. That's one of the most exciting things. The way we had originally structured [the songs] to work was just guitar and drums. But the other players are really mindful of that. And it's been exciting to see the way the songs change. But the core is good enough that it doesn't just sound like a mess of instruments onstage.
SD: Back in the day, you used to play with some of the guys from Starfucker. So, were you as bummed as I was that they changed their name to Pyramiddd?
RD: [laughs] Well, I think it's funny more than anything. Because Josh [Hodges, Starfucker/Pyramiddd] for the longest time was so anti-mainstream and always in search of "anti-success," in a way. He really wanted the music to stay pure. So, yeah, it makes sense to me. But it's more comical than anything, knowing who Josh is and that all of those things are a lot easier to say when you're in that position. But as soon as someone waves some money in your face, then your ideas of what is right and wrong change all of a sudden.
SD: I did think it was kinda funny that they changed their name, and then you started hearing them in Target ads on TV.
RD: Yeah.
SD: Well, we all gotta eat, right?
RD: Yeah, we do. Did they change it to Pyramiddd? That's a good name.
SD: It's all right, I guess. And there was another Starfucker.
RD: I would think there would be a few other "pyramids," too. It seems like there are bands with every name out there … There was another Blind Pilot in England for awhile. They recently changed their name, though.
SD: Really? How did that work?
RD: It was sort of funny. We almost didn't go with the name … But between that first tour and releasing 3 Rounds and a Sound, all these other Blind Pilots had popped up on MySpace, which was a little discouraging. So we were considering changing our name. But it seemed like a foolish thing in the end … Even though it might not have been the best name in the world, it was our band name and that's what it was. And now all of the other Blind Pilots have disappeared, I guess.
SD: Well, you could always just change it to Starfucker.
RD: [laughs] That's true! That's available now.