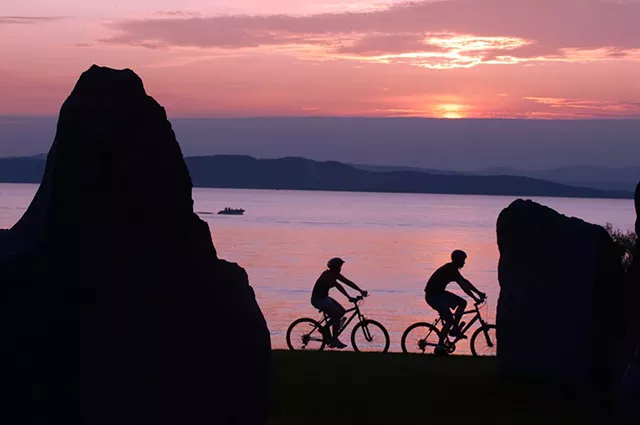 Caleb Kenna
Oakledge Park
Boats were the transportation of choice for early Vermont explorers such as Samuel de Champlain — Lake Champlain's namesake. Today, however, the best way to cruise around Burlington is on two wheels. An extensive network of dedicated routes makes biking popular among locals and tourists alike.
Free from cars, the Burlington Bike Path stretches eight miles along Lake Champlain, linking parks, pit stops and perfect photo ops. It's also part of a 10-mile self-guided biking loop called Cycle the City, promoted by Local Motion, Burlington's advocacy group for people-powered transportation. To rent bikes and grab a map, stop by Local Motion's Trailside Center, located right on the bike path at 1 Steele Street, Suite 103, or visit localmotion.org. Once you've got your wheels, let the sightseeing begin.
Fuel Up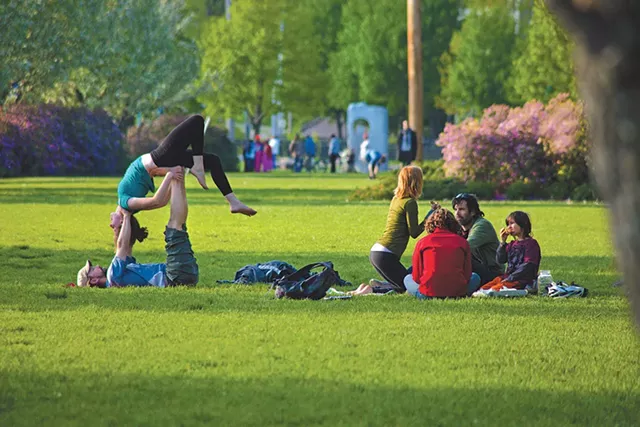 Matthew Thorsen
Waterfront Park
Need a jolt of caffeine for the day ahead? Order an artfully prepared cappuccino and a pastry at Maple Street's Maglianero café. Its name refers to the black jersey (maglia nera) awarded to the last finisher in the long-standing Giro d'Italia cycling event. Let that serve as a reminder that it's OK to take your time on this journey.
From there, it's a quick pedal to join the bike path. Head north toward Waterfront Park, a grassy space with 900 feet of lakeshore. Stay on the trail, as bikes aren't allowed on the pedestrian-heavy boardwalk, but make a mental note to return later for a stroll and a stop at Splash at the Boathouse. Open for the season in May, the restaurant overlooks bobbing boats and is a favorite spot for cocktails, seafood and sunsets.
Tour the Shore
caleb Kenna
Burlington bikeway
North of Waterfront Park, the bike path shimmies past the brand-new Burlington Skate Park and the Community Sailing Center. A small incline leads to North Beach. Along the sandy shoreline, you'll find picnic shelters, a snack bar serving top-notch cheese fries and other fast food, and kiosks for kayak rentals and bike service, should you need it. There's a 45-acre campground here, too, with 69 tent sites.
The quieter Leddy Beach, another 1.5 miles up the bike path, has a 1,500-foot swath of sand to sink tired toes into, plus tennis courts and an ice rink. When the weather is warm, detour here for a secluded swim before the Cycle the City loop veers east to the Ethan Allen Tower. This medieval-looking structure was actually built from local red stone in 1905, on land once belonging to Revolutionary War hero Ethan Allen. The memorial opens for the season on Mother's Day. (Call 802-864-0123 to confirm schedule.)
Island Getaway
Jeb Wallace-Brodeur
Colchester Causeway
Not much of a history buff? Skip the tower and stray from the Cycle the City route by continuing up the bike trail to Charlie's Boathouse. With picnic tables, a porch swing and chatty owners, it's a fine place to gaze at the lake and pause for a snack. Then it's over the Winooski River Bridge to the Colchester Causeway you go.
This five-mile gravel stretch — once a railbed — juts into Lake Champlain for incredible views on both sides. But the Causeway stops just 200 feet short of linking to the scenic Lake Champlain Islands. For fantastic biking along island beaches, farms and vineyards, you'll need to hop aboard Local Motion's Island Line Bike Ferry. It runs from 10 a.m. to 6 p.m. on Fridays, weekends and holidays starting May 27, and then seven days a week during the summer. Round-trip tickets are $5 to $8; kids under 7 are free.
Going 'Nowhere' Fast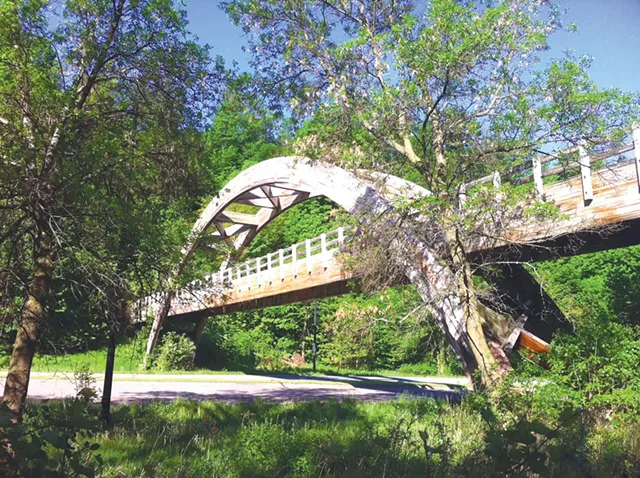 Burlington's bridge to nowhere.
Back on the Cycle the City loop, you'd be remiss to roll by the "Bridge to Nowhere" without stopping. Don't bother trying to cross this soaring wooden arch; due to well-intentioned laws gone awry, the local oddity leads … nowhere. But it's worth a pause to ponder what could have been.
At the nearby Intervale Center, 11 farms grow everything from asparagus to zucchini on 700 acres of rich, river-fed soil. Even richer are the community gatherings here, which draw more than 8,000 residents for food and concerts in the warm-weather months. Park your bike for a free public tour of the Intervale on the fourth Friday of the month from April through October. Or explore at your leisure, visiting Half Pint Farm for heirloom tomatoes or Sugarsnap for gooseberries.
Hilltop Education
From low farmland, climb back up into the city, past the Mount Calvary and Greenmount cemeteries to the brick buildings of the University of Vermont. Here, the Fleming Museum of Art displays 25,000 objects of art and anthropology, and the burial place of John Dewey honors the Burlington-born educator and philosopher.
Continue your college tour with a wheel through Champlain College and a look at Coolidge Hall, where Vermont-born President Calvin Coolidge was married in 1905. Then hit the brakes for the steep spin down Maple Street to rejoin the bike path at Perkins Pier.
Colorful Cooldown
Your loop is complete, but no sightseeing trip would be without a creemee — the Vermont nickname for soft-serve ice cream. It's a short spin to Burlington Bay Market & Café, where the creemee window is a local landmark and the best-selling flavor is a delicious maple. From the spacious outdoor patio, the color-soaked sunsets over the lake are even better.
Get Into Gear
Local Motion, 1 Steele Street, Suite 103
Adult bikes, tandem bikes, kids' bikes, trailers and tag-alongs. $18-42 rentals for up to four hours.
North Star Sports, 100 Main St.
Adult bikes, kids' bikes, trailers and repair kits. $15-50 rentals for up to four hours.
Skirack, 85 Main Street
Adult bikes, kids' bikes and trailers. $25-50 rentals per day.
---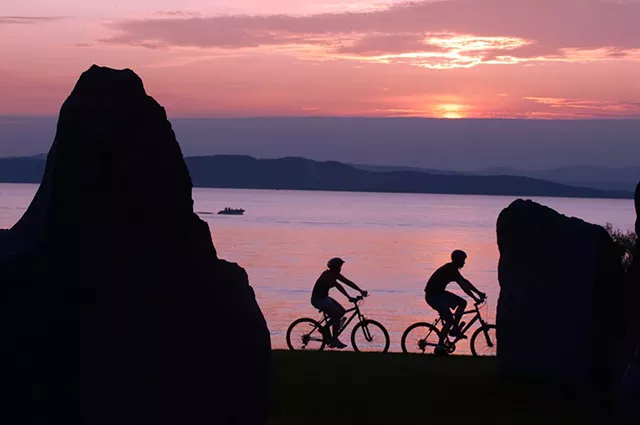 Caleb Kenna
Oakledge Park
À l'époque des grands explorateurs comme Samuel de Champlain — qui a donné son nom au célèbre lac —, les bateaux étaient le moyen de transport par excellence. De nos jours, la meilleure façon de se déplacer dans la région de Burlington, c'est sur deux roues. Grâce à un vaste réseau cyclable, le vélo est très populaire auprès des gens du coin et des touristes.
Interdite aux voitures, la piste cyclable de Burlington, qui s'étend sur 13 km le long du lac Champlain, passe par des parcs, des aires de repos et une foule de lieux parfaits pour la photo. De plus, elle fait partie d'un circuit en boucle autoguidé de 16 km, appelé Cycle the City, dont Local Motion, groupe en faveur du transport non motorisé à Burlington, fait la promotion. Pour louer un vélo et vous procurer une carte, passez par le Trailside Center de Local Motion, situé à droite de la piste cyclable au 1 Steele Street, Suite 103, ou visitez localmotion.org. En selle? C'est parti!
Faites le Plein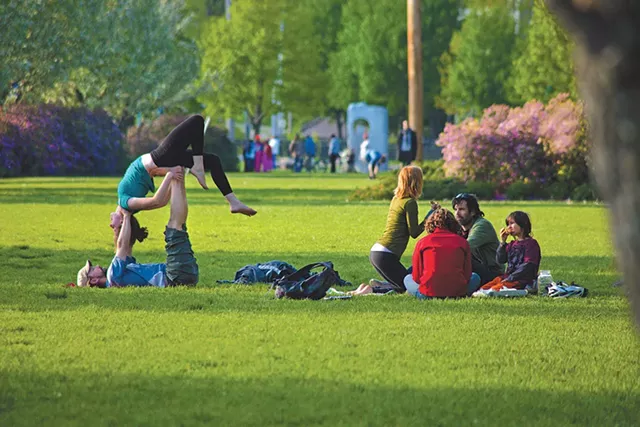 Matthew Thorsen
Waterfront Park
Besoin d'une dose de caféine avant d'attaquer la journée? Commandez un cappuccino superbement décoré et une pâtisserie chez Maglianero, sur Maple Street. Le nom de ce commerce évoque le maillot noir (maglia nera) remis à la dernière personne qui franchit la ligne d'arrivée du Giro d'Italia, épreuve cycliste de longue date. N'hésitez donc pas à prendre votre temps durant votre propre aventure!
Le moment est venu de rejoindre la piste cyclable. Dirigez-vous vers le nord en direction de Waterfront Park, un espace vert bordant le lac sur 275 mètres. Restez sur la piste, car les vélos sont interdits sur la promenade très fréquentée par les piétons, mais rappelez-vous d'y retourner pour vous balader et faire un arrêt à Splash at the Boathouse. Ouvert pour la saison en mai, ce restaurant, qui surplombe la marina, est l'endroit rêvé pour déguster cocktails et fruits de mer et admirer le coucher de soleil.
Parcourez les Rives
caleb Kenna
Burlington bikeway
Au nord de Waterfront Park, la piste cyclable passe à côté du tout nouveau Burlington Skate Park et du Community Sailing Center. Après avoir monté une petite pente, vous arriverez à North Beach. Le long des rives sablonneuses, vous trouverez des aires de pique-nique, un casse-croûte où l'on sert de délicieuses frites au fromage et d'autres mets rapides, ainsi que des stands pour la location de kayaks et la réparation de vélos. On y trouve aussi un camping de 18 hectares avec 69 emplacements de tente.
Parcourez 2,4 km de plus sur la piste cyclable et vous atteindrez Leddy Beach, plus calme. Cette bande de sable de 450 mètres est parfaite pour se délasser les pieds. De plus, on y trouve des terrains de tennis et une patinoire. Quand il fait bon, c'est l'endroit idéal pour nager en toute quiétude. Ensuite, le circuit Cycle the City vire à l'est, en direction de l'Ethan Allen Tower. Cette structure à l'allure médiévale, bâtie en 1905 en pierre rouge locale, se trouve sur un terrain ayant déjà appartenu à Ethan Allen, héros de la Révolution. Le monument ouvre ses portes pour la saison à la fête des Mères. (Composez le 802-864-0123 pour connaître l'horaire.)
Cap Sur les Îles
Jeb Wallace-Brodeur
Colchester Causeway
Vous n'êtes pas un mordu d'histoire? Passez la tour et quittez le circuit Cycle the City en suivant la piste cyclable jusqu'à Charlie's Boathouse. Avec ses tables de pique-nique, sa balancelle et ses sympathiques propriétaires, c'est l'endroit rêvé pour contempler le lac et faire une pause-repas. Traversez ensuite le Winooski River Bridge, puis empruntez la Colchester Causeway.
Cette route de gravier de 8 km — autrefois une voie ferrée — s'avance jusqu'au bord du lac Champlain, d'où on a une spectaculaire vue panoramique. Mais c'est là que la route s'arrête, à seulement 60 mètres des pittoresques îles du lac Champlain. Pour une formidable escapade à vélo parmi les plages, les fermes et les vignobles des îles, sautez à bord du traversier Island Line Bike de Local Motion. Ouvert de 10 h à 18 h les vendredis, les fins de semaine et les jours fériés à compter du 27 mai, puis sept jours par semaine durant l'été. Billets aller-retour entre 5 $ et 8 $. Gratuit pour les enfants de moins de 7 ans.
L'art d'Aller Nulle Part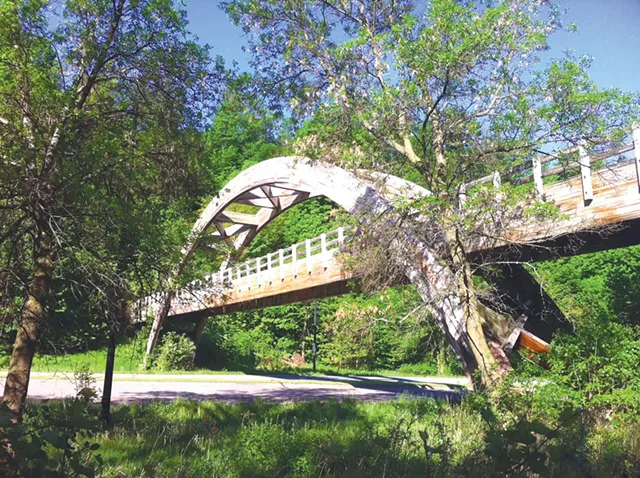 Burlington's bridge to nowhere.
De retour sur le circuit Cycle the City, ne manquez pas de vous arrêter devant le «Bridge to Nowhere» mais pas la peine de le traverser. En raison de lois bien intentionnées, mais qui ont mal tourné, cette curiosité locale ne mène carrément… nulle part. Profitez-en pour faire une pause et réfléchir à tout cela.
Tout près, à l'Intervale Center, on trouve 11 fermes qui font pousser de tout, des asperges aux courgettes, sur cette terre fertile de 283 hectares nourrie par la rivière. Cet endroit est aussi le théâtre d'assemblées communautaires très courues : plus de 8 000 résidents viennent y acheter des aliments et assister à des concerts durant les mois d'été. Stationnez votre vélo le temps de participer à une visite gratuite de l'Intervale, le quatrième vendredi du mois, d'avril à octobre. Vous pouvez aussi explorer le site librement et faire le plein de tomates de variétés anciennes à Half Pint Farm ou de groseilles à maquereau à Sugarsnap.
S'éduquer au Sommet
Depuis les terres agricoles en contrebas, remontez vers la ville au détour des cimetières Mount Calvary et Greenmount jusqu'aux bâtiments de brique de l'Université du Vermont. Ici, le Fleming Museum of Art présente quelque 25 000 objets d'art et d'anthropologie, tandis qu'au lieu d'inhumation de John Dewey, on rend hommage à ce philosophe et pédagogue natif de Burlington.
Poursuivez votre visite en passant par le Collège Champlain et Coolidge Hall, où l'ancien président Calvin Coolidge, originaire du Vermont, s'est marié en 1905. Ensuite, serrez les freins et descendez Maple Street pour rejoindre la piste cyclable à Perkins Pier.
Un Repos Bien Mérité
La boucle est bouclée, mais votre circuit ne saurait être complet sans un cornet de « creemee » — surnom donné à la crème glacée molle au Vermont. Quelques coups de pédale suffisent pour vous rendre au Burlington Bay Market & Café, où la vitrine est une véritable attraction locale. Goûtez-y la délicieuse crème glacée à l'érable, la plus populaire de l'endroit. Depuis la vaste terrasse extérieure, les couchers de soleil sur le lac sont encore plus beaux.
Obtenir à la Vitesse
Local Motion, 1 Steele Street, Suite 103
Vélos pour adulte et enfant, tandems, remorques. De 18 $ à 42 $ pour un maximum de quatre heures.
North Star Sports, 100 Main Street
Vélos pour adulte et enfant, remorques et trousses de réparation. De 15 $ à 50 $ pour un maximum de quatre heures.
Skirack, 85 Main Street
Vélos pour adulte et enfant, remorques. De 25 $ à 50 $ la journée.