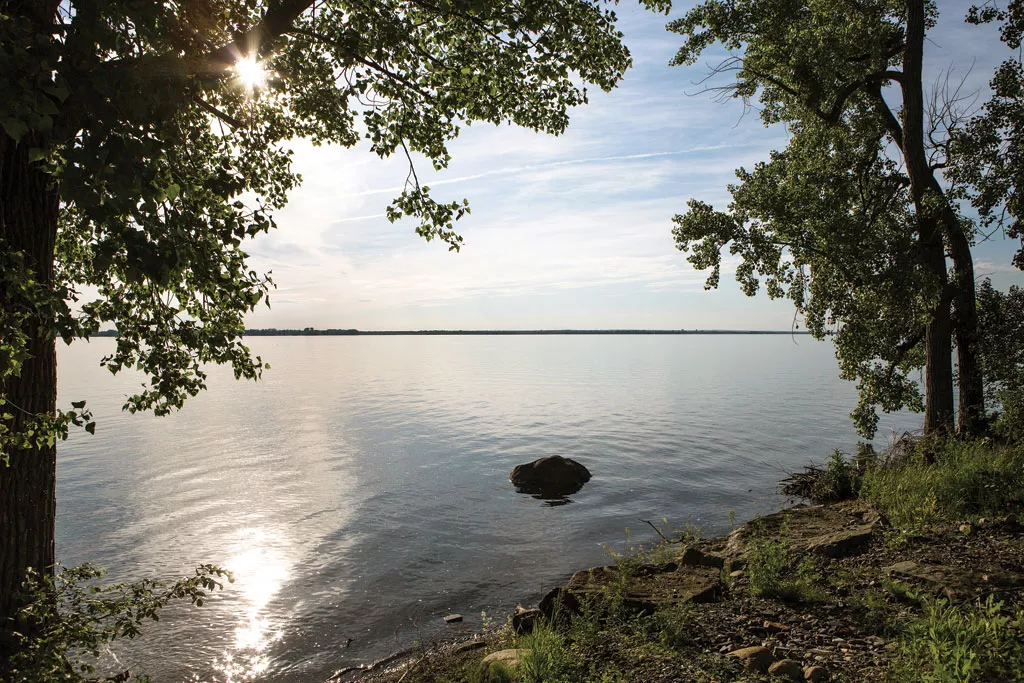 For most Americans, escaping to the "islands" involves palm trees, piña coladas and pink flamingos. In Vermont, however, a prized getaway means blueberry pies on produce stands, penny candy in general stores and hammocks swinging from inn porches — all beckoning from a 30-mile-long chain of islands and five towns in the northern reaches of Lake Champlain.
Welcome to the Champlain Islands, linked by bridges and back roads, and just minutes from Burlington. From the bustling marinas on South Hero to the wild, windswept sands of Alburg Dunes State Park, the Islands draw artists and athletes alike to their quiet coves and back roads. "Whether it's vineyards, orchards, lake views, a passing heron or a good old dairy farm," says local runner and Green Mountain Athletic Association president Bob Sayers, "you're never disappointed with the passing scenery."
There's something about the setting that makes a meal even more memorable here, too, be it a four-course dinner at the North Hero House or a picnic at one of the state parks. The Champlain Islands may not be tropical, but a night under the stars in Grand Isle certainly rivals a day under a palm tree.
Where to stay
Open since 1891, the North Hero House has 26 rooms and suites perched on Lake Champlain (many with private porches) and its own marina for kayaking, canoeing or sunset cruising with Captain Holly. Rates include breakfast for two and start at $110. Ruthcliffe Lodge on Isle La Motte, meanwhile, stocks Peugeot bikes along with boats outside its six lakeside rooms (from $142.50). Rise to pancakes, waffles or eggs with bottomless cups of coffee. The nearby Fisk Farm rents two cottages by the week ($750 to $950) amid an atmosphere of art shows and concerts adjoining the Fisk Quarry Preserve.
Camping options range from Grand Isle State Park — the state's second largest campground, with 117 tent sites, 36 lean-tos and four cabins — to Burton Island (served by a small ferry) and the remote, boat-in-only Woods Island and Knight Island. Reserve early.
Where to play
Bikes and boats are the best way to get around the Champlain Islands, thanks to the flat roads and miles of shoreline. Burlington's Local Motion has bike rentals and maps, and operates a 16-passenger bike ferry that crosses the 200-foot "cut" between Colchester and South Hero. Ride the 14-mile Island Line Trail, or detour for strawberry picking at Pomykala Farm for a look at the oldest log cabin in New England — the 1793 Hyde Log Cabin on Route 2 in Grand Isle; or perhaps even for a few minutes of meditation at the Edmundite Saint Anne's Shrine in Isle La Motte
You'll find bike rentals at Allenholm Farm and powerboat rentals at Apple Island Marina. Motor up to Isle La Motte to check out Chazy Fossil Reef, one of the oldest such reefs in the world at 480 million years.
For those who prefer a slightly slower pace — say, for flying a kite or spreading a picnic on the sand — day-use state parks knit the islands together. At Sand Bar State Park, kids can wade in the shallow waters while adults watch the kiteboarding action.
Head up to Knight Point State Park to see the drawbridge between Grand Isle and North Hero rise and fall. Closer to the Canadian border, at North Hero State Park, 399 acres of beaches and trails have a delightfully deserted feel since overnighting was abolished in 2010. The park is a stop on the Lake Champlain Paddlers' Trail, a watery corridor that connects 41 locations for kayakers, stand-up paddleboarders and canoeists in New York and Vermont.
Where to eat
A cone of soft-serve ice cream — known in Vermont as a creemee — is an island staple. Find one, along with fast-food fare, at Seb's Snack Bar on the corner of Route 2 and South Street in South Hero; or at Kim's Snack Bar on Route 2 in Grand Isle. Dip into the Blue Paddle Bistro on Wednesdays through Saturdays starting at 5 p.m. for such dishes as pan-roasted duck breast and lobster sauté, or try seared scallops with local summer corn at the North Hero House. Ruthcliffe Lodge serves up Italian-American fare in Isle La Motte.
Meanwhile, markets and delis such as Hero's Welcome, Keeler's Bay Variety and Wally's Place stock all the essentials for exploring al fresco dining in the islands.
Arts, antiques and beyond
Oliver Parini
Claire's Greenhouse
The pancake-flat terrain of the Champlain Islands doesn't just make for bountiful farming and beautiful views; it has inspired hundreds of local artists, too. Shop for local arts and crafts at South Hero's Green Frog Gifts and Clothing on Ferry Road; Grand Isle Art Works; or North Hero's Island Craft Shop and N.A. Durso Woodworking, both on Route 2. Antiques dealers abound, such as Tinker's Barn on Route 2 in South Hero. Vermont Nut Free Chocolates in Grand Isle and the award-winning Snow Farm Vineyard in South Hero offer some of the best take-out tastes of the islands' creativity. (The winery has daily tours.) For a full list of galleries along with concerts, crafts and art shows, visit islandarts.org.
Passez l'été avec Shakespeare, en dégustant des fraises sur le sable dans les îles du lac Champlain
Pour la plupart des Américains, l'idée de « s'échapper dans les îles » est associée aux palmiers, aux piña coladas et aux flamants roses. Au Vermont, cependant, c'est synonyme de tarte aux bleuets à un kiosque de produits locaux, de bonbons à un sou dans un magasin général et de hamac sur la galerie d'une auberge – autant de petits plaisirs accessibles sur une chaîne d'îles de 50 kilomètres, dans cinq agglomérations, à l'extrémité nord du lac Champlain.
Bienvenue dans les îles du lac Champlain, reliées par des ponts et des routes de campagne, à quelques minutes seulement de Burlington. Des marinas animées de South Hero aux dunes balayées par le vent du Alburg Dunes State Park, les îles attirent autant les artistes que les athlètes grâce à leurs anses et à leurs paisibles chemins de terre. « Que vous soyez là pour profiter des vignobles, des vergers, de la vue sur le lac ou des produits d'une vieille ferme laitière, affirme Bob Sayers, coureur établi dans la région et président de la Green Mountain Athletic Association, ou encore pour voir s'envoler les hérons, vous ne serez jamais déçu par les splendeurs du paysage. »
Quelque chose ici rend même les repas plus mémorables, que vous optiez pour un dîner quatre services à la North Hero House ou un pique-nique dans un des parcs de l'État. Les îles du lac Champlain ne jouissent pas d'un climat tropical, mais une soirée sous les étoiles de Grand Isle vaut bien une journée sous les palmiers!
Où loger?
Ouverte depuis 1891, la North Hero House compte 26 chambres et suites (dont plusieurs ont leur propre galerie) sur le lac Champlain, et possède sa propre marina pour le kayak, le canoë ou un tour en bateau au crépuscule avec le capitaine Holly. Les tarifs, qui comprennent le petit déjeuner pour deux, commencent à 110 $ (northherohouse.com). Situé à Isle La Motte, le Ruthcliffe Lodge met ses vélos Peugeot et ses embarcations à la disposition des occupants de ses six chambres au bord du lac (à partir de 142,50 $). Des pancakes, des gaufres, des œufs et autant de café que vous le voulez sont au menu le matin (ruthcliffe.com). Non loin de là, la Fisk Farm loue deux chalets à la semaine (de 750 $ à 950 $); de là, vous pourrez assister à des expositions d'art et à des concerts, et visiter Fisk Quarry Preserve, juste à côté (fiskfarm.com).
Plusieurs options de camping s'offrent aussi à vous, notamment le Grand Isle State Park (deuxième plus grand terrain de camping de l'État, qui compte 117 sites réservés aux tentes, 36 appentis (lean-tos) et quatre petits chalets), Burton Island (accessible par un petit ferry) et les îles plus isolées Woods Island et Knight Island (où l'on ne peut se rendre que par bateau). Visitez le site vtstateparks.com et réservez tôt!
Où s'amuser?
Outre le bateau, le vélo est la meilleure façon de circuler dans les îles du lac Champlain, sur des routes plates et des kilomètres de côte. À Burlington, Local Motion (localmotion.org) offre des vélos à louer et des cartes, et son ferry pouvant accueillir 16 cyclistes effectue la traversée « en accéléré » (60 mètres) entre Colchester et South Hero. Parcourez l'Island Line Trail, de 20 kilomètres, ou faites des petits détours pour aller cueillir des fraises à la Pomykala Farm (pomykalafarm.com), pour apercevoir la plus vieille maison en bois rond de la Nouvelle-Angleterre (la Hyde Log Cabin, datant de 1793, sur la route 2 à Grand Isle) ou pour méditer quelques minutes au Saint Anne's Shrine à Isle La Motte (saintannesshrine.org).
Vous pourrez louer des vélos à la ferme Allenholm (allenholm.com) et des bateaux à moteur à la marina Apple Island Marina (appleislandresort.com). Rendez-vous à Isle La Motte pour observer le Chazy Fossil Reef qui, à 480 millions d'années, est l'un des plus anciens récifs du genre au monde.
Pour ceux qui préfèrent les activités plus paisibles, comme faire voler un cerf-volant ou pique-niquer sur le sable, des parcs ouverts le jour seulement relient les îles entre elles. Au Sand Bar State Park, les enfants peuvent barboter dans les eaux peu profondes pendant que les adultes observent les adeptes de kiteboard. Puis, direction Knight Point State Park pour voir le pont-levis entre Grand Isle et North Hero. Plus près de la frontière avec le Canada, le North Hero State Park propose 160 hectares de plages et de sentiers où on a l'agréable impression d'être seul au monde depuis qu'il est devenu interdit d'y passer la nuit en 2010. Ce parc figure à l'itinéraire de la Lake Champlain Paddlers' Trail, un corridor reliant 41 emplacements destiné aux kayakistes, aux pagayeurs-surfeurs et aux canoéistes, dans l'État de New York et au Vermont.
Où se restaurer?
La crème glacée molle est un incontournable des îles du lac Champlain. Dégustez-en une, après un repas pas tout à fait santé, au Seb's Snack Bar, au coin de la route 2 et de South Street à South Hero, ou au Kim's Snack Bar, également sur la route 2, à Grand Isle. Du mercredi au samedi à compter de 17 h, goûtez au magret de canard rôti à la poêle et au sauté de homard du Blue Paddle Bistro (bluepaddlebistro.com). Ou encore laissez-vous tenter par des pétoncles poêlés accompagnés de maïs local à la North Hero House (northherohouse.com). À Isle La Motte, le Ruthcliffe Lodge sert quant à lui des plats italo-américains (ruthcliffe.com).
Des marchés et des épiceries, comme Hero's Welcome (heroswelcome.com), Keeler's Bay Variety (kbvstore.com) et Wally's Place (wallysplacevt.com), ont par ailleurs tout ce qu'il faut pour vos repas en plein air dans les îles.
Arts, antiquités et autres découvertes
Les terrains plats des îles du lac Champlain n'offrent pas que de généreuses conditions agricoles et de superbes panoramas : ils sont aussi une source d'inspiration pour des centaines d'artistes locaux. Découvrez l'art et l'artisanat de la région à Green Frog Gifts and Clothing, situé sur Ferry Road, à South Hero, ou à Grand Isle Art Works (grandisleartworks.com). À North Hero, visitez le Island Craft Shop et N.A. Durso Woodworking (nadursofurniture.com), tous deux sur la route 2. Tinker's Barn, sur la route 2 à South Hero, n'est qu'un des nombreux marchands d'antiquités de la région. Vermont Nut Free Chocolates (vermontnutfree.com) à Grand Isle et le vignoble Snow Farm à South Hero (snowfarm.com) vous offrent les meilleures saveurs des îles à ramener à la maison. (Le vignoble offre des visites quotidiennes.) Pour consulter une liste complète des galeries, des concerts, des boutiques d'artisanat et des expositions d'art, visitez le site islandarts.org.