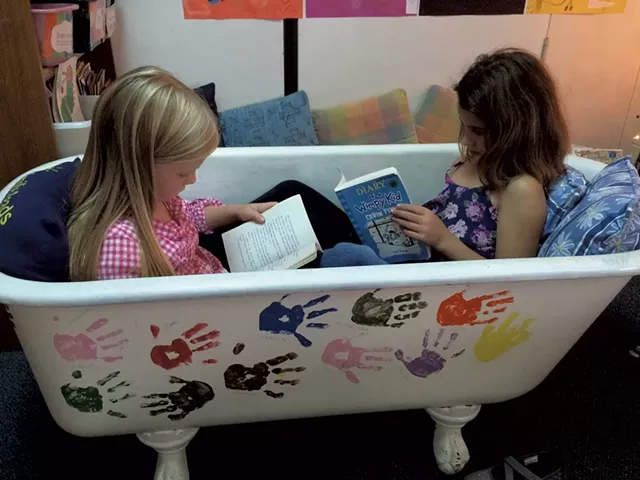 A bathtub for independent work in Katie LeFrancois' Richmond Elementary School classroom
For nine months of the year, kids spend about seven hours a day at school — a considerable chunk of time. It makes sense that the spaces they occupy during those hours can contribute to their academic success. As teacher and educational journalist Mark Phillips writes on the website Edutopia, "The physical structure of a classroom is a critical variable in affecting student morale and learning."
The ideal educational environment stimulates curiosity, sparks creativity and fosters a love of learning. We reached out to local educators to find classrooms that fit the bill.
These six stand out. Though they span a variety of age levels and subject matters, they're united by a common theme: These are places that make students feel empowered.
In some cases, that's because kids actually helped create them. In others, it's because students are given the freedom to explore within them.
"It is so important for students to make the classroom their own," wrote Richmond Elementary School fourth grade teacher Katie LeFrancois. "We start the year by sharing who we are and what is most important to us. We then begin transforming the space with words and art that express our values, hopes and dreams. Our environment represents our core values and drives our learning and my teaching all year long."
A Classroom That Grows
A disco ball casts sunlight across the wall at UVM's Campus Children's School
At the University of Vermont Campus Children's School, where Jen Olson has been working for six years, teachers "loop" with their students, meaning that they start teaching them as babies, then stay with them through their toddler and preschool years.
In mid-August, the school, which offers year-round care, closes for a week to give teachers time to transform their rooms into developmentally appropriate spaces. The idea, said Olson, is that the classroom is "growing with the kids."
Olson shared how her classroom has changed from year to year. In the baby room, "a disco ball captures rays of sunlight, casting light across the wall and, later in the day, the floor," explained Olson, "allowing children to observe and interact with the reflections." As children learn to pull themselves up to standing, they can turn the ball. In the corner of the room, a "nest" — a round, sunken space with pillows and stuffed animals — "provides an intimate gathering space for young infants to observe and interact with one another, building peer relationships and a sense of self."
In Olson's young toddler room, an assortment of containers encourages students to "explore mathematical and spatial relationships" and "honors children's interest in filling and emptying containers and trial and error," she said. In her older toddler room "small figures and recycled materials make wonderful props for children to tell stories with."
And in the preschool room, wooden blocks, organized by shape and size, fill a small shelf opposite a large open rug. "The children interpret the open space as an invitation to build," Olson wrote, "demonstrating their knowledge of mathematical and scientific concepts, including balance, spatial relations, design, symmetry and force."
— A.N.
The School as a Canvas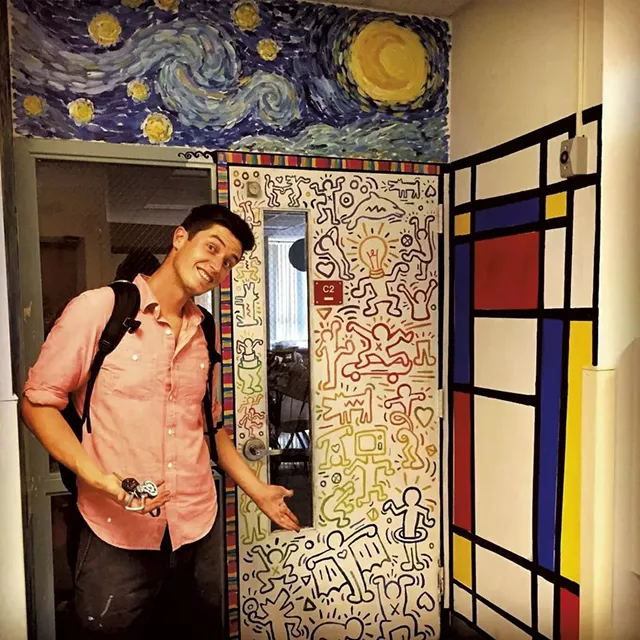 Pete Boardman in front of his classroom door
When Pete Boardman began teaching art at Shelburne Community School three years ago, he created an entryway to his classroom that would expose kids to different styles of art. On the door, he painted people and dogs in the pop-art style of one of his favorite artists, Keith Haring. Above it, there's a swirly rendering of Vincent Van Gogh's "Starry Night." To the right, an abstract geometric design is inspired by Dutch artist Piet Mondrian.
Boardman's artistic work spills out of his classroom. On an exterior brick wall of the school, across from a large playground, a mural in bright hues of blue, green, yellow and pink depicts a sailboat with the words, "Safe, Respectful, Responsible" — tenets of the school's Positive Behavioral Interventions and Supports program.
The boat pulls a load of interlocking triangles, which represent "positive energy," explained Boardman. Woven into the waves are playground rules: "Be mindful of everyone's space" and "Take turns." Funded by the school's PTO, the mural is comprised of four panels. Boardman and middle school art teacher Carin Lilly sketched the drawing and third through eighth grade students painted it.
Shelburne Community School students in front of the playground mural they painted
Two years ago, Boardman created a similarly themed mural in an interior hallway. It depicts a fanciful Vermont landscape of lake, forest and mountains, with a sailboat that can be moved across the wall as students accrue Cat Coins, rewards they earn for positive behavior. When the boat reached the end of the wall a few years ago, students were treated to a schoolwide dance party.
Last year, Boardman and colleague Lisa Bresler worked with the entire third grade to create a geometric artwork for another hallway. They taught their classes about color mixing, and each student was responsible for creating one rectangle of the final piece. The experience gave Boardman the opportunity to talk with students about "what art can do to a public space," he explained. "It just feels like there's more energy in the hallway. It makes it feel less institutional and more like a place of learning."
— A.N.
The Power of Choice
Students play an important role in creating many of the creative and colorful spaces in Katie LeFrancois' fourth grade classroom at Richmond Elementary School. Last year, they brightened up the coat closet with a mural.
Students suggested different designs and the class voted to determine the winner: a tree, with a heart emblazoned with the word "Love" in the middle, submitted by Eliot Robinson. He and his classmates worked together to paint it, stamping their fingerprints on the wall to create the tree's leaves. They painted the runner-up design, a Rubik's Cube with the phrase "Life can be complicated," on a rocking chair in the room.
Every year, kids also help design the Peaceful Place, a spot in the classroom where students can take a breather or practice mindfulness. It's stocked with items like Legos, drawing materials and clay.
A spot for practicing mindfulness
One staple of LeFrancois' classroom is the Delicious Word Wall, a tool to build kids' vocabulary. When students discover an interesting word, they record it on paper, then create an illustration showing what it means. The words are categorized by part of speech and serve as a reminder to use descriptive language.
Giving students choice is an important part of LeFrancois' teaching philosophy. Students can do independent work in a number of different places in the classroom. "Some kids just do better sitting at a table and chair, and some kids don't learn well that way," LeFrancois explained. That means that, while doing reading, writing or math work, students might be sitting on an exercise ball, reclining on a floor pillow or curled up in one of the two deep bathtubs in the room. "When I was a little girl, my teacher had a bathtub in his math class," LeFrancois explained. "I loved it and knew I had to have one when I became a teacher."
— A.N.
Into the Woods
Orwell Village School kindergarteners in the school's outdoor classroom
When K-8 students at Orwell Village School need a change of scenery, teachers lead them down a pathway through the woods to the school's outdoor classroom. The project was initiated by a former middle school language arts teacher, who tasked teams of students with designing an outdoor learning space, explained principal Patrick Walters. The middle schoolers then had a chance to present their ideas to George Helmer, a contractor who owns much of the property around the school.
The final design — a timber frame structure with a 25-by-25-foot wooden platform — embodies elements of several students' designs. Helmer donated $1,000 to help build the structure and rents the land where it sits to the school for $1 a year.
The space is used for a variety of purposes, from independent writing time to restorative-justice peace circles, Walters said. Kindergarten teacher Josh Martin takes his class into the woods for the bulk of the day every other week for Forest Mondays. When it's raining, they seek shelter in the outdoor classroom.
Martin said that being outdoors imbues his kindergarteners with a sense of calm. "Sixteen or seventeen wiggly children — when I take them out to the forest, you see what a good fit bringing kids out to the woods is," he said. "They're allowed to climb and take risks."
— A.N.
Dream It, Make It
St. Albans City School students watching the laser cutter work its magic
At St. Albans City School, kids have access to technology that most adults have likely never used. The school's maker space, a room off the library, boasts a variety of 21st-century tools, including a 3D printer, laser cutter, vinyl cutter, heat press and circuitry kits. Low-tech materials, like toilet paper tubes, Popsicle sticks, Legos and beads, are also available for students to use for engineering and design projects.
The school's innovation specialists, Erica Bertucci and Grace Borst, teach students what the equipment can do starting in kindergarten. By the time students are in middle school, they're able to operate it independently. Open lab time allows them to come in to work on projects ranging from laser-cut covers for photo albums and notebooks to a 3D-printed, interactive model of Thomas Jefferson.
Students who competed in the Jr Iron Chef VT competition last March used the vinyl cutter and heat press to create designs to embellish their aprons and chef hats. And a group of middle schoolers used 3D modeling software and the 3D printer to create a model of the historic Fairfield Street School for the 3D Vermont competition, where they placed second.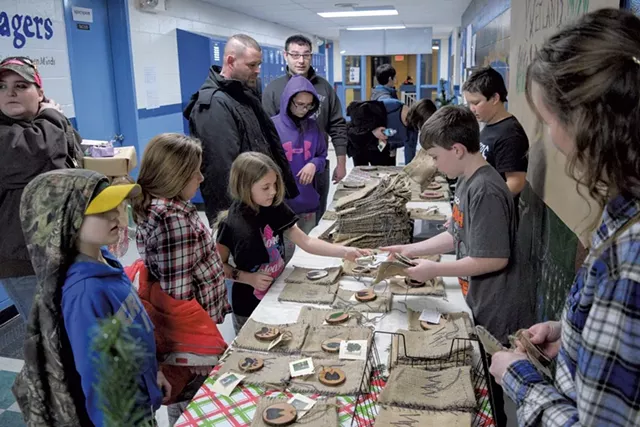 St. Albans students selling their products at last year's school mall
Last year, students schoolwide were divided into teams that were each responsible for creating a product to sell at a school mall. Products included coasters and hot plates with designs made using laser-cut stencils, lavender-infused soap with laser-cut tags, and more crafty items like crocheted hats. That project earned the school the 2018 Student Voices award from the State Educational Technology Directors Association (SETDA). This fall, the school will send a delegation of students and staff to Washington, D.C., to give a presentation about the project at the national nonprofit's conference.
The maker space tools have "opened up doors" to students, said Bertucci, and shown them that they can create anything they can imagine.
— A.N.
C'est Magnifique
Irène Côté-Wurzler in her Christ the King School classroom
Students at Burlington's Christ the King School enter Irène Côté-Wurzler's third-floor French classroom and step into Paris. Before them, Gare du Nord, Notre-Dame, Sacré-Cœur and the Arc de Triomphe appear in black line drawings on wide window shades. In the far right corner, on Place de la Tour Eiffel, is a rendering of a pâtisserie next to a Metro stop.
The color scheme in the third floor room with views of Lake Champlain is pink and black with lime green accents. "Pink and black is so French, right?" said Côté-Wurzler. " It's so chic, so ooh la la, you know?" Her K-8 students call her simply, "Madame" — or, in the case of some of the younger ones, "Mrs. Madame." She wants her classroom to transport them. "I wanted it to be that they walked in and they had stepped into a different place, a different realm, that they were no longer in the school but somewhere special and somewhere different."
She painted the walls pale pink, sanded the orange-toned woodwork and stained it black, drew on the shades with a Sharpie, and hung a striped valance over the windows.
Black line drawings of Paris landmarks on the window shades
Burlington artist Annelein Beukenkamp painted the street scene in the corner. It includes a cat sitting on cobblestones next to a basket of baguettes. Painted curtains adorn a fake pâtisserie window, under which Côté-Wurzler attached a real flower box.
In addition to vocabulary and conjugation, her students learn French culture. They eat king cake for Mardi Gras and make three-dimensional shoes from paper or felt to be filled with candy on Saint Nicholas Day. Just before they graduate, Côté-Wurzler treats eighth graders to a multicourse meal that includes pâté, Brie, croissants, fig jam, crêpes and lavender cupcakes. "It's just a celebration," she said. "And in France, like everywhere else, we like to celebrate with food."
The daughter of French Canadians, Côté-Wurzler grew up in New Hampshire and visited France for the first time two years ago, she said. "I felt at home the minute I landed."
— M.A.L.