Ceiling of Wave Swinger ride
The county fair may be one of the most bizarre, even surreal, examples of American visual culture. This year's Champlain Valley Fair in Essex Junction was certainly no exception. Steeped in elements of thrilling seediness and spectacle (stuffed poop emojis, anyone?), as well as in visual references to a glorified past, this modern-day fair did not look like its historical cousin, the circus, yet it retained vestiges of it.
The latter is the subject of the current exhibition "Papering the Town" at the Shelburne Museum's Pizzagalli Center for Art and Education, which features a host of circus advertising posters from the mid to late 1800s. Taking in these two image-laden displays in the same week, I couldn't help but note many similarities — and reflect on the power of nostalgia.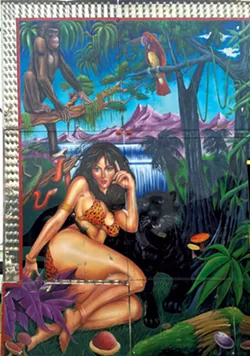 Jungle Walk ride, detail, TJ Aho.
The CVF has all the local agricultural components of a county or state fair, but its distinctly non-Vermont-y carnival rides and arcade booths come courtesy of Strates Shows. The Orlando-based company — which employs 400, according to its website — was founded in 1923 by Greek immigrant James E. Strates. He came to the United States in 1909 and joined a carnival as a wrestler in 1919, with the invented persona "Young Strangler Lewis." In 1923, Strates purchased Southern Tier Shows; in 1932, he renamed the company after himself.
Strates' origin story is remarkably similar to the narrative suggested by two posters at Shelburne Museum. The first, "The Association's Celebrated and Extensive Menagerie and Aviary from the Zoological Institute in the City of New York," is black and white, made using hand-carved woodblocks, engraving and letterpress printing in 1835. One panel shows a lion tamer, identified on the exhibition label as "Van Amburgh" — a young man allegedly granted the job after the former tamer was mauled and possibly eaten.
On a nearby gallery wall hangs a woodblock-print poster made in either 1861 or 1867, "Van Amburgh & Co.'s Menagerie and Colossal Golden Chariot." Colored in magnificent hues of red, green and yellow, the advertisement features six panels narrating a lion tamer's exploits. It's likely, a docent suggested, that the same intrepid Van Amburgh who was shown in the 1835 poster rose through the ranks to own and promote his own lion-centric show.
Courtesy of Shelburne Museum
"Nala Damajante: Snake Charmer," maker unknown
The rags-to-riches stories of Strates and Van Amburgh are firmly embedded in the American mythos. Legendary showman P.T. Barnum is another exemplar of success through spectacle and dogged entrepreneurial spirit. At Shelburne Museum, exhibition text quotes Barnum's assertion that his success resulted from "Advertising — advertising — nothing else."
"Papering the Town" makes it easy to romanticize an earlier America, not least because the advertisements in question were illustrated, printed from handmade woodblocks and colored with relatively primitive palettes that we now read as quaint. They are a far cry from today's billboards, looking more like benign storybook illustrations.
However, as Shelburne Museum curator Kory Rogers points out in exhibition text, the 19th-century posters were meant to command attention at the same volume that today's raucous ads do, and competition between opposing companies could be fierce.
The sole marketing strategy of the posters is the artful depiction of the circus' attractions. These include animals and humans — often non-Caucasian — represented as unusual and "exotic." Examples of the latter include "Little All Right, the Japanese Marvel" and "Millie-Christine, The Two Headed Lady." The pretty "Nala Damajante: Snake Charmer" is shown in a jungle-like setting, her hair puffed out to emphasize her Africanness.
Jungle Walk ride, detail, TJ Aho.
Such blatant profiting from physical and racial differences has, thankfully, gone out of style, and massive, richly illustrated posters wheat-pasted to barns are no longer a primary form of advertising. But echoes of both remain. They crop up at the fair, not only in specific themes and imagery, but also in a more general appeal to a sanitized version of carnival history.
Strates' Jungle Walk funhouse features three bodacious, scantily clad women amid tropical growth, and a Tarzan-esque figure swinging from a vine above. One woman lounges with a panther, while another wears a skull around her neck and wields both an axe and a thigh-holstered knife. Strangely, she also rocks a peace-sign earring. The mural is signed "TJ Aho '09." Of the fair's four funhouses, two were jungle-themed.
"Papering the Town" places the golden age of the circus from 1870 to 1950. At the Expo, nostalgia for this period was invoked through several murals on Strates' three on-site office trailers, painted by Orlando artist Jack McKissock. In one, a train pulls into the station in a bucolic rural town. Ribbons framing the oval proclaim, "Great Fairs of Yesteryear, Show Train Arriving, Hamburg, New York, 1931." An excited young boy and his dog anticipate the fair's arrival.
In a similar appeal to nostalgia, the Strates barricades scattered through the park were made from a meshlike plastic bearing industrially printed versions of earlier fair posters. Though the dates they bore were in the 1970s, some of these were distinctly modeled on illustrated golden-era posters. They featured proclamations such as "A Freedom Celebration," "The Birth of a Nation" and even the Statue of Liberty's inscription: "Give me your tired, your poor..."
Wacky Worm ride, detail, Craig Manders
The artwork on many of Strates' carnival rides marks a sharp departure from this "yesteryear" model, exemplifying instead contemporary, youth-culture-oriented imagery and jarring neon. At the CVF, airbrush painter Craig Manders' signature revealed his monopoly on these rides, whose motifs ranged from Star Wars movie characters and celebrities to fabricated science-fiction figures. The "Thunder Bolt" ride is decked out in high '90s style: a yellow smiley face emits electric bolts and stars against a Lisa Frank-ish rainbow background.
Manders' paintings can be entertainingly seedy. On the Wacky Worm ride, a demonically grinning worm slithers among anthropomorphized flowers, whose eyes are so bugged out, they must be on drugs. Sure enough, a red-and-white Amanita muscaria — the "magic mushroom" — is included. Another children's ride, Fire Chief, features an obvious ringer for Pennywise, the killer clown in Stephen King's It, driving a fire truck.
What does all this imagery have in common with the vintage advertisements on view in Shelburne? None of it was created primarily as artwork. Instead, each image exists to evoke an immediate consumer response: buying tickets to the show. You have to wonder if, in another century, the hand-painted metal sidings of Strates' clanking metal contraptions will be shown as folk art, too.