Courtesy of Beecher Grogan
Lucy's Love Bus
One day in June of 2016, Nicole LaBonte noticed that her 4-year-old son, Spencer, seemed lethargic. When dad Jamie LaBonte picked his son up from daycare the next day, he noticed that the capillaries in the whites of Spencer's eyes had burst. Nicole called the pediatrician and insisted he be seen that day.
After an examination and several hours in the emergency room, Spencer was diagnosed with acute lymphoblastic leukemia, a type of cancer.
Courtesy of the Labonte Family
Spencer LaBonte
"We were exhausted," said Nicole. "He was sedated for 12 days, and almost died twice. I was working overnight shifts while he was in the PICU, and my husband was working days. We barely saw our daughter, Annaleigh. It was a very difficult time."
And there was a long road ahead. Spencer experienced multiple complications and spent nearly eight months in the hospital that first year.
Then the LaBontes heard about a nonprofit organization that would help to lighten their load. Lucy's Love Bus helps to fund integrative therapies like massage, acupuncture, tai chi, music therapy and specialized camp programs for kids being treated for cancer and other illnesses.
Adam Fortune, a pediatric hematology/oncology social worker at the University of Vermont Children's Hospital, connected them to the organization.
Courtesy of the Labonte Family
Spencer LaBonte
"I always mention Lucy's Love Bus to families," said Fortune. "I find that families that access the services tend to feel better about being in the hospital ... They also offer opportunities that families might have not been able to access without their support."
For Spencer, funding from Lucy's Love Bus helped him attend a summer program through the Colchester Parks and Recreation Department because it offered swimming. "He had missed out on so much as far as socialization with peer-age kids," Fortune said. "Being able to go to camp was a huge benefit to him."
Nicole agrees. "For the weeks of summer camp, he got to be a 5-year-old," she said. "To this day, he still talks about camp. It was scary at first, it kicked his butt, but he was happy. Him going to that program was more than I could give him at home."
Courtesy of the Labonte Family
Spencer LaBonte and family
Lucy's Love Bus also helped build a network of support for Spencer; he currently attends an afterschool program with some of the camp counselors, and hopes to return to camp next summer.
Spencer undergoes monthly chemotherapy, and his treatment will continue until 2019. The LaBontes won't know if he is in remission until May of 2020, but in the meantime, Nicole and Jamie want to make sure he gets to be a kid.
"We don't want him to live in fear of it. We try to do everything we can to give him the best opportunities," Nicole said. "It is hard to give up your reins of control when your child is sick. It was really hard the first day at camp. But, he looked at me and said, 'Mom, I am OK.'"
The Bus Gets Rolling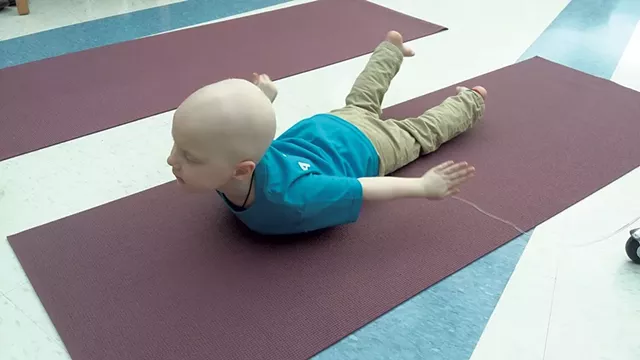 Courtesy of Beecher Grogan
Children receive a range of therapeutic services through Lucy's Love Bus
In 2003, Beecher Grogan's 8-year-old daughter, Lucy, was diagnosed with acute myeloid leukemia. She received treatment at Tufts Medical Center's Floating Hospital for Children in Boston. Thanks to donations from family, friends and community members, Lucy benefited from a range of integrative therapies including art and music therapy, massage, and therapeutic horseback riding.
One day, Lucy asked Grogan why other kids in the hospital weren't participating in these activities, too. When her mom explained that they weren't covered by the hospital or insurance, Lucy was surprised. She believed every kid should have access to therapies that helped her deal with the physical pain of treatment and the emotional pain of losing so many friends to cancer — 22 by the time she was 11 years old.
That's when the wheels started turning on the Lucy's Love Bus project.
Courtesy of Beecher Grogan
Children receive a range of therapeutic services through Lucy's Love Bus
Grogan explained that many of the families they met were raising money for a cure for cancer. "But one day Lucy said to me, 'What about us? A cure is not going to help us.'" Knowing that for many kids the cure would come too late, Lucy's concern was the quality of life and comfort of her fellow cancer patients; that they had a chance "to run around and to be reminded of what it is like to be a happy, healthy kid, even for a short period of time," said Grogan.
Mother and daughter started to shape the program's mission about six weeks before Lucy died, in 2006. As for the name, Lucy chose it "because she wanted her program to deliver love, comfort and quality of life to children with cancer," Grogan said.
Grogan took three years to grieve before actively pursuing the Love Bus mission. During that time, she put the $2,000 that remained from the money family and friends had raised for Lucy's therapies, along with leftover funeral-cost donations, into savings.
While Grogan struggled with her loss, she saw that Lucy's friends were also struggling.
Courtesy of Beecher Grogan
Children receive a range of therapeutic services through Lucy's Love Bus
"I went to a New Year's Eve party at [Lucy's] best friend's house. I was downstairs with the parents and very uncomfortable. People didn't know how to behave around me. So I went up to where the kids were and squeezed between two of her friends," Grogan said. "We talked about Lucy's Love Bus, and I asked the kids, 'What should we do? Do they want to help?' They all said yes. They were the original Love Squad."
In 2010, with the help of a local business, three moms and 15 of Lucy's teenage friends, Lucy's Love Bus organized a grassroots music festival in Amesbury, Mass., where the organization is based. They tie-dyed shirts, released thousands of monarch butterflies, and raised $57,000 for the organization.
That same year, someone donated a 1970 Volkswagen bus. Volunteers raised money to renovate and decorate it, and the promotional Lucy's Love Bus that appears in parades, expos and fundraising events was born.
Soon after its inception, the organization began funding integrative therapies such as massage, acupuncture, yoga, horseback-riding therapy, swimming and music therapy for pediatric oncology patients in hospitals throughout New England.
The Vermont Connection
Courtesy of Beecher Grogan
Lucy Grogan
Lucy's Love Bus has local ties: Cofounder Beecher Grogan is a Burlington native who attended the University of Vermont. Over the past two years, the organization has provided more than 160 patients at the UVM Children's Hospital with services like massage, yoga and music therapy.
Annette Margot Browne is a certified pediatric massage therapist who limits her massage practice to Lucy's Love Bus patients at UVM Children's Hospital. She started in 2011, when a pediatric oncology social worker referred one of her 10-year-old PICU patients to Browne. "I was privileged to offer this very courageous and spunky character massage on that day, and then ... until the time she passed away," Browne said.
Massage for pediatric patients is very different from a spa massage, Browne said, explaining that many of the children have multiple health issues. Kids sometimes have IV poles and lines for medication or fluid, and can't get out of bed. People entering the room might have to wear hospital gowns and surgical gloves.
Browne tailors her approach for each patient and works with the entire care team to understand each child's special needs. The massage is gentle, sometimes just focusing on the hands and feet.
"Often the children and families I see are facing a difficult time during their hospital stay, either emotionally or physically," she said. "Having someone come into their room, offering something that is therapeutic but nonmedical, can be comforting."
Expanding the Journey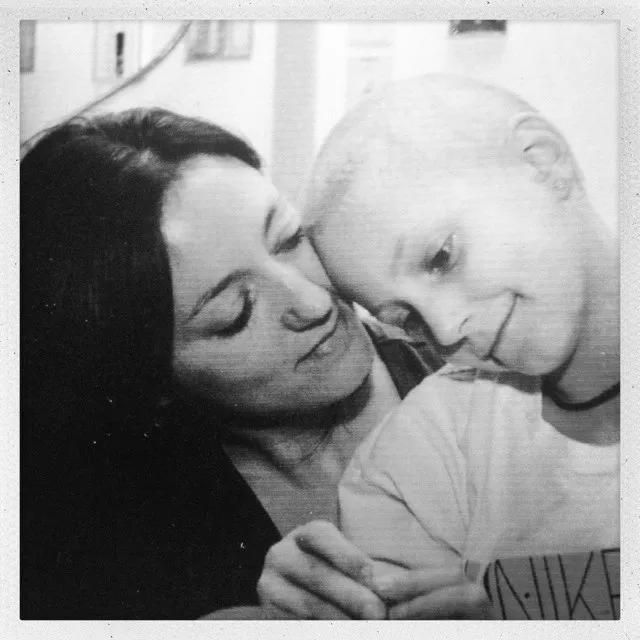 Courtesy of Beecher Grogan
When social workers told Grogan that parents of children with other conditions sometimes felt that "the cancer kids get everything," she saw it as a call to action.
"With every decision I think, What would Lucy, at age 12, want?" Grogan said. "Lucy was clear in her mission. She wanted to help all the kids."
So several years ago, Lucy's Love Bus launched a supplementary program called The Healing Room at UVM Children's Hospital, as well as at the Floating Hospital in Boston and Barbara Bush Children's Hospital in Portland, Maine, to expand the availability of integrative therapies to kids being treated for illnesses other than cancer.
The Healing Room is not an actual room; it refers to creating room for healing. Through funding from Lucy's Love Bus, practitioners visit hospitals and provide therapies such as bedside massage, meditation and music therapy. If it is a quiet day, they sometimes offer therapies to patients' family members as well.
It's been 11 years since Lucy passed away. Her childhood friends, some of whom were original members of the Love Squad, have already finished college. But Grogan is committed to the longevity of Lucy's Love Bus.
In 2014, the organization began partnering with schools to educate children and teens about childhood cancer, build empathy and share their mission. Participating schools are assigned a child who is sick — dubbed a Butterfly Buddy — and work to raise money to support that child's care. To date, 37 schools in Massachusetts, Vermont, New Hampshire and Maine have participated in the school program, and together have raised $27,000.
People often think that working with children who have cancer would be depressing, Grogan said. But she finds it inspiring. Lucy's legacy drives her passion.
"Lucy taught me how to find the silver lining in the most awful of circumstances. She taught me what children need when they are sick, suffering and frightened," Grogan said. "I work with some of the world's bravest children and families ... These are the children who Lucy loved the most."
To learn more about Lucy's Love Bus or donate to the organization, visit lucyslovebus.org.