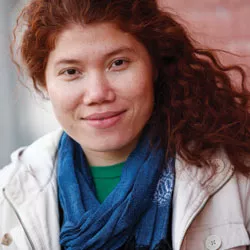 As the daughter of opposition political leaders in Burma, Htar Htar Yu (pronounced "ta-ta-you") saw combat long before she ever saw a school, a hospital or a shop. Now she helps new Americans navigate those kinds of institutions as a staff interpreter with the Vermont Refugee Resettlement Program.
Yu, 28, spent her first eight years in the jungles of Burma, where her father was battling the reigning military regime. In 1991, the family fled to a refugee camp on the Thai-Burmese border. After attending a George Soros-funded school in Thailand, Yu became an intern for the Burmese exile government. Through Youth for Understanding, she spent a year as an exchange student at Spaulding High School in Barre. Later, at Middlebury College, she majored in sociology and anthropology with a minor in gender studies. Yu graduated in 2008 and now lives in Essex, interpreting in Burmese, Tavoyan and Mon at immigrants' appointments, jobs and court dates.
At the end of a busy day last week, Yu told Seven Days about how she makes sure her clients' needs don't get lost in translation.
SEVEN DAYS: For what kinds of reasons do people call an interpreter?
HTAR HTAR YU: They have [to train at] restaurants. Say someone's hired and then, first day, they don't know how to use a washing machine or where to put things. They're directly from refugee camps, and they grew up in jungles; they don't know the machine system here. [On an immigrant's first day at a farm job, I am] explaining what kind of vegetables are used, what chemicals are not to be touched without gloves, when to take a break, when not to take a break.
And then courts — domestic violence, DUI. Emergency [visits] at the hospitals, especially with kids — they get very sick and get a hard time breathing. Oh, car insurance — that's a disaster; it was a thing that I don't want to interpret, but I get to do it all the time.
I get to interpret actually a lot of births, too — it's been nine in total, so it's amazing to see. I'm just telling them, "Push, push, push, push!" I was very tired for myself; I'm not doing anything, but I was so tired! It's amazing to see how life begins.
SD: Are there any quirks of the Burmese language that make certain misunderstandings funny and inevitable?
HHY: There's one — "cheese" in Burmese means "poop." "Lee," like the last name Lee, is "penis" in Burmese [laughs]. There's quite a few.
SD: You must do both linguistic and cultural interpretation. Can you mention some examples?
HHY: In terms of time, Americans are very precise. But the Burmese are more like laid-back people; they think that missing an appointment or not getting to the appointment on time is fine. So sometimes I have to explain that, timewise, you have to be very precise.
And also, in general, the Burmese are very indoor people. If we're going to do something, then [we] gather together and then do it somewhere around the house. American culture is, your house is where you sleep and be comfortable; to make friends, to get involved, to do things, you have to go out of the house and reach out. Burmese don't really do that.
SD: Does being an interpreter give you any kind of special position in the Burmese community?
HHY: I am very careful, being an anthropologist and sociologist, [to] understand how my presence might affect them. I always make sure that I am not showing off; I'm not taking a high position. But they do know that I'm educated, and if they want something they always come to me. I see a lot of love from them toward me, so I love them a lot. There's respect, there's love, there's friendship, and also sometimes disagreements.
SD: Disagreements?
HHY: Many of them are illiterate, and I'm really bossy about schooling. The sociological question is that, when you try to tell [people] things like, "Go to school, you need to be educated, you need to get a better job," you're in a sense changing someone's way of life. They lived in the forest, and they're, like, fishermen in streams or cow caretakers, and they just lived their daily life freely and happily, a simple life. Then you start trying to direct them this way, that way; it's like, industrialized lifestyle, and I don't know if I should do this. Sometimes it's like, Stop, Htar Htar. Maybe just slow down.
SD: What kind of factors make your job difficult?
HHY: It makes it harder many times when the systems are not connecting. [On the day of an appointment] the patient's supposed to call the Quick Cab [for a ride via the Special Services Transportation Agency]. But the patient speaks zero English. If I forget [to call on his behalf], everything's screwed. So these little things in between systems, there isn't any connection. Practically, say, it's not my job. It's not this office's job, either; it's the patient's job. But someone has to pick up the job. It happens all the time.
SD: It's as if you are serving as the glue that holds all the pieces together.
HHY: We know we have to take our responsibility, but also other institutions must, too. Because it's the federal government who decides America will [admit immigrants]. Even though there's a lot of controversy, I guess it's American heart that they want to help refugees, and a lot of people have to pick up pieces. So we do our part.
"Work" is a monthly interview feature showcasing a Vermonter with an interesting occupation. Suggest a job you would like to know more about: news@sevendaysvt.com.