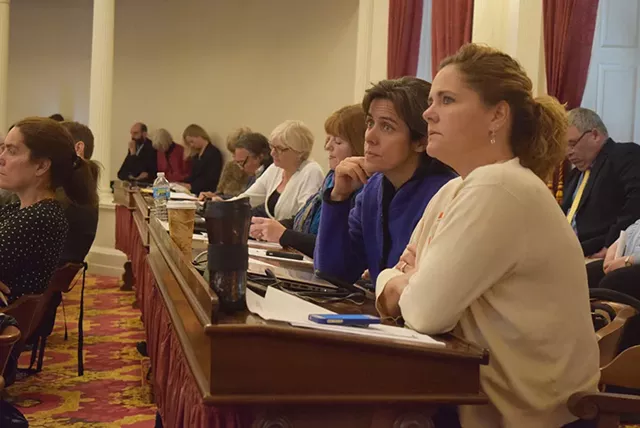 Terri Hallenbeck
Reps. Mitzi Johnson and Sarah Copeland Hanzas
Twenty-one years ago, when House Speaker Ralph Wright (D-Bennington) unexpectedly lost reelection to his House seat, Democrats went to a floor vote in January to decide who should replace him in the powerful position. It was a hard-fought battle.
Michael Obuchowski, a Democrat from Rockingham, prevailed 78-70 in a secret-ballot vote over fellow Democrat Peter Mallary of Newbury.
Obuchowski, who is now commissioner of the Department of Buildings and General Services, served six years as speaker. Mallary finished his term but never ran again. He still lobbies legislators on social services issues.
"That was contentious," recalls Rep. Mary Sullivan (D-Burlington). She and other longtimers cite that showdown as the sort that leaves lingering wounds.
Contrast that with eight years ago, when current House Speaker Shap Smith (D-Morristown) sought the job. Initially he had competitors, but the last one dropped out days before House Democrats cast their votes in a decisive December caucus.
That's the scenario House Democrats are striving for this year. "I'm hopeful that the candidates for speaker work it out between themselves," says Rep. David Deen (D-Westminster).
House Dems expect to winnow the list of candidates down to a single name before December 3 — the date of this year's caucus. By all accounts, they want to spend the meeting talking about issues rather hearing stump speeches from candidates vying for the top job in the House.
That became a little more probable Sunday, when Rep. Chip Conquest (D-Newbury) conceded he didn't have the votes and bowed out of the race. House Education Committee chair David Sharpe (D-Bristol) had done the same about a week earlier.
Now it's down to two women, both University of Vermont graduates: House Majority Leader Sarah Copeland Hanzas (D-Bradford) and House Appropriations Committee chair Mitzi Johnson (D-South Hero).
"It was becoming clear that the majority were thinking about Sarah or Mitzi," Conquest tells Seven Days. Conquest declined to say which of them he supports.
Sharpe says he's backing Copeland Hanzas.
The winner will replace Smith, who did not seek reelection to his House seat. The job comes with an office, a higher salary, and the chance to make committee assignments and set the agenda for the 150-member chamber. Technically, the full House will choose the next speaker January 4, but because Democrats hold 82 of the 150 seats, the candidate they pick in December is a shoo-in.
The next speaker will be a newbie among newbies, as the House, Senate and governor's offices will all have new leaders in 2017.
Some observers give Copeland Hanzas the edge, owing to her experience as House majority leader over the last two years. She also had more time to help members with their own elections this year, because she was unopposed in both the primary and the November 8 general election. Historically, that's how speaker candidates earn goodwill.
Copeland Hanzas said Monday that Conquest's move has prompted more members to reveal their choices. "I believe I am ahead," she said. "I can't say how far ahead."
But Johnson, who faced primary and general election challenges for her own seat, has made a strong push for the post since winning reelection.
"I'm having great conversations with people," Johnson said. She is known in the Statehouse for her musical abilities — piano playing and choir conducting — as well as for guiding the House through writing a state budget bill.
As Appropriations chair for the last two years, she's earned a reputation as a patient negotiator who yearns for unanimous votes on her bipartisan panel.
Johnson's main pitch is that she wants all House members to alter the way they look at state programs, by evaluating their effectiveness with data and prioritizing those that deliver maximum bang for the buck. "We haven't historically had that culture," she says.
Sullivan, the Burlington rep, is backing Johnson. "This woman has amazing skills — her ability to listen, to work across the aisle — she seems to have it all," Sullivan says.
Copeland Hanzas owns the Local Buzz coffee shop in Bradford. She is known in the Statehouse for holding her own at lawmakers' Friday morning pickup basketball games, as well as for herding the Democratic caucus.
While Copeland Hanzas always seems to sport a smile, she also lives up to the superlative bestowed upon her at Bradford's Oxbow High School class of 1988: "most likely to have an opinion."
In running for speaker, she points to her experience helping members reach decisions on tough-to-solve topics. "The hard work it takes to prepare for difficult issues is something I very much enjoy," she says.
Deen, longtime chair of the House Fish, Wildlife and Water Resources Committee, is backing Copeland Hanzas. "She worked really hard over the last couple years and has grown in her leadership position and worked really hard in getting people elected," Deen says.
Whether Copeland Hanzas or Johnson prevails, the winner will be the third woman to hold the office in state history. Gaye Symington (D-Jericho) got the gavel in 2005. Fifty-two years before that, South Burlington Republican Consuelo Bailey became the first female speaker of the House. The Senate has never elected a female president pro tempore. Vermont's has had one female governor: Madeleine Kunin.
The new speaker's right-hand person will also likely be a woman. Rep. Jill Krowinski (D-Burlington) is the only candidate so far to replace Copeland Hanzas as majority leader. Krowinski, who was an aide to Symington before winning her own seat, has toiled in the lower ranks of House leadership for the last several years.
Could be her turn.
R Factor
Going into this month's election, House Minority Leader Don Turner (R-Milton) held out hope that if enough Republicans, independents and conservative Democrats won election this November, an alternative candidate would have an outside chance of becoming House speaker.
"That didn't happen," Turner concedes.
But Turner still plans to come up with a candidate to challenge whoever the Democrats nominate. "It may not be a Republican," he says, unwilling to offer any names. "I'm working on a lot of people."
Smith was elected to four two-year terms as speaker, and Turner says it was a mistake for Republicans not to run opponents against him. "Even if we lose, at least people understand that it was not unanimous," he says.
Meanwhile, House Republicans elected their slate of officers at a dinner on the Wednesday after Election Day. Members picked Turner as minority leader. The caucus, dominated by white men over 50, also added a little age and gender diversity to its leadership team.
Rep. Patty McCoy (R-Poultney) will join Rep. Brian Savage (R-Swanton) as co-assistant minority leader. And the party named two members to help them: Reps. Corey Parent (R-St. Albans), who's just 26 years old, and Patti Lewis (R-Berlin).
Dave's Cave
David Zuckerman, the Progressive/Democratic lieutenant governor-elect from Hinesburg, wasted no time in picking his staff — of one — after his November 8 election victory.
Meg Polyte of Burlington, who was Zuckerman's campaign manager, will be his chief of staff. Polyte is a longtime Vermont Progressive Party activist. She ran Anthony Pollina's 2008 gubernatorial campaign, Zuckerman's state Senate campaigns in 2012 and 2014, and Dean Corren's 2014 campaign for lieutenant governor.
Zuckerman says he's still working out what issues he'll champion — and how. Last Friday, he met with departing Republican Lt. Gov. Phil Scott, who is moving to the governor's office, and with Statehouse curator David Schutz.
Zuckerman and Scott talked about maintaining a good rapport; he and Schutz talked office décor.
Schutz asked what kind of art might suit the new LG. Zuckerman told him he'd like a historic Vermont farm painting that includes cows and something that depicts a historic labor protest. "He wants to have a picture that reminds him of his connection to workers," Polyte says.
Here's another way to look at it: When Zuckerman is sworn in as the highest-ranking Progressive ever to hold office in Vermont, the Ps will finally have their own digs in the space-strapped Statehouse.
The party also picked up members in the both the House and Senate. "It's a significant change," Zuckerman notes.
He insists, though, "The door will be open to everybody."
Down for the Count
Election recounts this week in several House races made two things clear: Every vote really does count; and the state may need a more systematic approach when it's called on to redo election math.
On Monday in Woodstock, where it took five hours to recount ballots in the Windsor-Orange 1 district, Rep. Sarah Buxton (D-Tunbridge) and former Republican representative David Ainsworth of Royalton each came out with 1,000 votes.
Amazingly, it's not the first time. Six years ago, Buxton also ran against Ainsworth and won by one vote — also decided by recount. "This is kind of crazy," she said Monday, clearly exasperated.
After the ballots had been run through tabulator machines, representatives of both parties looked them over by hand in search of write-ins or other oddities. (Apparently, filling in a circle is more challenging for some voters than others.) Buxton picked out two ballots on which, she argued, the intent was unclear. Those two ballots were sent off to a judge's chambers for review.
On Tuesday, Buxton's lawyer, Rep. Willem Jewett (D-Ripton), filed a motion with the court asking for another recount — this one by hand.
Jewett acknowledged the irony. Three years ago, he and Buxton were in the legislature when it decided that all recounts should be done by tabulators rather than by hand. The logic was that tabulators are both faster and more accurate.
"Tabulators are better at counting than humans, but there are apparently limitations," Jewett says.
It will be up to the judge to decide whether to grant the new recount or rule on the two wayward ballots. If the vote ends up tied after all that, state law calls for another vote within three weeks. That would be right around Christmas, Jewett notes — not exactly prime election time.
Meanwhile, Secretary of State Jim Condos was trying to keep tabs on the recounts from afar. His office is not in charge of them; under Vermont law, the state courts are. In New Hampshire, that responsibility falls to the Secretary of State's Office.
Having the courts oversee recounts means that staffers unfamiliar with election processes conduct them, and the processes vary by county, Vermont Republican Party executive director Jeff Bartley notes. It's been infuriating to follow, he says, and he'd like to see a more systematic approach.
On this count, Jewett agrees.
Condos, too. He says he plans to ask legislators to set a more specific recount protocol.
Buxton and Ainsworth have run against each other in the past four elections. Two years from now, if the Buxton-Ainsworth rematch is again too close to call, the recount might be done differently.