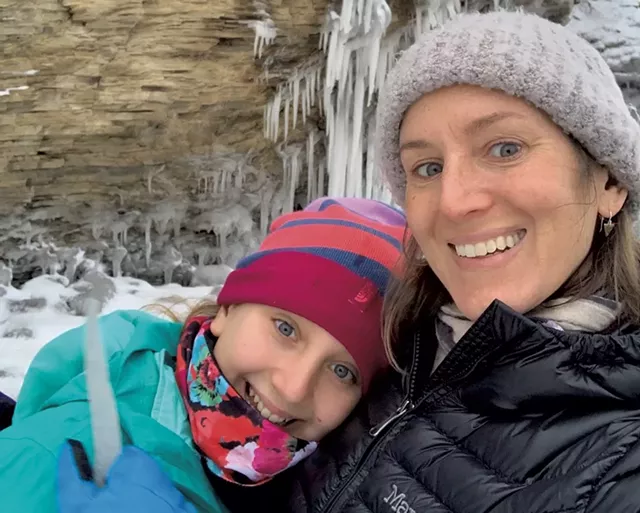 Courtesy of Alison Novak
Alison and daughter Mira find a little joy on a snowy day at Shelburne Farms
In recent weeks, my family — along with countless other Netflix subscribers — has binge-watched the new reality series, "Tidying Up With Marie Kondo." A spin-off of the best-selling book The Life-Changing Magic of Tidying Up: The Japanese Art of Decluttering and Organizing, the show chronicles the petite and adorable Kondo as she goes into people's homes and helps them figure out how to pare down clothing, books and other belongings, keeping only those items that "spark joy." She also teaches viewers how to fold everything — from socks to hoodies — into cute little packets that stand at attention in your drawers.
It's the kind of show that, after watching one episode, makes you want to yank everything out of your dresser and start getting rid of things — or at least that's the reaction it prompted in my household.
I'd argue that, for parents, the approach that Kondo advocates is particularly compelling. After all, parenting is messy. Kids get sick. They spill tall glasses of milk. They leave their Legos and Beanie Boos all over the living room floor. There's a lot that happens outside of our control. But a drawer of crisply folded T-shirts? That's something we can manage.
Sometimes — in the thick of a cold and snowy winter — it's difficult to figure out what sparks joy. We're too busy tracking down our kid's missing mitten or digging out the long underwear from the bottom of the hamper.
So, in this month's issue, we've written about some of the things that spark joy this time of year. For a Vermont musher and the first and second graders he visits at Waterbury's Thatcher Brook Primary School, it's sled dogs. For one Weathersfield family, it's the backyard hockey rink they've made as a family project for the past eight winters. For Burlington teen Alexandra Contreras-Montesano, it's poetry. And for you, our readers, it may be any one of the fun activities we write about this month — from animal tracking to cold-weather science experiments to baking éclairs for Valentine's Day.
On a more serious note, read "Peer Reviewed," in which Ken Picard writes about a unique youth restorative justice panel run by the Williston Community Justice Center. Teen volunteers on the panel help to decide how their peers will make reparations for offenses such as sexting, retail theft and distracted driving. "Our process is not about blame or shame," says the director of the justice center, Cristalee McSweeney. "It's about accepting responsibility and obligation."
Lastly, we hope you'll join us on Saturday, February 2 from 10 a.m. to 2 p.m. at the Hilton Burlington for our 22nd annual Camp and School Fair. Summer? Now that sparks some serious joy!