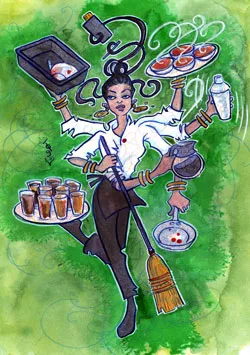 At Burlington's hip brunch spot Penny Cluse Café, maple syrup used to sit on every table. Now it arrives with the pancakes and French toast. It's a trifling change, the sort of thing only regulars would observe. But the vanishing syrup is a small symptom of the troubled economy and its toll on Vermont's dining scene.
Everyone takes notice when a restaurant closes. And indeed, over the past year, eateries ranging from old standbys (Montpelier's Thrush Tavern, Burlington's Tortilla Flat) to newer additions (Big Chile Republic in Colchester, Stonecutter's Brewhouse in Barre) have turned off their ranges and shuttered their doors. What isn't so obvious are the creative cost-cutting measures other restos are using to stay alive.
Not that Penny Cluse is in dire straits. Though business has been a bit sluggish during periods of extreme cold, it's "very, very busy on weekends," attests owner Charles Reeves. Still, he acknowledges that rising costs led to the stowing of the syrup dispensers. "[The price of] flour is down again; butter is really inexpensive, but syrup is still going up," he says.
While most restaurateurs are feeling the twin pressures of swelling food costs and shrinking consumer budgets, they've responded to the crunch in wildly dissimilar ways. Some have laid off staff or given their restaurants extended "vacations" to keep overhead costs down during the always-slow first quarter. Other restaurants are pulling out all the stops and offering coupons, deals and sales to keep patrons coming back. Still others are tweaking their menus to offer "comfort food" selections in comfortable price ranges.
But whatever their coping strategies, most local resto owners are battling serious concerns — not least about competition from massive chains. They hope Vermont consumers, the same folks who've flocked to the localvore movement in droves, will do their best to visit favorite eateries while times are tough.
******
"It's worse than tough," clarifies Lee Duberman, co-owner with Richard Fink of Ariel's Restaurant in Brookfield, summing up the current state of the biz. "A lot of people who were just hanging on by their fingernails figure it isn't worth it anymore."
Duberman and Fink have responded by putting their flagship eatery on hiatus for the winter. Ariel's has a high profile for a rural resto — it drew acclaim last year from Mark Bittman of The New York Times — but it's still far enough from the beaten path to keep patrons away when flakes are flying. "There's less business to go around," says Duberman. "People aren't going to make the decision to drive five miles out [of Montpelier] on a dirt road."
The couple has a second, downtown business on which to focus their attention: Ariel's Riverside Café & Bar in Montpelier. There, Duberman is responding to food costs by taking a DIY approach in the kitchen. When wheat prices rose, taking those of Red Hen Baking Company bread with them, she brought her own sourdough starter to Montpelier and began making loaves. While she used to spring for Leonardo's gelatos and sorbets, now she churns up her own in creative flavors such as Lavender Honey and Burnt Orange. Her dips for Mediterranean mezze have always been made from scratch; now the ricotta is, too.
Another cost-saving measure at Ariel's is buying whole or half animals from nearby farms and butchering them in-house. "We try to stick with sustainable things, and that's really hard," says Duberman. "We try to go local, but there's not a lot that's affordable and available at the price point people like to pay."
Blowing snow and subzero wind chill have also taken their toll on eateries in an otherwise prime location: Burlington's waterfront. One of those, Taste, has been on hiatus and will reopen in February. Chef and co-owner Rick Benson is taking the time to focus on his other business, Charlotte's Little Garden Market.
Benjy Adler, co-owner of The Skinny Pancake crêperie, says the lakeside chill has had a more significant effect on his winter business than has the general downturn: "We have been doing better this year than we did last year," he attests.
Nonetheless, Adler has some small-scale customer-luring tactics other restaurants might try. On days when the mercury stops below 10 degrees Fahrenheit, folks who venture down to The SP and mention the temperature get a 10 percent discount. They can get the same bonus by donating 10 old grocery bags, which The SP recycles for takeout meals.
The crêperie will also keep patrons interested by unveiling its first major menu upgrade since it opened in 2007. Most of the new items have already been previewed in the form of specials: There's a duck confit crêpe, a pulled-pork one called "The Johnny Crêpe," and an extravagant-sounding concoction called "The Bananaganza." "That's one way we're trying to keep alive and fresh and get people in the door," Adler explains.
For now, at least, crêpes with savory fillings aren't something you can pick up on our local fast-food strips. But Mexican, Italian and homestyle American cuisine are all available in cheaper, mass-produced versions. The desire to economize on food — and get it fast — can drive patrons to chain restaurants, frustrating chefs who pride themselves on their made-from-scratch offerings.
At Pulcinella's in South Burlington, Sam Palmisano's extensive menu blends family recipes for classic Italian dishes such as braciole and polpette (meatballs) with a smattering of more modern fare, including maple-citrus-glazed, hot-smoked salmon and sesame-crusted ahi tuna. Everything — from the lunchtime panini to the numerous pasta dishes — is cooked to order.
But Palmisano says this attention to freshness and detail may make some harried customers turn elsewhere. Recently during lunch, a woman walked out after being told a hot sandwich would take 10 to 15 minutes. "Some people feel the wait is exorbitant," he says. "The only way Olive Garden is able to [serve food so quickly] is because they have precooked stuff."
Moreover, Palmisano argues, chain restaurants aren't always faster or cheaper than locally owned ones — customers just assume they are. "It's a perception, not reality," he asserts. Recently, Palmisano and his girlfriend ate at Quiznos to scope out the sandwich competition. After waiting 25 minutes and shelling out $27 for a pair of sandwiches and some soup, he says, they left unimpressed.
Palmisano also doesn't like what he's hearing about the new Texas Roadhouse in Williston, where loud country music twangs and servers do a line dance every 45 minutes. Word on the street is, it's proving to be a dining phenom. Palmisano, who shares a linen-laundering company with the new chain, says a rep told him the Roadhouse served 8000 people in a single week. When Seven Days called to verify this figure, spokesperson Travis Duster claimed the restaurant's average is around 5000 customers per week. "I would be very doubtful that they did 8000," he stated.
Mike Williams, who owns Kountry Kart Deli and The Scuffer Steak & Ale House, is also feeling the Roadhouse pinch. "We've been fighting tooth and nail to think of ways of getting people in the seats," he says. "It does stink to hear that [Texas Roadhouse] is considering putting a tent outside because their already-large waiting area isn't large enough to hold the people wanting to get into the restaurant."
Williams admits his steaks aren't as cheap as the TR versions — small restaurants don't enjoy the benefits of corporate backing or economies of scale. But he touts the factors that set his meat-and-potatoes eatery apart from the competition: a larger menu featuring vegetarian entrées, lots of seafood and an extensive selection of microbrews.
While local restaurateurs may worry about chains, they're not against dining diversity per se. Williams and Charles Reeves of Penny Cluse agree that Church Street's pedestrian mall needs more businesses competing for customers, not fewer. Both are concerned about the empty storefronts that dot the street.
"I want another nice restaurant in the Smokejacks spot," Williams says. He explains that a high tide buoys all boats: "It brings people down to this block, and it brings them by my restaurant. If they walk past me 10 times because they're going to their favorite spot on the corner, maybe the 11th time they'll come in."
Reeves concurs: "Things are looking pretty bleak down here," he remarks. "We all benefit from being a restaurant area. If you come downtown . . . and there are no viable choices, people won't come down to eat."
On the bright side, Reeves believes it's a perfect time for folks to show some entrepreneurial spirit. "It's imperative that people support restaurants, but it's also a great time to . . . get off your butt and open a restaurant," he says. "I think the Vietnamese restaurant phenomenon should be inspiring to shoestring entrepreneurs: You can open up a restaurant for $20,000, as long as you don't Adrianas yourself." (That's a reference to the short-lived eatery that occupied the vast, former NECI spot on Church Street's top block.)
Williams, for his part, is looking for some support from municipal government. He hopes Burlington's four mayoral candidates shift their focus from creating new jobs to helping existing operations stay in business. "All city fees are going up, state fees are going up, the cost of living is going up," he laments. Williams' suggestion: Let Canadians — who still flock to Burlington's airport — shop and eat in town tax free.
Incentives are always a plus. But while they're waiting for statewide conditions to improve, some restaurants have kept their finances in good health by making small, strategic changes. Chiuho (Christina) Duval, co-owner of Burlington's A Single Pebble, says minor cuts in labor and paper products have helped keep her budget balanced. At the same time, the restaurant's lunchtime tasting menu — seven courses for $15 — is packing people in. Duval says half her lunch patrons indulge in the ever-changing collection of authentic Chinese fare, some of which never appears on the regular menu.
For other restaurants, it's about coaxing folks into the dining room when they're not ready to splurge on a special-occasion meal. Richmond's Kitchen Table Bistro is making ends meet, and more, by attracting a cadre of regulars. Its new menu is packed with medium-sized plates — steamed mussels, a burger, endive salad with blue cheese dressing — at prices reasonable enough to bring back loyal patrons.
General manager and business partner Neal Johnston says the menu "gives you the option of deciding how you want to dine with us. We want to appeal to people on a weekly basis, whether it's a celebration or you just want to drop in for a burger." The restaurant's physical layout favors this diversity, offering bar seats, intimate dining rooms and larger banquet rooms for various occasions.
Charles Darwin's "survival of the fittest" really means survival of the most adaptable. And in the cutthroat restaurant world, the drive to adapt takes many forms, from drawing up a new menu to moving the syrup off the table. "It used to be a nice thing to have on the table if you wanted to sweeten your coffee with it," says Reeves of Penny Cluse. "We have a lot of regular customers, and they were accustomed to having it."
Luckily, his patrons have been calm about the switch. "Everybody understands," Reeves says. "But these aren't the decisions we want to be making."