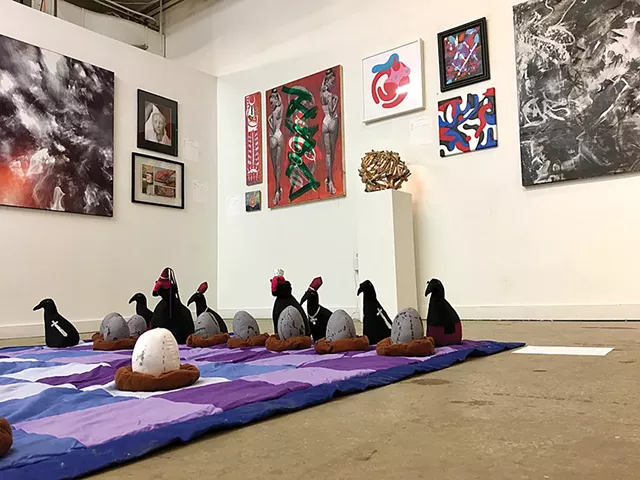 Courtesy Of Christy Mitchell
The S.P.A.C.E. Gallery
Burlington's arts scene is as kooky, warm and independent-minded as the city itself. There's a little bit of everything, from academically slanted university exhibitions to raw, down-and-dirty local group shows. And that's to say nothing of the eclectic pop-ups that, well, pop up unexpectedly throughout town.
Here's a sampling of galleries we think are required viewing in BTV. To stay up-to-date on openings and must-sees, check Seven Days' art listings and subscribe to the re:View newsletter.
The S.P.A.C.E. Gallery
Christy Mitchell's S.P.A.C.E. Gallery — that stands for Supportive Places for Artists and the Creative Economy, BTW — is a South End institution. It houses 12 active studios and exhibits a wide range of work by emerging and established local artists. Understanding that every artist needs to get their start somewhere, S.P.A.C.E. is dedicated to inclusivity and nurturing creative talent at home. You'll find the warehouse-turned-gallery inside Pine Street's Soda Plant building — keep your eyes peeled for Adam DeVarney's awesome spaceman mural.
BCA Center
This four-story gallery in a former firehouse emerged from an arts council founded in 1981 by then-mayor Bernie Sanders. The center hosts approximately six to seven contemporary shows per year — all free! — as well as classes, live performances and workshops.
Champlain College Art Gallery
With curator Dana Heffern at the helm, this college-run art space offers varied exhibits featuring national and international artists. Plenty of locals show here, too, including graduating students working in fine arts as well as graphic and game design.
Fleming Museum of Art
University of Vermont, 61 Colchester Ave., Burlington, flemingmuseum.org
Permanent installations of art and ethnographic artifacts draw on a collection of more than 25,000 items. Temporary exhibitions have explored everything from Afro-Atlantic spiritual art objects to the career of Vermont-based queer cartoon hero Alison Bechdel.
Karma Bird House Gallery
You never quite know what you're going to get here, but it's almost always good. KBHG shares space with fancy coffee shop Maglianero Café — so you can get caffeinated and cultured all at the same time.
New City Galerie
This downtown gem of a gallery is modest in square footage but consistently provocative in the scope of its shows, which feature contemporary work by Vermont and Vermont-connected artists.
SEABA Center
404 Pine St., Burlington, seaba.com
The home base for the South End Arts and Business Association hosts rotating exhibitions by Vermont artists working in Burlington's South End Arts District. It's also HQ for the annual art-stravaganza the South End Art Hop.