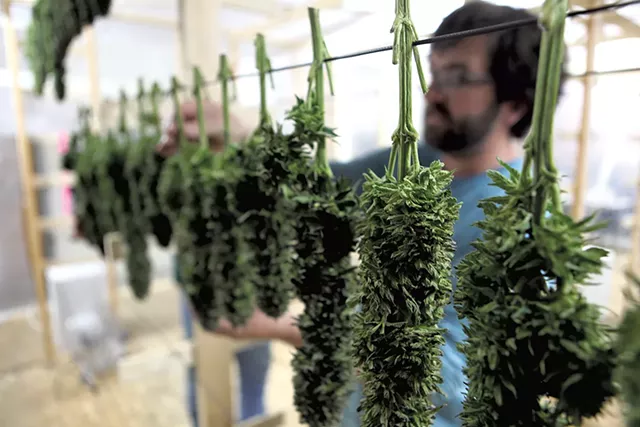 kevin Mccallum
Steve Querrey hanging trimmed hemp to dry
Last week, Sam Markowski pulled his pickup truck into a field where he once planted 10 acres of feed corn. Instead of neat rows of corn stalks, however, thousands of dark green hemp plants dotted the landscape.
Markowski, wearing a fleece and a baseball cap bearing the name of his family's excavation company, threaded his way through the pungent plants toward a lone worker in the distance, framed by hills of fading fall foliage.
Chris Teitsma gently squeezed the flower-laden stalk top of a hemp plant, known as the cola, and explained how he knew the time for harvesting had arrived. "You want them fat and firm like this," Teitsma said, showing off the crop. "The flowers are really dense and packed in there."
Teitsma said the buds should fetch top dollar — perhaps hundreds per pound — as the ingredient for organic hemp cigarettes, a product people smoke to get their fix of cannabidiol, or CBD.
He snipped off the cola with his pruning shears, held it up in the sun for one last look, then laid it gently in a plastic bin before continuing down the row.
A few miles away, at the family farm in Florence where Markowski grew up, a higher-volume mechanized harvest operation was well under way.
Mike Markowski, Sam's nephew, drove a John Deere tractor hauling a load of freshly cut hemp plants toward a processing area. Workers fed plants by the ton through a custom-made de-stemming machine.
The contraption's rotating tubes sliced the branches from the fibrous stalks and spit them onto a table. Workers yanked the branches through special V-shaped channels, removing the leaves and flowers. This was the biomass from which CBD and other products would later be extracted.
The harvest at Sam Markowski's farm reflects the fast-growing, diverse and increasingly risky hemp industry statewide.
Stung last year by a problematic hemp crop he couldn't sell, Markowski, 65, doubled down this year, increasing his acreage to 90. That's a respectable size by Vermont standards but small-fry compared to industrial-scale growers in places such as Colorado and Montana.
Even as he's trying to perfect harvesting hemp for CBD, Markowski is striking partnerships he hopes will help develop the hemp products of the future.
"Up until this point, we have just been sinking money into this thing," Markowski said. "People come and see what we're doing and say, 'You're ahead of the curve,' but it doesn't feel that way sometimes."
Marble, milk and CBD
kevin Mccallum
Chris Teitsma harvesting hemp flowers
Like many Vermonters, Markowski understands that making a living in rural areas often requires diversification.
His grandfather, a Polish immigrant who came to the United States a century ago, quarried marble around Pittsford, milked cows on the family's Florence dairy and cut timber off the surrounding hills.
His father, Peter, added trucking to the mix in an effort to provide for his family of eight and hold on to 475 acres. The heifers eventually gave way to bulldozers, dump trucks and a fleet of earthmovers, a business Sam Markowski and his brothers grew into one of the largest excavation contractors in Vermont.
To preserve the family farm for future generations, however, Markowski knows it must stand on its own economically. So he started farming organic corn on the side, quickly growing his venture into a 300-acre operation. When corn prices plunged a few years ago, he sought another cash crop.
"That's when this hemp thing came along, and we just said, 'Let's try something different,'" Markowski said.
Vermont is in the midst of a bountiful hemp harvest, the result of a dramatic expansion in the number of farmers seeking to capitalize on the emerging market for products derived from marijuana's nonintoxicating cousin.
Following the federal reclassification of hemp as a regular agricultural product in 2018, the prospect for profits has quickly drawn both experienced farmers and amateurs. Nationwide, the number of acres registered to grow hemp in 2019 quadrupled from 2018 to more than 511,000, according to advocacy group Vote Hemp.
The number of registered acres in Vermont also blossomed, from 3,290 in 2018 to more than 8,800 this year, easily making it the state's fastest-growing agricultural product, according to the Vermont Agency of Agriculture, Food and Markets. The number of entities registered to grow and process hemp — 942 — has more than doubled in a year.
"We have individuals who are veggie growers who have done it for many years and are succeeding," said Stephanie Smith, chief policy enforcement officer for the Agency of Agriculture. Others, however, are struggling, which will become clearer as this year's harvest winds down, Smith said.
One of many hurdles: Growers must test plants before they harvest, to ensure that they don't exceed the 0.3 percent of THC content allowed by law. Some have "hot crops" that exceed the limit, meaning they might have to be destroyed.
With so many people learning hard lessons, observers wonder whether the current boom is sustainable.
"There are so many new producers, it feels a bit like a wave," said Nicole Dehne, certification director for Vermont Organic Farmers. "I'm not sure how long it will last." Her organization has certified more than 100 hemp growers in the state as organic.
In their rush to get plants in the ground, some farmers may not have lined up buyers — a risky proposition, Dehne said.
"I'm concerned that there are so many producers that there won't be a market to handle all their products," she said. "But I'm hoping I'm wrong."
Growing pains
kevin Mccallum
Sam Markowski preparing to send hemp through a de-stemmer
Markowski's first attempt at cultivating hemp was a bust.
He and his brothers planted about 40 acres with seed he'd purchased from contacts made at an Oregon trade show. They modified a seed drill to inject the hemp seeds into soil as a tractor pulled the contraption along.
Unbeknownst to Markowski, however, the mixture contained seeds for both male and female plants. When the male plants matured, they began releasing pollen that fertilized flowers on the surrounding females. That's great for someone trying to grow hemp seeds, but it was bad news for the brothers' goal — raising plants for CBD.
They uprooted some male plants, but the damage was done. The CBD content in their crop was too low, and they couldn't find a buyer.
"We pay the highest prices for the best lessons," said Markowski.
This year, they have made significant changes. They partnered with VT-CBD Labs, a hemp processing and extraction company that had a reliable source of feminized seeds.
The brothers also selected a hearty hemp strain, Jupiter, that's well suited to Vermont, and opted to plant seedlings instead of seeds — a more expensive option they hoped would pay off in healthier crops.
Markowski plowed cash into specialized planting equipment that allowed them to snuggle their seedlings in raised, drip-irrigated mounds while covering the soil with black plastic to keep down weeds and retain moisture.
The additional investment appeared to be in jeopardy earlier this month when, just as they were preparing to harvest, a fierce nor'easter packing 40 mph winds blew through the state, dousing the area with three inches of rain.
Several days later, many of the plants listed precariously. The storm gave Markowski a fright, but the crop came through fine.
"It's a good, stout, hardy plant," he said.
Sunny weather soon returned, and CBD levels continued their steady ascent. Weather permitting, he hoped to wrap up the harvest of some 100,000 plants by Thanksgiving.
Well aware that the industry is in its Wild West phase, Markowski is doing everything he can to differentiate his hemp from his competitors', such as getting organic certification and diversifying the types of products he sells.
Most growers are selling hemp for CBD extraction. Markowski is one of several Vermont growers looking for the next big thing. Hemp is known to have more than 100 cannabinoids, of which THC and CBD are just the two best known. Groups such as Florence-based Northeast Hemp Commodities are trying to grow the market for lesser-known cannabinoids with possible health benefits, such as CBG, or cannabigerol.
Markowski sees great promise in terpenes, organic compounds that give hemp its aromatic qualities. He and his partners have developed a proprietary technique to extract terpenes without harmful chemicals as the plant dries.
A shipping-container-size structure next to the former dairy barn is where that magic happens. The leaves and flowers are fed into the top, and oil- and water-based terpenes are extracted and collected in food-grade containers.
The extraction process is the brainchild of Dan Querrey, an industrial engineer from Pittsford who claims his technique — which he would describe only in broad strokes — is one of a kind. "This is research and development. You don't just go to the corner market and buy a hemp dryer," Querrey said.
Markowski and Querrey have established a side venture to market organic terpene products under the brand VT Terps. The company website claims "terpenes and cannabinoids work together to produce a number of therapeutic effects."
Chris Porter, sales and marketing manager of VT Terps, likened cannabinoids to the engine of a car and terpenes to "the steering wheel that drives them down the pathways." A one-ounce vial of the company's best-selling "bong drops," which users can add to water pipes during a smoking session, retails for $90.
To demonstrate a different application, Markowski drew clear liquid from a mason jar with a syringe, poured a few ounces of Long Trail Brewing's Green Blaze IPA into a plastic cup and added a few drops of the terpenes.
The liquid imparted a subtle citrus flavor to the popular local beer while softening its hoppy edge. The team is exploring a variety of terpenes-infused beverages, such as beer, seltzer and tea, Querrey said.
Markowski said he has never been interested in marijuana but came to see the value in CBD after he tried it a few years ago to treat chronic knee pain. A few days after taking it orally, he noticed a difference in his knee, and he still takes a modest dose twice a day, he said.
While he has sunk hundreds of thousands of dollars into the crop to date, Markowski expects his investment will pay off. While many farmers are using temporary workforces to plant and harvest by hand, Markowski is betting that his diversified, mechanized operation will give him a leg up on the competition if — or more likely when — oversupply swings the hemp boom toward bust.
"We like to think we're in this for the long term," he said.