Jeb Wallace-brodeur
Down Home Kitchen owner Mary Alice Proffitt, left, with staff members Louisa Franco and Lindsey Brownson
Mary Alice Proffitt stands behind the counter at Montpelier's Down Home Kitchen. She pumps coffee into cups and scans the dining room, searching for clues about each party's status. At a table near the windows facing Langdon Street, silverware resting on plates says diners are finished. Two tables over, a woman twirls her coffee cup in shallow circles, subconsciously seeking a refill.
Proffitt's coffee pot spits and sputters as she pumps — empty. She passes two full cups to a server and spins around to brew another pot.
It's 1:30 p.m. on Friday and Down Home is packed, as it has been most days since opening in mid-September. If the crowds are any indication, locals have been craving a taste of the South since Jimmy Kennedy stopped serving catfish at Plainfield's River Run in 2010.
While the new restaurant has no formal ties to River Run, its owners are noted friends of the project (Down Home's catfish is a Kennedy recipe), and chef Artie Fleischer (recently an instructor at New England Culinary Institute) once cooked at the beloved barbecue joint.
Proffitt commingles those local influences with her own experience — and recipes from her large, southern family — working in hospitality for much of her adult life. She always wanted to open a place of her own. After moving to East Calais in summer 2014, Proffitt decided to make a go of it.
Jeb Wallace-brodeur
Neillea Dee serves lunches
She hired baker Neillea Dee (Dee's résumé includes time at Per Se, Kismet and Bohemian Bakery) to oversee desserts, but spends plenty of her own time wielding a spatula or rolling pin.
Right now, though, Down Home's 35-year-old proprietress is just trying to make sure there's enough coffee to go around — and juggling 17 other tasks.
"Should I dump this because it's old?" A waitress approaches, holding a stale pot of joe. "I'm actually trying to make more because they're about to shut my water off," Proffitt says. "There's a problem with the main water line."
A plumber shuffles up to the register, pulling off his worn orange work gloves. "Both your toilets are clogged," he says, giving Proffitt a look that says, I wish I could help you, lady, but you're screwed.
"Yes, I know, we're having an issue with the water," she answers, looking toward the door.
Two women walk in. "Hi, girls! How are you? I'll be right with you!" Georgia twang rolls off Proffitt's every syllable. "So you're gonna be two?"
The ladies nod.
"OK." Proffitt sets the coffee to brew, then dashes to a corner table to wipe and reset it. She escorts the women to their seats and heads back to the register, where two customers are waiting on takeout.
"I'm gonna check on your to-go," she says. "I'll find out where they are and be right back."
Before she can get back to the kitchen, an elderly man walks in.
"Would you like to sit at the counter or at this table?" She asks. He nods toward the table and Proffitt pulls out a chair.
The nut-brown scent of brewing coffee filters through the dining room. That coffee — roasted in East Calais at Bohemian Bakery — is toasty, bittersweet and black. Servers pour it into petite white cups, which are so innocuous and charming that it's hard not to over-caffeinate. (The restaurant also offers craft beer on tap, wines by the glass, and a few classic cocktails such as mint juleps and milk punch).
But why wouldn't you want to sip through cup after cup of steaming, small-batch bliss while dipping buttery biscuits in runny, sunny eggs? Or perhaps you fancy a pool of hunky sausage gravy to whet your plump and crumbly biscuit? Halfway through, you'll be grateful Down Home's waitstaff are quick with the bottomless refill.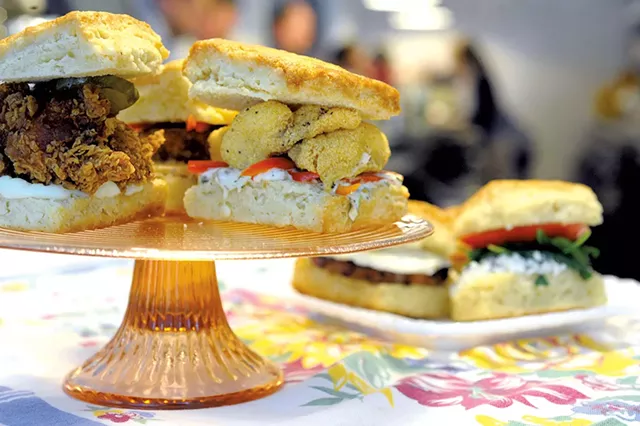 Jeb Wallace-brodeur
The biscuit board
The restaurant opens daily at 8 a.m., serving simple downcountry breakfasts. At 11 a.m., the kitchen starts serving entrées of fried chicken and catfish (also fried, or grilled) or trout, paired with two sides and a biscuit or corn bread.
Proffitt says she planned to run this menu for opening week, then build upon it with more complex regional specialties. But the restaurant has been so busy, she's only now starting that process. She hopes to launch dinner service soon.
But for now, most of the options straddle breakfast and lunch.
Last week, a bouncy bifold omelette — fluffy as a feather comforter and stuffed with a brilliant slurry of goat cheese, juicy tomatoes and wilted spinach — made a fine mid-afternoon meal. And the herb-flecked, oniony home fries that came with it added enough heft that I ate it for dinner, too. (Omelettes are build-your-own, so others might cradle ham, bacon, cheddar or mushrooms).
Though the food is humble and the prices low (sides are $4, the priciest entrée is $17 and portions are generous) such simple cookery leaves little room for error. If the eggs are heated just a moment too long, you'll need to toss them and start again.
Looking down at a long strip of catfish, diners might not notice the micro-thin cornmeal crust clinging cleanly to the filet. But they'll enjoy its savory fried crackle. One day, mine came with a scatter of salad dressed in simple vinaigrette, crisp with red onion and ribboned cabbage, and a heap of velveteen, peppery mac and cheese. Another time, I might opt for grits or tangy red-potato salad slicked with mayo.
And then there's the fried chicken. Cast in thick, rippled breading, the tender bird stayed crisp long after it cooled. The corn bread was so moist and lush that it wouldn't be hyperbole to call it creamy.
The finale — a spice-laden slice of pecan pie — was all gooey, chewy nuts ringed with effervescent, barely sweet butter crust.
Jeb Wallace-brodeur
Down Home Kitchen
The cardinal rule of hospitality is that your guests must feel comfortable. And at Down Home, you might find yourself lingering long after your lunch hour has ended, warmed by the gentle glow of the whitewashed walls. The chairs are painted a soothing robin's-egg blue, and just inside the door, a window seat offers a cozy perch to wait for a table or entertain restless children. A tin bucket holds pocket-size books, while a dollhouse offers stories told by a miniature menagerie: in a bedroom, ducks and chickens hold court with a mouse as big as they are.
Across the restaurant, December sunlight slides in the picture window, casting long shadows on a table of five middle-aged businessmen. At the back, a developer chats with a state legislator, biscuit in hand. Near the windows, two newspaper reporters compare notes between spoonfuls of soft-grained, cheddar-laced grits.
Proffitt walks from kitchen to register, downing a glass of water and straightening chairs at the long central table as she passes. Before long, her eyes alight on an entering patron.
"Hello! Nice to see you again! How wonderful," she says, breaking into a wide smile. As she hurries toward her guest she whispers, as if by habit, "Make yourself at home."