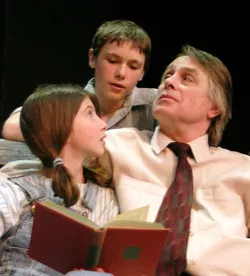 Liz Gilbert, Michael Bresette and Kim Bent
Two original sins haunt America's history: Native American genocide and African slavery. Their consequences have undermined some of the highest ideals of our founders, especially the principle that "all men are created equal." The legal system in particular has never treated people of color impartially in the United States. Even in 2008, African-Americans are grossly overrepresented in the prison population and underrepresented in positions of power.
When novelist Harper Lee was growing up in rural Alabama in the 1930s, a serious criminal accusation all but guaranteed conviction for a black man. The rigged "justice" system featured all-white juries, a strictly enforced set of Jim Crow segregation laws and sheriffs who tolerated terrorist tactics by the Ku Klux Klan and lynch mobs. In To Kill a Mockingbird (1960), Lee's lyrical narrator, the tomboy Scout, conveys the era's heartbreaking brutality and hypocrisy from a child's refreshingly innocent perspective.
Lost Nation Theater's current production — an uncredited stage adaptation of the Pulitzer Prize-winning book — beautifully recreated the novel's magical yet morally conflicted world. Three preternaturally talented children (ages 14, 12 and 9), starring as Jem, Scout and Dill, braved their characters' sometimes bewildering journeys with energy and charm. They set a high standard of naturalism for the ensemble's adult members, who supported the kids well under Kathleen Keenan's capable direction.
Scout appears as two characters simultaneously throughout the play. Scout, the preteen child, takes a central role in the action; Jean Louise (Scout's given name), in her early twenties, stands slightly apart and narrates events with the wistful, wry humor of an adult looking back at her childhood. The novel's time frame is condensed into one hot summer and fall in Maycomb, Alabama, a fictionalized version of Lee's hometown, Monroeville. Jem and Scout are the children of lawyer Atticus Finch, a widower and devoted, though somewhat unconventional, father. (The kids call him by his first name, for example.)
When precocious Dill comes to stay next door for the summer, Jem and Scout draw him into their favorite pastime: speculating about the mysterious neighborhood recluse, Boo Radley, who reportedly hasn't left his house in decades. The Finch family housekeeper Calpurnia sternly forbids the children from bothering the Radleys, but the children's interest grows as they find small objects hidden in a nearby tree.
Such petty concerns fade when the local judge enlists Atticus to defend Tom Robinson, a black man accused of raping a young white woman. The town turns on the Finches. Atticus tries to protect the children as much as possible, but their curiosity leads them into conflict with the town's hate-filled adults. On the night before the trial, Jem, Scout and Dill find themselves between Atticus, who's guarding Tom at the jail, and a gathering lynch mob. The next day, they sneak into the courtroom to watch, hidden in the "colored" balcony.
Atticus warns the children that the trial won't end well, but tells them that Tom deserves a vigorous defense anyway. "Real courage [is] . . . when you know you're licked before you begin, but you begin anyway and see it through no matter what," he explains. Bitter consequences ensue from the inevitable miscarriage of justice. But a surprising ally emerges to avert further tragedy for the children and salvage their sense of hope.
Much of the storyline rests on the children, especially in Act I. At Lost Nation, all three child actors seemed completely at home on stage. Michael Bresette, 14, portrayed protective big brother Jem with the tentative swagger of budding adolescence. Barefoot, athletic and slightly gangly, Bresette showed that while Jem tries to be tough, the teen's bravado often masks vulnerability.
Liz Gilbert, 12, demonstrated great emotional range as the tomboy Scout. Her face rose or fell, lit up or dimmed, with Scout's excitement, wonder, outrage and fear at the amazing and terrifying events that unfold. Gilbert also created moving, believable relationships between Scout and the other characters. She made Scout a sassy little sister to Jem, bossy friend to young Dill and loving daughter to Atticus.
The unexpected star of the show, however, was 9-year-old Adam Blachly as Dill. Novelist Lee modeled Dill on Truman Capote, who was her summer neighbor when they were children. (Lee and Capote remained lifelong friends.) Blachly captured Dill's too-wise-for-his-size essence, with a perky, eager and utterly fearless stage presence. Dill's confidence frequently exceeds his knowledge, and Blachly richly displayed this winsome self-assurance with spirited speech, animated eyes and proud physical carriage.
Anna Soloway's narration as Jean Louise meshed seamlessly with the action. Dressed elegantly in white, Soloway made the adult Scout an ethereal, reassuring presence. Her gentle smile and smooth drawl lent both calm and poignancy to the storytelling.
Kim Bent played Atticus Finch as a laconic, genteel Southern gentleman. He was most impressive as the patient, loving father. He convincingly explained Finch's moral convictions — unusual and unpopular in Maycomb — to the children as simple common sense. "Why reasonable people go stark raving mad when anything involving a Negro comes up is something I don't pretend to understand," Finch declares. Bent adopted an accent that occasionally proved tough to decipher. He sometimes remained a bit too subdued in the courtroom scenes. But overall, his restrained portrait of Finch was effective, and affecting.
Memorable performances abounded among the rest of the company as well. As Tom Robinson, Edgar L. Davis beautifully embodied the defendant's dignity, maintaining good sense in the face of a senseless situation. Mark Roberts shone in two roles: the badgering prosecutor, whose chin juts with arrogant disdain; and Boo Radley, with hunched shoulders and wide-eyed, childlike reticence. As the alleged victim's father, Bob Ewell, Larry Lambeth hissed and spat like a hungry snake. Hannah Brown portrayed his bedraggled daughter, Mayella, like a wounded animal, alternately lashing out and retreating into herself. Dennis McSorley's sheriff exuded authority with salt-of-the-earth style, while Meredith Watson played Calpurnia with rooted grace.
The most striking element of Tony Tambasco's simple scenic design was the large tree — credited to "tree artist" Donna Stafford — fronting the Radleys' worn picket fence. Rope nets swathed a wide, pale trunk, and green nets hung draped from the ceiling to represent foliage. On the opposite side of the stage, the Finches' raised porch featured a working porch swing, as well as a screen door and six-over-six sash window leading to the unseen house interior. When the trial began, the actors rolled in simple courtroom furnishings: a painted judge's seat and witness box at center stage; attorneys' tables and chairs in opposite corners.
Lighting and sound design added subtle layers to the story. In the night scenes, for example, Tambasco's visual scheme featured tense reds. Shawn Sturdevant — who handled sound and costumes and acted in the ensemble — delicately scattered the quiet chatter of birds in the background of many scenes. It greatly increased the sense of summer languor in the early, carefree interludes, and the birds' later absence darkened the mood.
Now 82, Lee has never written another book, perhaps because her first one was so stunning. To Kill a Mockingbird has never gone out of print (30 million copies and counting), and a 1999 poll of librarians ranked it as the best novel of the century. Courage, kindness and tolerance are powerfully drawn, as are evil, hatred and injustice. At the end of the Lost Nation performance I saw, there were few dry eyes, least of all mine.