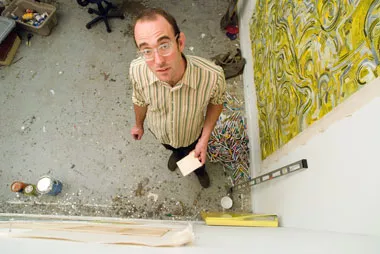 Electrical boxes don't normally call much attention to themselves. The utilitarian metal rectangles are a homely, if necessary, part of the urban landscape, and most of us simply block them out. But three years ago in Burlington, 10 such boxes around town suddenly acquired vibrant personalities, covered with cheerful, loosely geometric designs and signed, "C. Derbes." It was a highly unusual display in a town where public art has more commonly taken the form of marble sculptures and leap-frogging children.
The handiwork of Clark Derbes, a Louisiana native, turned out to be a local art history flash in the pan. His public mural project - endorsed by one city department and rejected by another - caused a bit of a municipal dust-up, and after a while the boxes were restored to their standard, boring gray. Surprisingly, though, the artist is fine with that. "I'm a million miles from where I was then," he declares. "I'm glad they're gone."
In the time since, Derbes has returned to Baton Rouge, and then landed in Burlington once again. All the while he's been experimenting with different mediums - collage, encaustic, making paper from erstwhile blue jeans - and constantly drawing on just about any handy surface. But the work he's preparing for next week's South End Art Hop marks a return to painted metal: detached doors from refrigerators, washers, dryers and stoves, to which he has added blocks of solid color and straight or curvy lines. The look is retro, the aesthetic proudly recycled. There's a faint whiff of defiance here, even heroism: Derbes has rescued these doors from a death-by-landfill and given them new life as Art. He's by no means the first or only artist beholden to old appliances, but even so, Derbes' modular installation at the former Specialty Filaments building heralds a kind of rebirth of his own. Call it chapter two in the North Country for this Southern son.
********
Clark Derbes' honeyed accent really kicks in when he beckons his dog: "Nollie, you git down here, gurl!" His beloved 2-year-old mutt, which he calls "an American melting-pot dawg," takes her own sweet time obeying his command, no doubt sensing that her good-natured master won't get too mad. And Nollie? Would that be derived from N'awlins? Nope, from the skateboarding trick, Derbes clarifies.
He was born in New Orleans, though, on June 6, 1978. When Derbes was in third grade, his family moved to Baton Rouge. There he filled a childhood with twin obsessive pursuits: drawing and skateboarding. His earliest art memory, he says, was "drawing on the little pamphlet they give you at church - I drew the altar, the draperies, everything. It was the only way to make me sit still. My mom saved them all."
An artist herself, Caroline Derbes is probably her son's most profound influence. She tutored him, in fourth grade, from Drawing on the Right Side of the Brain, and later hired a classically trained painter for his lessons. And she continued to save everything he made.
Derbes, now 28, gives props to skateboarding, too, for developing his self-confidence. "It was a huge part of my life and my creative energy; there's a versatility about skateboarding that allows you to think, to plow through a million things in your head," he enthuses. "It's good to have that sense, at a young age, of doing something for yourself." One result of his independence: While still in elementary school he rejected his first name and adopted his middle one. "I feel like more of a Clark than a Doug," he says simply.
Derbes grew tall and lanky, with brown hair and eyes, an angular face and a lopsided grin. In disposition he remained both energetic and easygoing; about art, he grew more passionate. He earned a BFA at Louisiana State University, where, he says, the best thing his instructors did was believe in him - and give him a studio. At age 19, after a student art sale, Derbes had an epiphany. "That was a huge turning point for me," he says. "A bunch of people gave me money for things I'd made. I drove away from the show thinking, 'Wow, that's my career, that's what I want to do.'"
Just weeks after graduation, Derbes took the recommendation of a friend and headed to Vermont to work at Camp Keewaydin. Then he and his "lady friend" toughed out a harsh winter in the Queen City. During this time Derbes got his electrical-box gig, as well as several other mural commissions around town. And for that year's Art Hop, he collaborated with local artist Michael Kuk on an eye-catching installation at the Subaru dealership on Shelburne Road.
But the girlfriend - now ex - insisted on heading home. "It killed me to have to leave," Derbes says. "When I got back to Louisiana, I thought, 'What have I done? I had the city throwing mural projects at me!' But I hadn't finished with Baton Rouge," he adds, "so I went back, and I finished."
"Continued" might be a better word. Derbes continued making, and selling, his art. Continued evolving what he calls his "drawing language." He made wild, raw paintings on old car hoods and sold them "to people who live in nice houses." And importantly, he acquired representation - at the Ann Connelly Gallery in Baton Rouge, as well as with a private dealer in New York City. This was fortuitous, because Derbes can't conceive of doing anything else. "I have no day job, I just make art," he marvels. "I live in a perpetual state of inspiration."
"Clark created a lot of interest in Baton Rouge on his own with his vibrant personality," reports Connelly. "I think people like his freedom, his intuition, and that there's a happy, jovial quality in his works." In the three years she's offered Derbes' art at her gallery, Connelly notes, the work has changed. "He started out with almost a graffiti style - that was a stretch for our conservative clientele. Now he's maturing," she adds. "He has fairly broad appeal. Clark is going to create a lot of energy wherever he goes."
Last year, Derbes decided to move to New Orleans. But just as he was about to do so, Hurricane Katrina hit. In limbo for months afterwards, he had no place to live or work. It was a tumultuous and unsettling time, he concedes - until May, when he arrived in Burlington, rented an apartment on Park Street and a workspace at the Green Door Studio, and began to whip up a storm of his own. That is, making art. "I'm so relieved to be living alone, after my couch-surfing days," Derbes says. "I have a home, a kitchen, all paid for with painting sales. It makes me able to deal with the stress of being a young emerging artist and struggling."
He's careful to define "struggling" in purely economic terms, though. In Burlington, Derbes notes, he has had "amazing synchronicity" - the good fortune to be in the right place at the right time. And like so many before him, he's fallen in love with Vermont. "There's something about the state pride, growing your own food, microbrews, the local thing," he says. "I love the social atmosphere, the political atmosphere . . . There's a strong sense of community in the whole state."
But Derbes is proud of his own regional heritage, too, especially "the ultra-rich culture of New Orleans," he says. He calls his home state "a weird, twisted, magical, cynical place - it's just as terrible as it is good."
Derbes laughs at the idea of being a "flatlander" - he's way beyond that. "I'm an outsider," he exclaims. "But it's fine - I feel like I've got this cultural identity and that stands out for me. I like being the crazy Louisiana artist."
******
Green Door Studio is tucked into a walk-in basement corner of the so-called Howard Space, just off Pine and Howard streets. The entrance is actually a garage-type, pull-up door that's seen better days, perhaps installed when the place was a Volvo repair shop years ago. When Derbes raises the door for a visitor, an arrangement of appliance doors on two perpendicular walls greets the eye. Here his exhibit is called "My Weird World." For the Art Hop, this will be augmented to fill a 30-foot wall. While each door can stand alone as an objet d'art, Derbes likes to arrange them like modular puzzle pieces, in which the lines of his designs seem to flow from one to the next.
This sense of interconnectedness recurs in his work across mediums. Hang out with this artist for a while and you eventually get the idea that making connections - even if the lines don't really go anywhere - is a significant component in more than his artwork; it's a part of his psyche. "That just kind of surfaced recently, tying things together, relating things," he says. "The collage work really brought that out. It's like puzzle pieces - you look for where they fit."
Derbes shares the Green Door with other artists, but at the moment the only work on display is his own. One side of the studio contains papermaking equipment. Derbes grabs a small handful of shredded denim - courtesy of Battery Street Jeans - and explains how he sprinkles the fabric into a vat of water, stirs till gloppy, and then presses and dries it into surprisingly sturdy sheets of light-blue, rough-edged paper. He has also used old bed sheets for a whiter version. "I love that these things have history," he says. "I'm giving new life to these objects that no one could have imagined could have gone in this direction."
While in Baton Rouge, Derbes began to give his own drawings new direction, cutting them up to make collages. "Tiny components, whenever grouped together by the thousands - they do something," he suggests. In Burlington he's carried this concept even further. Hanging on one studio wall is a large - 66 inches square - collage made from swirling cutouts of drawings on his handmade paper. The colors are yellow and various shades of blue, and the shapes are mostly curvy. The lines appear to connect, but really they don't. Derbes says he began the piece on his third day here, and has spent countless hours on it since.
"I like that I can do all this mindless work, snipping up pieces and putting them together," he says. "It's something my short attention span can work with." Then, contradicting the suggestion of ADHD, he adds, "I can work on it for 12 hours straight and not see a difference. It's like a journey."
Derbes appears to think about that assessment for a moment, then he wrinkles up his nose and announces, "I like it, but it's definitely an experiment. I want it to be a little more geometric, with edges and stopping. This one just flows and flows." Eyeing the collage, he continues, "I'm not trying to give myself too many boundaries, but you gotta do what feels right."
Derbes also uses his handmade paper for single drawings and prints, and even making notes. For a reporter, and perhaps to explain himself to himself, he fills three sheets of blue paper - on both sides - with musings about his life. Some samples: "Try to let nature and my surroundings guide my art and life. The randomness is what makes art and life interesting." "Being able to work and live and buy groceries in a small radius and of course the skatepark - god bless the skatepark 1/4 mile away from my steps."
One of his statements is as good as a manifesto gets: "To be fast and fearless with my mark making. Seeing the [Jean-Michel] Basquiat retrospective was huge for me - that guy was complete with his fearlessness and RAW with his art . . . Anxiety + weirdness makes good art."
Weird or not, Derbes has gained a big fan in local art collector Mark Waskow. As vice president of the board of the South End Arts and Business Association, which presents Art Hop, he suggested Derbes install the wall of doors at Specialty Filaments. "I really like him. He's got great energy, and an amazing amount of raw talent that is going to create some great work," Waskow opines. "He already has, but it will be great to see what he'll do in five or 10 years. His style carries across his work in any medium - I see 'the Derbes touch,' whether it's recycled works or drawings."
Waskow has his eye on that large yellow-and-blue collage at the Green Door, but it might be bound for the Anne Connelly Gallery, or its new affiliate, Jenkins-Connelly, in New Orleans. "His price point is a little higher than what really works here," Waskow observes. That piece might fetch five grand in the galleries. "Burlington is much more city-like than what its population base would suggest, but we can't make it work like a city does, sales-wise."
That reality often drives talented young artists from Vermont, Waskow notes. "I'm excited that Clark is here and he seems to love it here. He may not stay, but we've got him here for now, so that's great.'
For his part, Derbes doesn't have to worry so much about Vermont sales - he's got his galleries, even if the hurricane did put a dent in the Louisiana art market. "For me this is a self-imposed artist residency," he says of his time in Vermont. "But just to know there are other people around me doing the same thing is really important to me. You just can't do the artist thing unless you work your ass off."
Derbes' goal is "selling on the international market," he says. "To keep making good work and stay on top of the business side of it." As for where to hang his, er, doors, Derbes has no problem with the North/South divide: He wants it both ways. "I was thinking about having a place up here and renting a place with a friend in New Orleans," he muses. For now, at least, home is simply where the art is.