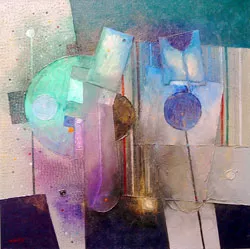 "Abstraction #13" by Amaru Chiza
Last spring the Flynndog presented a group exhibition called "Primavera 2007" that featured 11 Latin, or Latin-influenced, artists. Among the highlights of that excellent show were the untitled abstractions of Ecuadorian painter Amaru Chiza. This month, he has the whole cavernous gallery to himself. Chiza's close-knit color harmonies, intricate textures and simplified geometric forms make for a powerful, coherent solo exhibition. While abstract paintings dominate the show, a dozen giclée cityscapes and a nude portrait also appear.
Chiza, an internationally acclaimed painter of Inca heritage, has a 40-year exhibition record. He now resides in New York City, which explains the prints here — copies of watercolors and oils produced in the Big Apple. "A Cold Day on 59th Street" is a 40-by-30-inch giclée made from an oil painting that stresses the city's verticality. In the black, white and gray snow scene, pedestrians scurry up a street under hulking skyscrapers. The piece is described with nearly photorealist precision. It is not totally bleak, however — a few splashes of color animate the dreary afternoon. An open umbrella belonging to a passerby at lower left flashes a rainbow of hues and anchors the entire composition at street level. That moment of color is the real focal point of the work.
Chiza's judicious color sense carries through his 26 abstractions at the Flynndog. The 50-by-50-inch "Abstraction #13" glows with shades ranging from turquoise to deep purple. The paintings are architectonic in their arrangements of rectangles, circles, lines and dots, yet their color fields are rich and organic. In "Abstraction #13," rows of thin red, white and green perpendicular lines provide a counterpoint to the slightly diagonal axes of blue and purple blocks. Translucent circles and rectangles float over the blocks and lines, while dots pepper the left side of the picture plane.
Chiza's abstract aesthetic is so consistent that every painting is essentially a variation on the same theme of weights and counterweights. Yet, even with relatively few deviations in form, the individual works are original and distinctive. In "Abstraction #14A," a three-banded foundation of ocher-white-ocher breaks the picture vertically into thirds and provides the backdrop for a poetic tangle of fine lines, circles and half-circles. A central form, which seems to have been loosely influenced by Spanish painter Joan Miró, stands in the center of the 48-by-48-inch piece. Red, yellow and orange are the dominant hues, but clouds of their complementary colors — violet and blue-green — effervesce in the negative spaces.
A few constructions are also included in the exhibition, demonstrating that Chiza's vision translates well across media. In the roughly 20-inch-square "Construction #2," various metals take the place of paint. Copper, aluminum, brass and silver-colored metals are abutted by and inset within one another to make this lively abstraction. Groups of holes and etched vertical lines pierce different areas of the work.
Another such piece, entitled "2-Dimensional Construction #16," is a black-and-white, 32-by-40-inch collage of paper, matte board and cardboard. Here, dots of pencil echo the actual holes in the metal construction.
Despite Chiza's skill with color, a major influence on his aesthetic is revealed when he abandons tonalities completely. His "Construction #24," an eloquent, 20-inch-square relief sculpture of cast, embossed white paper, recalls Incan stonework. Instead of images' being constructed from grids, trapezoidal shapes are inset between long curved lines, much as boulders were fitted together to create Incan walls. The lines and dots of Chiza's pieces — features that appear across media — resemble the scarification and pitting seen on those weathered structures.
Vermonters facing months of white, frigid landscapes may want to take in this South American artist's colorful, accomplished exhibition before it closes on December 31.