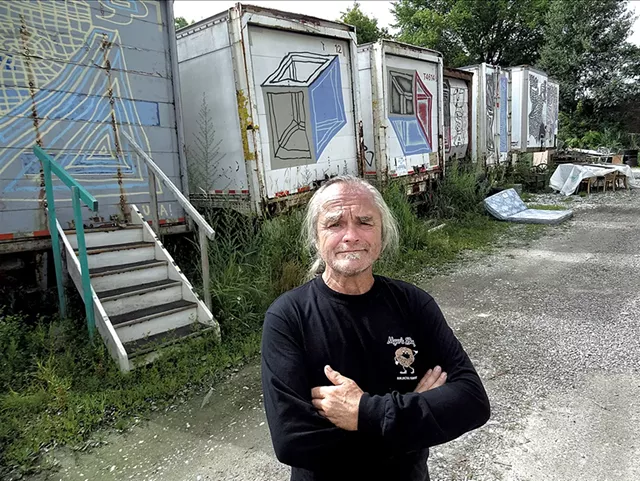 Courtesy Of Dan Higgins
Mick Deloreto
Two weeks ago, Sue Powers affixed a handwritten note to a fence outside a trailer in Burlington's South End. It said that anyone who was curious about what had happened to the trailer's occupant, her friend Michael "Mick" Deloreto, should call her.
Powers was compelled to take it down after only a few days; her phone hadn't stopped ringing. Many of the callers were strangers to her. They expressed deep concern about Deloreto, even though most confessed that they didn't even know his last name.
The sudden death of Deloreto, 62, on May 28, has saddened an unusual cross-section of people in Burlington's gentrifying South End.
He called the trailer with no electricity or running water home for two decades. He was a fulcrum in a homeless community that has long gravitated to neglected fields off of Pine Street. At the same time, he was well-known to employees at local businesses such as Myer's Bagels and to the artists hoping to stay in the developing neighborhood.
"In the world of street life, he was kind of the king down there," said Powers, a Williston resident who runs an animal rescue and met Deloreto through a mutual friend. She helped him care for his two dogs.
"People looked up to him, connected with him, asked him for advice," Powers said. "As bizarre as it seems to us, that was his domain. But the area is changing. I wonder if he could survive in this atmosphere that's coming."
Even those who knew Deloreto best say his life story is a mystery. He came to Vermont from Connecticut more than 30 years ago, he told people, and never married or had children. Some thought he was a Vietnam War veteran, but his death certificate indicates he wasn't a vet.
"We could never confirm a lot of the stuff. I don't know a lot of the backstory," longtime friend Sean Havey said. "I understood that he just became disillusioned with society. He was fairly intelligent but didn't want to be tied to anything and wanted to live off the grid. He chose this kind of life."
Havey and his father, Dennis, keep dozens of tractor trailers on a five-acre lot off Pine Street. Some of them are used for storage. In 1999, one of the trailers caught fire, Sean said. When Dennis investigated, he met Deloreto, who was living in another of the trailers.
"Mick totally apologized and said he would do anything to make it up to him," Sean said.
Dennis cut a deal: He could stay in the trailer rent-free if he kept out trespassers.
Deloreto took to the "job." In 2011, he proudly led a Seven Days reporter around the property, explaining the land's history and his routines to keep away trespassers. He declined to give his last name.
"Look, there will come a time in my life when I need to move on," Deloreto told Seven Days then. "Of course, I'm not going to stay here forever."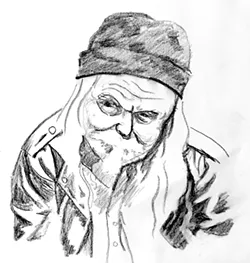 Drawing of Mick by Will Homer
Deloreto, a lean 5-foot-3 with a mustache and long gray hair, was a heavy drinker and could be gruff, even nasty, friends said. Chittenden Superior Court records show he had at least 20 criminal convictions, almost all misdemeanors, including violating restraining orders. He apparently had avoided scrapes with law enforcement for the past three years.
"Alcohol does terrible things to people," Powers said. "But when he was sober, he had an incredible charm about him and the ability to talk and show he cared about life."
Deloreto made money by redeeming bottles and cans and doing odd jobs for area businesses, including Myer's. He could be found there most mornings, joking with the staff and munching on a Montréal spice bagel.
Staff allowed him to fill a water jug there and to load his cooler with ice to chill his Budweisers.
"His character was part of the daily existence here," manager Chris Conn said. "If he wasn't here, somebody would always say, 'Where is Mick today?' In our own way, we all loved him."
Former Myer's employee Will Homer remembered meeting Deloreto at Manhattan Pizza & Pub, where Homer was shooting pool with a buddy.
"He walked in wearing a leather jacket, called himself 'Mick the Prick,' bet he could beat us with one hand, did it and took our money," Homer said.
Homer would occasionally visit Deloreto in his trailer, have a beer and talk with him about old movies, a mutual passion.
"A lot of people were a little wary of him — he had a mouth," Homer said. "But he was charismatic as hell."
After Deloreto's death, the Haveys were amused to learn that he had been renting out trailers and space on their land. Kraig Richard paid him $65 a month last year to park his RV on the lot. Richard said he grew close to Deloreto.
"He could be an ugly drunk, but then he'd feel really sorry about it the next day," Richard said. "Like every alcoholic, there's good and bad. Dr. Jekyll and Mr. Hyde."
Richard moved to New Orleans last fall, but mailed Deloreto occasional care packages of posters and trinkets. The two spoke on the phone every few weeks, with Deloreto offering advice.
"He was making sure I was having a good time," Richard said. "That's what he was worried about."
Improbably, Deloreto became a key figure in the local arts scene.
Several artists told Seven Days that he rented trailers for use as studios, allowing them to keep a toehold in a once-sleepy neighborhood where even modest homes now sell for more than $300,000. (See accompanying story.)
As they contemplate his loss, some of Deloreto's friends say the circumstances of his death trouble them.
Deloreto was found unconscious in his trailer on May 26 and was hospitalized. Powers and other friends say that he had complained of head pains in the days before and said he had taken a spill after a night of heavy drinking.
The Office of the Chief Medical Examiner concluded that the cause of his death was a subdural hematoma, cerebral contusions and blunt head trauma, according to the preliminary findings on his death certificate. But the manner of death was not determined. Such deaths are often accidental, according to Chief Medical Examiner Steven Shapiro.
"Blunt impacts of heads happen from falls, from car accidents, from being drunk and tripping over your shoelaces," he said.
Burlington police consider Deloreto's death "untimely" and opened an investigation but do not consider it to be suspicious, said Chief Brandon del Pozo. Investigators are awaiting final autopsy results.
Powers may have been the last friend to whom Deloreto reached out. She said she was told that he woke up in the University of Vermont Medical Center and immediately asked nurses about his two elderly dogs: a three-legged rottweiler named Duke and a pit bull named Mojo. He told a nurse to call Powers.
She headed to his trailer and brought his dogs to her home — temporarily, she thought. After Deloreto's death, she is still looking after Mojo and Duke.