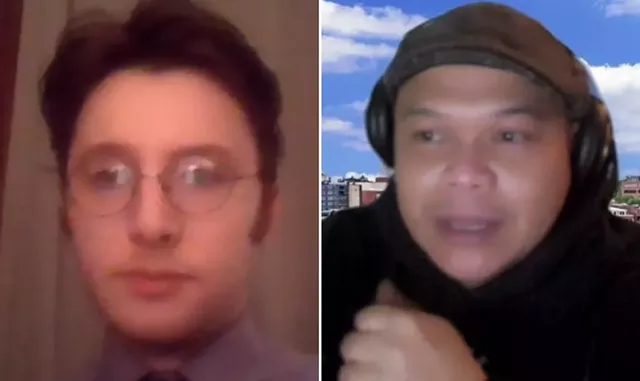 Screenshots
Will Anderson (left) and FaRied Munarsyah
Political newcomer Will Anderson is the Progressives' pick to run for Burlington City Council in the South District this March.
Anderson defeated FaRied Munarsyah, 6-4, in a virtual caucus on Thursday evening. The vote was scheduled after a caucus earlier this month ended with Munarsyah and Anderson in a 5-5 tie vote.
With the South District race sorted, Progs finally have a full slate of council candidates for Town Meeting Day — which is just over five weeks away.
"Thank you, everyone, for voting for me," Anderson said on Thursday after party officials announced his victory. "And thank you, FaRied, for conversations that we've had, and I really hope to work with you as closely as possible as we try to accomplish goals that are quite mutual."
Both Munarsyah's and Anderson's pitches centered on public safety and affordability. Anderson, a fiscal policy analyst for the state, said he supports rent stabilization and would seek to introduce new taxes on owners of multifamily properties. He acknowledged that some of these initiatives would need legislative approval but said he's confident Democratic and Progressive lawmakers would get on board.
Anderson also said his financial policies could win over voters to defeat Shannon, who has served on the council for nearly 20 years. He plans to canvass neighborhoods and thinks voters will appreciate seeing a new face. "Getting the votes out will be the key," Anderson said.
Munarsyah, an organizer with mutual aid group the People's Kitchen, agreed that people are "sick of the status quo." He said he's running because he's concerned that high housing costs are contributing to a cycle of "homelessness, poverty and desperation" that lead to crime.
The candidates' stances on public safety also didn't diverge much. Both support a ballot measure that would create an independent police oversight board to investigate officer misconduct and mete out discipline. Munarsyah was a key organizer for the petition drive to get the item on the March ballot.
Anderson said the city needs a new police chief who is "progressively minded to the core" and pledged to dedicate more city funds toward public safety services "that are not police-oriented."
Seven Days
reported earlier this week that off-duty officers have been paid $81 an hour to patrol the River Watch neighborhood while people elsewhere in the city have complained that police response has been too slow.
Anderson said such arrangements shouldn't be permitted to continue.
"They should be a force solely dedicated to keeping people safe, not harming them," he said of the Burlington department. "That's the only purpose that I can see for a public safety force."
Anderson is one of four candidates Progressives are supporting this election season, in which all four geographical "district" seats are up for election. There's also a special election in Ward 8, which has been vacant since the fall, when former Prog councilor Ali House resigned.
In the Prog stronghold of the Central District, police commissioner Melo Grant is competing against political newcomer Avery Muzikar, a Dem-endorsed independent. Progressive Jake Schumann will face Democrat Tim Doherty in the East District now that incumbent Democrat Maea Brandt
has dropped out.
And Prog Rhone Allison, a University of Vermont student, is squaring off in Ward 8 against Hannah King, a Dem who narrowly lost her bid for that seat last March.
Progs are not running a candidate in the North District, leaving incumbent independent Councilor Mark Barlow in an uncontested race. Other independents, however, have until January 30 to file paperwork to get on the ballot.