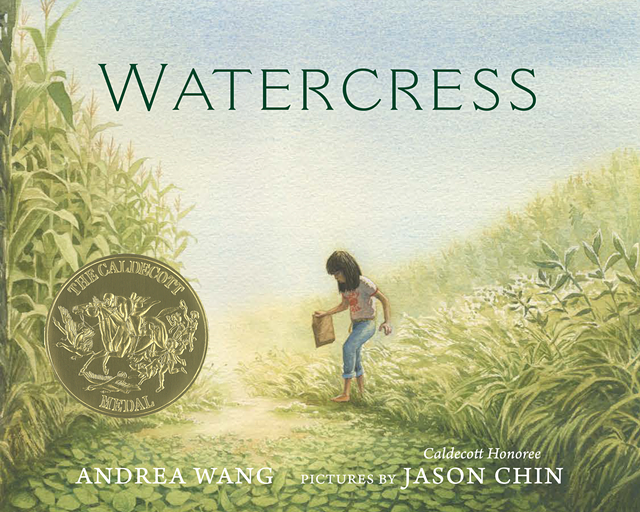 Courtesy of American Library Association
'Watercress' illustrated by Jason Chin
Jason Chin
was asked by his publisher to make a Zoom presentation last weekend at the American Library Association conference. A children's book artist and author who lives in South Burlington, Chin was to present his next book to conference attendees. But members of the library association actually had something else in mind for Chin.
"It turned out they didn't want to hear from me," he told
Seven Days
on Tuesday afternoon. "They wanted to tell me that I had won the [Randolph] Caldecott Medal for
Watercress
.
"It was really nice," Chin continued. "I got to see all of the committee members, and hear from them all. And I'm still in disbelief."
The Caldecott Medal
is awarded annually to "the artist of the most distinguished American picture book for children." It's given by the
Association for Library Service to Children
, a division of the American Library Association.
Watercress
, written by Andrea Wang, centers on a girl growing up in rural Ohio, the daughter of Chinese immigrants. She and her family stop by the side of the road one day to pick watercress, which is served that night for dinner "glistening with garlicky oil and freckled with sesame seeds."
Chin said his editor, Neal Porter, acquired the text to the book and asked him to illustrate it.
"The moment I read it, I was struck by the emotional depth of the book," Chin, 43, said. "Honestly, it felt like a once-in-a-lifetime manuscript."
He used watercolors to make the illustrations, and painted with both Chinese and Western brushes. Chin said he "re-familiarized" himself with Chinese landscape painting, in particular bamboo brush painting, to make the art for
Watercress
.
"I paid close attention to the different kinds of brush marks that you can make with different styles of brushes," Chin said. "I didn't want to copy Chinese art. I'm not a Chinese painter; I'm not trained in traditional Chinese painting. But I wanted to incorporate some of the techniques from that style."
Courtesy
Jason Chin
He met Wang before he started working on the book. Later, they had telephone conversations in which they shared family stories, Chin recalled.
"We hit it off," he said. "This whole process has been shared with her, and it's been wonderful. I consider her a good friend."
In the same ALA ceremony, Donna Barba Higuera's
The Last Cuentista
won the
John Newbery Medal
.
Watercress
was one of four books to receive Newbery Medal Honors. That award, in its 100th year, is given to "the author of the most distinguished contribution to American literature for children." The collaboration with Wang is the key element of the book, Chin said.
"I don't think my art on its own is as good as my art [is] with her words," he said. "Her words elevate the artwork."
Chin, a 1997 graduate of Hanover (N.H.) High School, works out of his home, where he lives with his wife,
Deirdre Gill
— also a children's book author and illustrator — and their two kids. He finished
Watercress
about two weeks into the pandemic lockdown in the early spring of 2020.
Chin told his family over the weekend that he won the Caldecott — it was otherwise a top secret until the awards were announced on Monday. He and his family celebrated with takeout hamburgers and fries from Archie's Grill in Shelburne.
He grew up eating soup with watercress and learned to make the dish that's featured in
Watercress
when he was working on the book. "It's really tasty," Chin said. "I enjoyed it."
On Monday, Chin really wanted to cook something with watercress. But he couldn't find any, so he made stir fry without it.
The first Caldecott Medal was awarded in 1938. Since 1981, books have been eligible for consideration for both the Caldecott and Newbery medals.
Watercress
is the second book since then to win the Caldecott and be a Newbery honor book, according to the American Library Association.
Revolution in Our Time: The Black Panther Party's Promise to the People
by Kekla Magoon of Montpelier. Her book was named a
Coretta Scott King Book Award
author honor book.
The award is given to "outstanding African American authors and illustrators of books for children and young adults that demonstrate an appreciation of African American culture and universal human values." The 2022 winner is
Unspeakable: The Tulsa Race Massacre
by Carole Boston Weatherford.
Magoon's book was a
finalist for the 2021 National Book Award for Young People's Literature
.