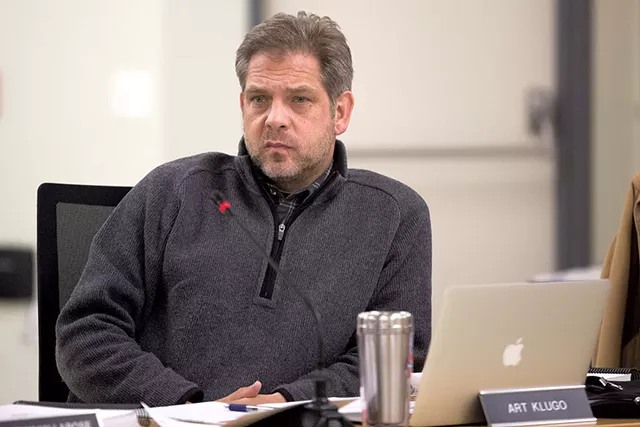 James Buck
Art Klugo
As South Burlington leaders pursue their dream to build a $300-million downtown in Vermont's most suburban community, some residents are asking whether it's appropriate for construction and real-estate executives to serve on city bodies that shape the rules for how the land will be developed.
South Burlington already has an ethics policy for its public servants, but is it working? The issue flared up last Thursday evening, when a member of a new citizen activist group told the city council and planning commission at a joint meeting that they are ignoring a blatant conflict of interest.
Duncan Adamson of SB VT Community Watch read a prepared statement that did not name but referred to Art Klugo, a planning commissioner who works as director of business acquisition at South Burlington-based PC Construction, formerly Pizzagalli, with annual revenues of more than $500 million.
In addition to serving on the South Burlington Planning Commission, Klugo chaired a city task force that earlier this year recommended closing and possibly selling Rick Marcotte Central School, which is in the zone slated for downtown redevelopment. The group also suggested building a new, consolidated elementary school elsewhere that could cost tens of millions of dollars. So far, the Central School remains open.
In an interview before the meeting last week, Klugo said: "There is absolutely no conflict of interest." But he acknowledged that at some point, PC Construction could bid to build a new school in South Burlington and could construct buildings for developers who own land in the City Center parcel.
Adamson sees something wrong with that picture. "I am not antidevelopment," he told the joint meeting. "But I do not think that any resident would expect that someone with direct development ties related to potential City Center and school construction projects would be placed in a position of writing recommendations in support of these projects and making edits to the city's Comprehensive Plan that would remove obstacles to these projects."
On a 106-acre parcel between Williston Road and Dorset Street, the City Center is meant to be a pedestrian-oriented place where residents can live, work and shop. The city council is weighing final zoning regulations for the area, and the public will likely be asked to vote on financing to help pay for infrastructure — roads, parking garages, sidewalks — next year.
Adamson said he and others organized SB VT Community Watch to closely track meetings about the downtown development and related school issues, and to call for more scrutiny and transparency around potential conflicts of interest.
Parents who are wary of a proposal to consolidate South Burlington's neighborhood elementary schools are leading the informal group. Although it's a grassroots effort, organizers have sometimes been able to rally dozens of parents to attend meetings, partly through an active Facebook page with nearly 300 members.
"It's not just that there's a frustration that we're not being listened to; I would say there's a healthy distrust of the process," said Adamson, a South Burlington parent of two and director of graduate admissions at Champlain College. "It doesn't feel very transparent. It doesn't feel balanced."
Adamson noted that Klugo's job with PC Construction was not disclosed on the city website describing members of the School & Community Master Planning Task Force, which was assembled in 2014 to look at city and school facility needs for the next 50 years. And, as of Thursday, Klugo was not listed as a planning commission member at all, even though he joined the group in late summer. Prior to that, and before he worked at PC Construction, Klugo served on the South Burlington Development Review Board.
Klugo said the criticism is off base. Nothing in his day job influences what he does on the planning commission, he said. If PC were to bid on a public school project in South Burlington, it would have no special advantage, Klugo said: "We would have to compete against other firms in the area to secure any work that we would actually build."
As for working with a private developer on the multimillion-dollar construction jobs likely to spring up with the mixed-use downtown, Klugo said PC would have no unfair advantage there, either, if the firm sought those contracts.
Numerous real-estate and construction professionals have recently served or currently serve on South Burlington city bodies with influence over how the $300 million downtown takes shape. There were a number on the city's form-based codes committee that met for several years starting in 2012 to draft design-driven zoning rules for it. The original group included Tim McKenzie, the general manager of South Burlington Realty, which owns the largest parcel of undeveloped land in the City Center zone. Realtor and developer Mike Simoneau, shopping center developer Ernie Pomerleau, and construction project manager Debra Bell were also part of the group.
South Burlington's situation is not unique; people connected with construction, from architects and engineers to realtors and lawyers, often end up on boards and commissions in other Vermont municipalities.
"I cannot imagine a community not having someone with expertise in areas being appointed to committees," said Pat Nowak, chair of the South Burlington City Council, noting that knowledge in the realms of real estate and construction is vital to help the city make informed decisions on zoning, design, permitting and the complex tax-increment public financing envisioned to help pay for the downtown's infrastructure.
Those who serve may be closely associated with an issue under discussion, she acknowledged. It would be almost impossible to avoid that, she suggested: "We are not New York City; we are not New Jersey. We live in a small community."
Critics of the practice worry, however, that it can lead to volunteers who are also prospecting for business, cultivating relationships their competitors don't have and gaining access to information before it becomes widely known.
South Burlington already has an ethics and conflict-of-interest policy — established in 2014 after a flap at the other end of the development spectrum — that clearly states no city employee or person serving on boards and commissions shall gain a "personal or financial advantage" from his or her work for the city.
Three years ago, former South Burlington City Council chair Sandy Dooley faced conflict allegations for pushing interim zoning rules that could have halted a condo development behind her house that she opposed for decades. She denied any conflict, and a judge agreed, declining to grant an injunction filed on behalf of developer Ralph DesLauriers in an attempt to make her recuse herself from the interim-zoning vote. Her supporters then leveled conflict accusations at another member of the council, attorney Jim Knapp, saying his legal work in real estate represented a conflict, which he denied.
In the contemporary case of Klugo, "all of the appropriate questions were asked before he was appointed to the planning commission, and the councilors felt comfortable in appointing him," said Nowak. "What he brings in experience and knowledge to the planning commission is invaluable," she added.
People recuse themselves from voting when it's appropriate, Nowak said, adding that the system generally works well.
Nothing so far has posed a conflict, according to Klugo, and he has not recused himself from any votes.
Nor has McKenzie, who worked on the form-based code group that recommended zoning for the downtown. But the general manager of South Burlington Realty, which owns 40 acres of undeveloped City Center land, conceded that it was not unreasonable to question whether his involvement posed a conflict.
It didn't, he argued, because there were checks and balances. More than a dozen people served on the group, diluting any single person's influence, McKenzie explained. Furthermore, the group did not have the final say on the regulations, he pointed out: "We were merely making recommendations that needed to go to the planning commission and then on to the city council."
Monica Ostby thinks it's appropriate to raise questions about the role of McKenzie, Klugo and others with real- estate and construction backgrounds. She's a South Burlington parent of three — two in high school and one in elementary school — who served on the Master Planning Task Force and disagreed with the recommendation to close Central School. The full-time mom is not a fan of the downtown proposal.
She helped form SB VT Community Watch to keep an eye on the issues. Although she voted for Klugo to chair the task force, Ostby said she did so without a full understanding of his professional background and potential conflicts. "He's not just a construction guy that's out on a ladder building the building," she said. "He is in the new-business-development capacity, and that feels too close to me." If PC Construction lands big contracts for the downtown and school in the future, Ostby suggested that would raise questions in her mind, and possibly the public's.
For example, Klugo and the rest of the task force went into an executive session January 29 to discuss the appraised value of the city's schools, including Central School. The session was closed to prevent premature disclosure of information that could adversely affect any sale. Ostby now questions if Klugo had access to proprietary information that could, potentially, give PC Construction an unfair advantage, should the firm land future school or downtown contracts.
Klugo dismissed the suggestion.
Is South Burlington's conflict-of-interest policy doing what it's supposed to? Ostby doesn't think so, citing Klugo's presence at the executive session as evidence: "As I look back at the process, how could this potential conflict not have at least been raised while the Task Force was in session? Either by Art himself or by a knowledgeable professional on the city staff, who should have the city's best interest in mind at all turns. The public has a right to question what has occurred."