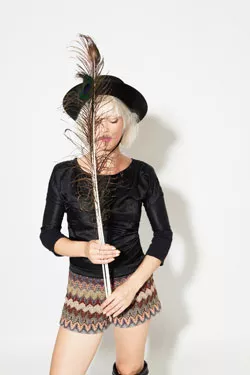 You guys are good.
In last week's column, I bemoaned the lack of early word on impending holiday shows this Christkwanzukkah season, noting that I'd heard of but two measly halls slated to be decked, musically speaking. Lo and behold, my inbox was subsequently filled with announcements regarding a number of holiday ho-ho-hoedowns slated for the coming weeks. It's a Christmas miracle!
(As an aside, that got me once again wondering if perhaps this column has some sort of divine wish-granting power for its author. In case it does, I'd also like to see the Black Keys in Burlington, to meet Penelope Cruz, and for the Red Sox to sign at least one free agent who isn't in his thirties and/or coming off a bad year. OK, and peace on earth. And a pony.)
This week, there are two such holiday shows on the list, both of which promise to be naughty. Niiiice and naughty.
The first comes to us this Friday, December 15, by way of DJ Disco Phantom and the elves at ArtsRiot.com. The show goes down at AR's spiffy new studio on Pine Street in Burlington and features a veritable Hot Toys of 2012 list — the toys in this case would be local bands and DJs, of course … and yes, I'm quickly running out of holiday material. It's about to get X-mas-sweater ugly here, folks.
Leading the way like Rudolph on a foggy Christmas Eve — I told you it was gonna get ugly — is Drag City recording artist Sophia Knapp (ex-Lights, currently of Cliffie Swan), who is touring in support of her critically acclaimed new solo record, Into the Waves. For the new record, Knapp channeled her inner Stevie Nicks, juxtaposing the Fleetwood Mac singer's luxuriant style with a laid-back indie sensibility. The result is a pretty swell listen.
Also on the bill are Slow Oceans, the new collaboration between disco-rock diva Heloise Williams and electro-pop phenom Alexandra Hall — aka tooth ache. — that debuted at the BCA Center last month. They'll be joined by doom-y spook-rock trio Gloaming, the Fontanelles and Shark Victim, as well as a cadre of DJs including Disco Phantom, Snakefoot, Juscaus and Pen West.
Moving on to the Most Dangerous Toys of 2012, it's a Metal Monday Christmas at Nectar's on Monday, December 17, as the weekly local metal showcase eviscerates, er, celebrates the season with an all-out, all-star bash. The lineup is bloated like Santa's belly with MM regulars, including Vaporizer, Savage Hen, Knights of Crinitus, Vultures of Cult, Musical Manslaughter, S'iva, Boil the Whore, Angel Bones and Filthy Minutes of Fame, with more reportedly to be booked in the coming days. You can expect metal versions of holiday classics — speaking of which, I demand someone does Slayer's "Reigning Blood" in sync with that awesome Christmas Light YouTube video. Looking at you, Amadis.
But wait, there's more!
The show will also feature a club-wide Yankee swap, with presents stacked under an upside-down Christmas tree that will be — I'm not making this up — suspended from the ceiling. Additionally, the first 75 people through the door will get a free Santa hat, which I can only assume will be made out of red leather.
Seasons beatings!
Good Stuff
Apropos of nothing, the late, great BTV zine Good Citizen recently joined Facebook. For the uninitiated, GC was a nifty local publication/record label that covered Vermont music in the mid to late 1990s and was an indispensable rag for anyone interested in local rockin'. I mention this not because joining social media suddenly qualifies as news — it doesn't — but because following their posts for the last few weeks has been (especially for local rockers and fans of a certain vintage) an unbelievable blast from the past. Whether posting pics of bygone bands such as Screaming Broccoli, Famous Potato and the Fags or old calendars from Club Toast, the original Higher Ground and Club Metronome, it's been a welcome walk down memory lane. Seriously, look at the monster bands that graced those schedules, often with local supporting acts.
But I think there is value, too, in checking out GC for those who weren't around during that era. GC has become a sort of time capsule for Vermont music in a defining period — and one with direct ties to the current one, by the way. Those who forget history … blah, blah, blah.
I've long held a theory that the local music scene is cyclical in nature. We have peaks where it seems like a dozen different bands are on the verge of breaking out and valleys where it feels like not a whole lot is happening. That theory has been reinforced by some writings I've done in recent years about bands from even earlier eras of VT music — the N-Zones reunion this year, for example. A common thread that emerges is that every generation thinks their era was the best. And, as perusing GC's Facebook page reveals, maybe they're all right. In any event, if you're curious about local music history, it's a good place to start.
(Here's another wish I hope the column genie will grant. One of the coolest things GC ever did was release a pair of compilations called Burlington Does Burlington, in which local bands covered other local bands. The Pants covered Phish. Belizbeha covered the Pants. Barbacoa covered Envy. Steve Blair covered Slush. It was awesome, and it's an idea whose time has come again. I want to hear Ryan Power cover Lynguistic Civilians. I want to hear Lynguistic Civilians cover Blue Button, or maybe Parmaga. How about Barika covering Nuda Veritas or Waylon Speed covering Maryse Smith? Get on it, people. Also, a pony.)
BiteTorrent
There's actually another notable holiday show this weekend, as the good folks from Nexus Artists present a holiday-themed Sunday Night Mass called Deck the Hallz at Club Metronome this Sunday, December 16. Montréal's Marc Remillard headlines the gingerbread house party — come on, that one was pretty good — along with Québec City's Ahllex, and locals Luis Calderin, Two Sev, the Orator and KJ Gollum. The local bass heads from Mushpost Social Club kick things off with an early eggnog reception, which I'm pretty sure refers to actual eggnog and not the name of the latest EDM genre trend.
Rutland doesn't get a lot of attention in these music pages outside of Split Tongue Crow. But this Sunday, December 16, a slice of Rut-Vegas comes to Burlington in the form of garage-punk outfit Falcon Coffin. I've never seen them live, but in perusing their Bandcamp page, I'm guessing they'd find kindred spirits in the likes of local acts such as the Toes and the Shandies. It's gritty, grungy stuff — just the thing for a chilly night at the Bean in December.
Regular readers know I have something of a pet peeve when it comes to funk bands, including the word "funk" in their names. Well, we have a new contender in the most egregious use of the pun: Who'da Funk It? They'll be at Radio Bean on Saturday, December 15, after which I'm imagining Aaron Burroughs and Funkwagon will challenge the band to a Jets vs. Sharks-style brawl on North Winooski Avenue.
Last but not least, I've just been notified that Toby Keith is coming to the 2013 Champlain Valley Fair. The country superstar last appeared in VT on the same fairgrounds stage in 2008. I'd be lying if I said some part of me — likely my freedom bone — wasn't excited about this development. Tickets go on sale this Friday, December 14.
This Week on Tour Date with DJ Llu
The final episode in season two of Seven Days' music interview podcast, "Tour Date with DJ Llu," features … um, me, actually. In this week's pod, Llu grills yours truly on the "10 Best Vermont Singles of 2012." Frankly, I'd prefer to call it "10 Really Awesome Local Songs From 2012 You Should Hear Because the Term "Best" Is Really Subjective and There Were at Least Three Times As Many Songs I Would Have Been Happy to Include." Doesn't quite have the same ring, though, I guess. Anyway, I hope you'll tune in and check it out. There has been an overwhelming amount of great music made in VT this year, and in the coming weeks we'll be highlighting as much of it as we can.