Courtesy Of Overnight Projects
Hi Tiger's "She Feared Nothing"
Hell of a Week
I've heard some people complaining about Halloween falling on a Tuesday this year. Folks mostly whined that it's a school night or that they have to work early the following morning, which is totally understandable. But I actually prefer a midweek All Hallows' Eve.
When the horrific holiday lands on a weekend, it generally means that costume parties and themed events are all crammed into one or two nights. You have to make more than a few tough decisions, which inevitably ratchets up the FOMO. But when Halloween falls on a Tuesday, Wednesday or Thursday, the devilish debauchery can stretch into a nearly weeklong affair.
That's certainly the case this year, with hellacious happenings on tap from Friday, October 27, through Halloween proper on Tuesday, October 31. While it's nice not to have every event squeezed into a couple of evenings, the extended howliday means there's more to choose from overall, which can be overwhelming. So here's a not-at-all comprehensive list of spooktacular events worth your time this Halloweekend.
On Friday, check out the latest happening from nomadic, artist-run exhibition initiative Overnight Projects: Portland, Maine, collective Hi Tiger present "She Feared Nothing" at the former KeyBank building in Winooski. Hi Tiger director and founder Derek Jackson refers to the live music and performance art piece as "a loosely conjoined Afro-futurist opera." The multidisciplinary experience examines the intersections of sci-fi media, '90s advertising, queer and brown-skinned peoples, and contemporary music production aesthetics. While not specifically Halloween-themed, the piece should be transformative at the very least.
Also on Friday, but in Burlington: Ska and reggae-tinged (and aptly named) band Skeleton Dancer break it down at Radio Bean, while Sunday Night Mass sets up shop at Club Metronome for a night of house and techno beats called Boo Thang. The latter features DJs Greco, Harder They Come and Justin R.E.M. versus Haitian, members of the Mitteltoner collective, and Josh Dobbs.
Saturday is a real fustercluck. Tuned In Collective hosts its first event, The Witching Hours, at Maglianero Café in Burlington. If you aren't familiar with Tuned In, it's a burgeoning group of female, transgender and gender nonconforming musicians who seek to shift and redistribute power in Burlington's music scene. The eclectic lineup includes AM Radio, Amelia Devoid, Shawn Corey and Lauren Costello, DJ Crystal Jonez, Gestalt, and Julia Caesar. (One thing to know about this show: There's a three-drink maximum. Responsible consumption is the name of the game, and it will be enforced.)
Meanwhile, just down the street at Foam Brewers, Noise Ordinance presents All Souls Night. New York City psych-rock band — and BTV expats — the Vacant Lots headline, with support from local cumbia ensemble Mal Maiz and the brand-new neo-soul supergroup JUPTR. The last is composed of members of Madaila, Smooth Antics, smalltalker and Grundlefunk.
Also on Saturday, Addison County folks might consider gettin' kinda fancy for Gang of Thieves' Masquerade Ball at the Vergennes Opera House. Meanwhile, metal and hardcore fans in the Mad River Valley should contemplate rocking the eff out with Stream Devils, Misanthrope, Abaddon, the Path and Psychic Weight at the Slide Brook Lodge & Tavern in Warren.
On Sunday, October 29, at Vermont Comedy Club in Burlington, ghosts of famous standup comedians — most of whom are actually still living — imbue a bunch of local comics with their collective essences! The show is called Possessed!, and a bunch of Vermont-based wisecrackers will take on the personas of their favorite funny people, such as Jerry Seinfeld, Bob Newhart and Maria Bamford.
Before we get into Monday's parties, let's get one thing straight: While some regions refer to the prank-filled night before Halloween as Mischief Night or Devil's Night — here in Vermont it is called Cabbage Night, dammit. Two Burlington events celebrate this unofficial holiday on Monday, October 30: Strange Ranger, Bison and Jessica Rabbit Syndrome at Pine Street Studios; and Doctor Rick at Club Metronome.
And that brings us to Tuesday, the unholy night itself. Madaila headline the Higher Ground Ballroom in South Burlington. It's a sort-of sequel to their legendary 2015 Halloween bash, The Scream. Navytrain and Spencer Albee add support.
The poster for the event re-creates the promotional images for Wes Craven's Scream 2. In the film, horror nerd Randy Meeks (Jamie Kennedy) outlines some rules for horror sequels, most notably that the body count is always bigger and the death scenes are more elaborate. Those statutes may or may not translate to the show. However, in an email to Seven Days, keyboardist Eric Maier reveals that the band plans to unveil some brand-new material. Oh, and...
It's Not You, It's Me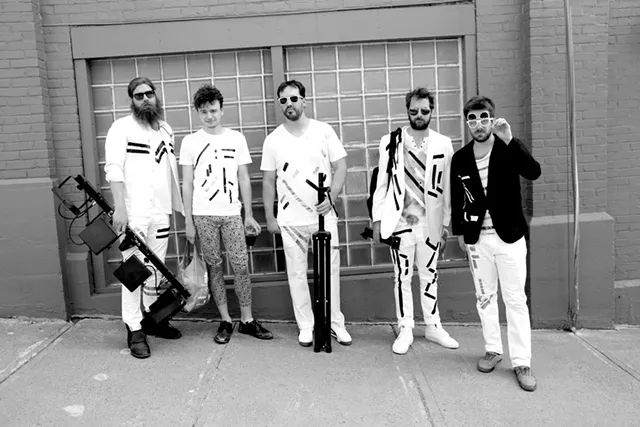 Courtesy Of Madaila
Madaila
...Madaila's Halloween show is also guitarist Willoughby Morse's official last performance with the group.
Say what?
"I've spent the last five years or so doing what people are maybe trying to do from [ages] 25 to 30: [finding] the thing that they're going to stick with," the 23-year-old tells Seven Days in a recent interview. "I'm realizing I haven't done a lot of exploring. So now I'm trying to have a little fun."
Though Morse plays lead and rhythm guitar with the soulful psych-pop quintet, drums are actually his first love. By his own estimation, he's been tap-tap-tapping away since he was only 3 years old.
"Recently, I've been realizing how much more I like playing drums than playing guitar," he says.
That should be obvious to anyone who's ever seen Morse drum with local alt-country supergroup the Welterweights. As he rambunctiously flogs his kit alongside singer-songwriters Lowell Thompson, Kelly Ravin and Erin Cassels-Brown, the giddy grin plastered across his usually stoic face is a dead giveaway.
So what's next for Morse? If you made it to the street festival Madaila on Main 2.0 in September, you probably saw him locked in with his new official post: keeping time with Caroline Rose. You might also catch him rocking out with Paper Castles, Hammydown or Henry Jamison.
Aside from personal satisfaction, Morse says drumming exclusively should allow him more time and space to work on his own writing and composing — and, he hopes, it won't exhaust his artistic vitality.
"I can just practice drums and play the shows," he says. "[But] with guitar, I'm like, 'Is there anything else I could be doing? Is there a different tone I should be working on in this song?' It takes up a lot of creative energy that's not really that well spent."
Despite Morse's departure, Madaila will remain a five-piece. Walker Davis Allen (Nico Suave and the Bodacious Supreme) is stepping in to fill the group's Willoughby-shaped hole. He'll make his debut at HG on Tuesday.
Covered and Smothered
Attention, lovers of covers! On Wednesday, November 1, author Ray Padgett discusses his new book, Cover Me: The Stories Behind the Greatest Cover Songs of All Time, at Phoenix Books in Burlington. For more than 10 years, Padgett has cataloged and dissected cover songs on his blog, Cover Me. The book scrutinizes the history and context of 20 famous covers, such as Joe Cocker's version of the Beatles' "With a Little Help From My Friends" and Jimi Hendrix's famed reimagining of Bob Dylan's "All Along the Watchtower."
Padgett is also a champion of Vermont music. Though currently based in New York City, the writer is a former 802 resident and showcases his favorite Green Mountain music on the blog County Tracks.
Of course, a discussion of cover songs would not be complete without some live performances. So Swale's Amanda Gustafson and Eric Olsen are scheduled to oblige with a few tunes, as will Madaila's Mark Daly.
Listening In
If I were a superhero, my superpower would be the ability to get songs stuck in other people's heads. Here are five songs that have been stuck in my head this week. May they also get stuck in yours. Follow sevendaysvt on Spotify for weekly playlists with tunes by artists featured in the music section.
YACHT, "L.A. Plays Itself"
Daft Punk, "Technologic"
Ladytron, "Playgirl"
Fischerspooner, "The 15th"
Yeasayer, "O.N.E."