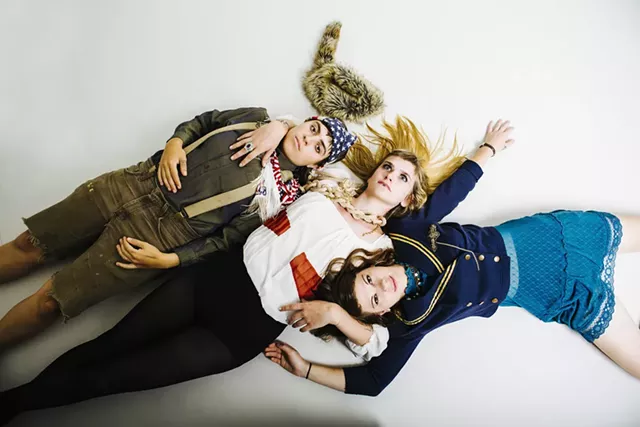 Season's bleedings, boils and ghouls! Welcome to the Halloween edition of Soundfrights, hosted, as always, by your friendly neighborhood music scribe/crypt keeper, Dan Disembolles.
Halloween truly brings out the beast in the local music scene. And as our favorite howliday falls on a Moanday this year, we're tricked and treated to an entire weekend-plus of thrills, chills and — accounting for the likely overindulgence of, say, pregnant nuns, Bad Hombres and nasty Hellary Clintons — spills. Also, bad horror puns. Spooooooky!
There is an overabundance of musical creature features on tap between now and All Hallows' Eve. So, as has become tradition, I will act as your spirit guide through some of the more frightfully fun shows. Also tradition: I'll offer up some costume ideas so that you, unlike a certain local music critic, won't have to go dressed as Teen Wolf for the ninth year in a row.
We begin our descent into madness — where else? — underground. Specifically, at the basement freakeasy known as Signal Kitchen, where former Queen City glitter-pop regents And the Kids deadline a two-night stand this Thirstday and Frightday, October 27 and 28. Local audiences should be familiar with the Northampton, Mass., trio by now, either from their short stint living in Burlington or from their frequent appearances here in recent years. The band's latest record, Friends Share Lovers, concerns a phenomenon known all too well in Burlington's shallow dating pool: the complications that arise when your friend dates your ex ... and then you hack them to pieces with a rusty meat cleaver. (Only half of that sentence is actually true.)
Also on the bill both nights are upstate New York art rockers PALM and Amherst, Mass., lo-fi popster Mal Devisa. Adding local support Thursday is avant-pop oddball Joey Pizza Slice. Friday it's "foxy-folk" songwriter Abbie Morin.
(Costume suggestion: The creepy blond kids from Village of the Damned. Or a slice of pizza.)
Musically, Halloween means one thing: Local bands covering and dressing up as other bands. That time-honored tradition holds true this year.
At Burlington watering hole Finnigan's Pub on Friday, local "Scooby Doom" metal band Doom Service — who practically celebrate Halloween year-round as it is — host A Very Doomer Halloween. DS will be appearing as emo icons Saves the Day. The Crimson Space Ghosts will inhabit the Misfits. Rounding out the bill are Limp Diskette — presumably a DJ spinning Limp Bizkit tunes, which is, in fact, absolutely fucking terrifying.
(Costume suggestion: The Scooby-Doo gang. Or a chinstrap-clad bro who listens to Limp Bizkit.)
Also Friday, local psychedelic prog-hoppers Binger and groove mavens Squimley and the Woolens level up at Radio Bean in Burlington for Binger & Squimley: A Nintendo Halloween! The gist here is that the two genre-hopping crews will re-create the themes from your favorite NES games. Face-melting jams — and high scores — ensue.
(Costume suggestion: Obviously, anything Nintendo works — Mario, Luigi, Link, Little Mac, etc. For a different angle, try Corey Woods, Fred Savage's Power Glove-clad character from the 1989 movie/Nintendo commercial The Wizard.)
courtesy of DRANKSY
The Medallions
Moving on, things really get fiery on Saturday, October 29. At Foam Brewers on the Burlington waterfront, time-traveling disco kings the Medallions — who are definitely not Madaila — host A Halloween Affair with locals Tar Iguana and J Bengoy. Judging from the show's Facebook event page, the Medallions will deck out in Ghostbusters garb, which hopefully means they'll be covering Ray Parker Jr.'s theme song from the original 1984 film — and not, for the love of all things unholy, the Fall Out Boy version from the recent remake.
(Costume suggestion: Madaila.)
Meanwhile, up the hill at the Fright Club Lamp Shop, local art rockers Swale get their Black Sabbath on as Black Swaleth. The band will cover Sabbath's seminal 1970 album, Paranoid. And yes, even in costume, I'm still related to Swale bassist Tyler Bolles.
(Costume suggestion: A headless bat.)
Do you know what's better than one local band covering Sabbath? Two! Two local bands covering Sabbath! Ah ha ha! (Yup. That's a reference to the Count from "Sesame Street," yo.) That same night — probably around the same time, even — at the Monkey Shines House in Winooski, local stoner metal heads Vultures of Cult will appear as Sabbath of Cult. Also on the bill are Rough Francis-as-Los Saicos tribute band Asperos Saicos and local punks Ellen Degenerates.
(Costume suggestion: Death. No, not the band. The Grim Reaper.)
Speaking of the Sabbath, on Sunday, October 30 — aka All Hallows' Eve Eve — the Vermont Comedy Club hosts a triple feature of monstrous improv dubbed Stranger Sunday Halloween Improv Spectacular. The show is composed of three acts. The first features the local short-form improv team Napoleon improvising a Clue-like murder mystery based on audience suggestions. Act 2 finds the Unmentionables, VCC's long-form improv troupe, improvising an episode of the smash Netflix series "Stranger Things." The evening concludes with some dark improv. Literally. The show features Thea Lewis, of Queen City Ghostwalk fame. Lewis will offer a frightful story about Burlington, after which the house lights will go out and a select group of local all-star improvisers will bring her ghoulish tale to life — and you'll die laughing. In fact, this might be the one time when a comedian "killing" is a bad thing.
(Costume suggestion: Clue characters! Wadsworth, Professor Plum, Miss Scarlett, Yvette, etc.)
If you've still got energy after an overlong weekend of dancing with the Devil, dance with Burlington's hottest cumbia band, Mal Maiz. They'll throw down at Radio Bean on Halloween proper. Bonus: The best costume wins a free Mal Maiz T-shirt.
(Costume suggestion: Anything you can throw together after four nights of partying.)
BiteTorrent
In non-Halloween news, the Pine Street studio formerly known as RIVEN Studio — which was formerly known as the Sink, which was formerly known as Fort Sheen — shall henceforth be known as Silence & Sound. So it is written. So it shall be.
To christen the newly rechristened space, on Friday, October 28, local experimental composer Matt Hastings (ex-Vedora) presents a nifty avant-garde showcase featuring his project, Ver Sacrum, Wren Kitz and Texas composer Steve Jansen. In a recent email, Hastings writes that the show is the first in what he hopes will become an ongoing series that he's dubbing the South End Experimental Music Series. Yeah, yeah. Kinda dull name. But the acronym is subtly cool.
Hastings explains that he drew inspiration for SEEMS from Greg Davis' experimental series, Signals, which, funny enough, also kicks off this weekend — see the story.
"One thing I really liked about Greg Davis' late series at Champlain College was the opportunity to hear artists talk about how they arrived at their current work, their creative path and how it fits into the broader context of the music world," writes Hastings. "Too often I feel experimental/out-there music is presented without any context for the listeners, something that I think deepens the listening experience. Kudos to Greg for making that series happen, and for giving me a template to work towards."
Kudos, indeed.
Last but not least, this week marks the 2016 Vermont's Funniest Comedian competition at the Vermont Comedy Club. It features, well, pretty much every great comic in the state — and they are numerous. If, even after my years of pleading and cheerleading (cheerpleading?), you still haven't given Green Mountain comedy a shot, here's your chance to do some one-stop shopping. Trust me, you won't regret it.
VFC runs Wednesday through Friday, October 26 through 28, at the VCC in Burlington. In celebration, we're currently running a daily version of our online Joke of the Week feature on the Seven Days arts blog, Live Culture.
Listening In
A peek at what was on my iPod, turntable, eight-track player, etc. this week. Follow sevendaysvt on Spotify for weekly playlists with tunes by artists featured in the music section.
Michael Jackson, Thriller
Bobby "Boris" Pickett & the Crypt-Kickers, The Original Monster Mash
The Crazy World of Arthur Brown, The Crazy World of Arthur Brown
Boris Karloff, Tales of the Frightened
Various artists, The Rocky Horror Picture Show (original soundtrack)