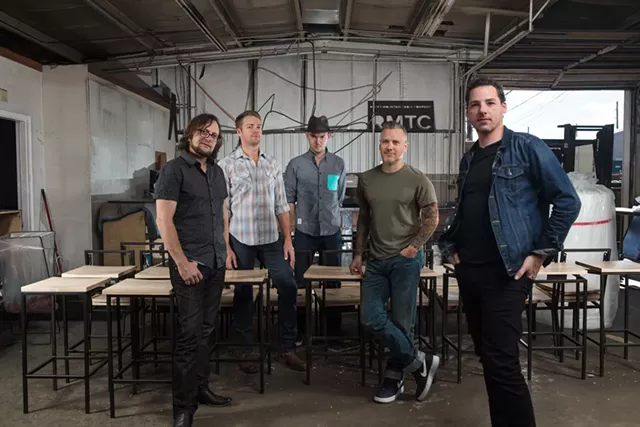 Courtesy Of Scott Mccormick
The Infamous Stringdusters
Point Sisters
Another gorgeous Green Mountain summer comes to a close with this weekend's Grand Point North music festival. Though your wall calendar might tell you that you have another week or so before it's officially autumn — or as it's known in my circles, cider doughnut season — music lovers know that Grace Potter's annual throw-down at Burlington's Waterfront Park is the season's mother-flipping grand finale. I'm happy. I'm sad. I'm all the feels at the same time. I want a cider doughnut.
The two-day cavalcade of local and national talent rocks the water's edge on Saturday and Sunday, September 15 and 16. This year, Potter reclaims both headlining spots after ceding Sunday's top time slot to the Trey Anastasio Band last year. Also of note at the 2017 edition was the big reveal that the festival's founder was pregnant. Did having a bun in the oven stop Potter from shredding our faces off? Fuck no. But it was understandable that she wanted to finish up a li'l early on night two. Maybe she'll show us some baby pictures this time. Or I guess you could just follow her on Instagram for that.
Jackson Browne is a huge get for this festival, by the way. Understandably, Saturday, the day Browne performs, is already sold out. (But you're resourceful, right? Time to scour the internet for face-value tickets.) Ani DiFranco is another noteworthy addition. Check out my interview with her.
And at the risk of putting too fine a point on it (see what I did there?), I just want to say kudos to Grand Point North's organizers for the fest's inclusivity. Though it's not marketed as such, the festival skews heavily toward female-fronted bands and artists. To be clear, Grand Point North usually has above-average representation as compared to many, many other festivals of its size. But, if I'm doing my math correctly, about 70 percent of this year's lineup is either female forward or at least has female members, a sizable portion of which are the local support bands: ska-punks Miku Daza, grungy rockers Clever Girls, neo-soul outfit JUPTR, indie darlings Julia Caesar and rootsy blues band Nina's Brew. Hells yeah.
Visit grandpointnorth.com for the full lineup and set times.
Grazin' in the Grass
Courtesy Photo
Railroad Earth
A new arm of cold-weather music festival WinterWonderGrass is setting up shop in southern Vermont at Stratton Mountain Resort. Normally, you'd have to travel out to Colorado or Lake Tahoe to get in on the twangy shindig. But Vermont has the honor of kicking off the ever-expanding fest's 2018-19 season. The three-day affair runs Friday through Sunday, December 14 through 16. The Rocky Mountain and West Coast editions aren't happening until February and March of next year, respectively.
Given the state's top-notch skiing and affinity for Americana music, Vermont is the perfect location for the festival's newest branch, which brings slopes and strings together. Normally, down south Stratton-way would be a bit far afield for Seven Days to cover. As much as we love southern Vermont, it's a logistical nightmare trying to stay on top of all of the cool haps south of Route 4. But fest organizers are doing what they can to make sure Vermonters up north are aware of its presence, starting with a kickoff event called Caravan to WonderGrass Vermont on Friday, September 14, at Burlington's Club Metronome.
The free concert features Johnson-based string band Beg, Steal or Borrow, who largely pay tribute to Jerry Garcia's short-lived but legendary bluegrass band Old and in the Way. Ex-Cabinet picker Pappy, ex-Elephant Revival multi-instrumentalist Charlie Rose, and pedal steel and banjo aficionado Gordon Stone are also scheduled to appear. A second Caravan to WonderGrass Vermont show featuring Saints and Liars, as well as Rose, takes place the following night at the Red Fox Inn in Bondville.
WinterWonderGrass unleashes its full lineup on Thursday, September 13, on its website. As of press time, only two headliners — the Infamous Stringdusters and Railroad Earth — had been announced.
Spray It, Don't Say It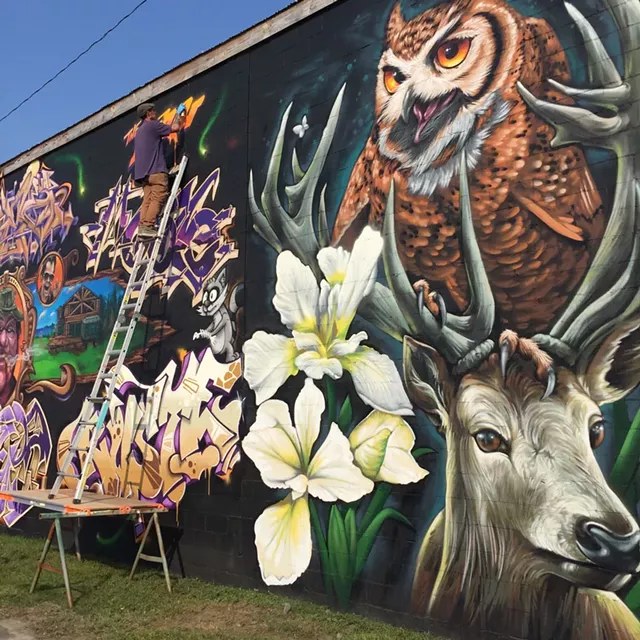 Courtesy Of Brian Clark
2017 Above the Radar mural
With hardly any time to catch their breath since their omnipresent takeover of Burlington during the annual A_Dog Day celebration and their grand works at the South End Art Hop, masters of the aerosol arts Anthill Collective gear up for their second annual Above the Radar graffiti festival. The event plays out this Friday through Sunday, September 14 through 16, at the Burlington King Street ferry dock.
Last year, the local street-art enthusiasts, plus several out-of-towners, put together a gargantuan, 260-foot mural, or series of murals. The team plans to do the same thing again this year but not before applying a fresh coat of paint over the wall to get things back to square one.
"Summer in VT: You either make huge plans and get 'em done, or you spend the winter wishing you had," Anthill's Scottie Raymond tells Seven Days in an email. Truer words have never been spoken. Or written, in this case.
Meanwhile, a posse of the state's freshest DJs and hip-hop MCs hit the decks and take the mic courtesy of Sonic Steve's Jammbulance, a mobile concert venue made from a retired ambulance. During Art Hop last weekend, you may have noticed the garishly painted vehicular rock club parked in front of Dealer.com's headquarters during the Friday night hootenanny.
Daylong sets on Saturday and Sunday are straight heat: DJs Kanganade, Big Dog, Rekkon, C-Low, Transplante, Es-K, Mike Fulton, Melo Grant, D Jay Baron, SkySplitterInk and Rivan C drop sets, as well as MCs S.I.N.siZZle, Learic, Konflik, Jarv, PR DepARTment, Monk.E, Humble and ILLu. And that's not to mention Mister Burns' takeover of Foam Brewers in Burlington on Friday with his live band, the Hounds.
Check Anthill's Facebook page for more details.
Listening In
If I were a superhero, my superpower would be the ability to get songs stuck in other people's heads. Here are five songs that have been stuck in my head this week. May they also get stuck in yours. Follow sevendaysvt on Spotify for weekly playlists with tunes by artists featured in the music section.
Sam Dew, "Runner"
George Clanton, "Make It Forever"
Starchild & the New Romantic, "Boys Choir"
Planningtorock, "Transome"
Clams Casino, "Into the Fire (feat. Mikky Ekko)"