File: Matthew Thorsen
Sergei Ushakov
Happy New Year, music fans! I trust your holidays were happy and healthy! Or one or the other! Or that you at least made it through them without going nuts! Or that you're still alive. The holidays can be rough, huh?
Before we get settled into the business before us in 2015, I'd like to take a moment and revisit an article we ran at the end of 2014. In that December 17 piece titled "Did You Ever Know That You're My Hero?" we polled local scenesters to ask who they thought were some of the unsung heroes of the local music scene — or, to mangle the Bette Midler reference even further, who was the wind beneath their wings.
Of the all the responses we received, two names were mentioned most frequently: superfan Tim Lewis and Nectar's sound engineer Sergei Ushakov. And on a recent Tuesday in late December, I saw exactly why that was. I'd like to briefly share that anecdote with you now.
I had ventured down to Nectar's to catch Swale playing a New Year's Eve Eve gig. Watching Swale has recently become a personal pleasure — even more than it used to be — because my brother is in the band. That means when I see Swale now I can simply be a fan and a proud big brother. It's refreshing.
Anyway, during a particularly rowdy tune — I forget which one, exactly. See: just a fan, above — guitarist Eric Olsen broke a string on his Creston and had to switch guitars. After the song, he joked to the crowd, "Can anyone out there change a guitar string?" Given the number of musicians in the crowd, I'm guessing at least 40 people in attendance, myself included, could do exactly that. But none of us stepped forward.
Well, except for one guy.
Sergei hopped down from the sound booth, strode to the stage and proceeded to attempt to remove the busted string while Swale continued playing. Apparently, Olsen's axe is finicky when it comes to changing strings. After a few minutes, Sergei exited stage left and returned with a few small tools. He promptly changed the string and replaced the guitar to its stand onstage. Without saying a word, he returned to the booth as the entire crowd began chanting his name.
To recap: A guitarist broke a string at a show Sergei was working. So Sergei fucking changed it for him! That's why he's the best, folks.
As for Tim Lewis, well, he was there, right up front where he always is. Because Tim Lewis is always there, which is why he's Tim Lewis. Man, that guy's great.
In the Year 2015 ... for Real!
On page 54 of this very paper, you can read a tongue-in cheek column "predicting" the year to come in local music. That piece is a long-running annual gag that in no way whatsoever is meant to be taken seriously. At all. I stress that only because every year some rankled reader writes in outraged that I predicted Grace Potter & the Nocturnals would break up citing "artistic indifferences" or that Phish would become a Christian rock band or any number of dumb — and really, really not real! — things I've written in that piece. Which, again, is not real.
This year, in addition to that decidedly not real piece, I'd like to take a stab at making some genuine, if maybe outlandish, predictions. So if you'll indulge me, here are a few things I expect we'll see in 2015. (And, yeah, it's a sloooooow news week.) As always, feel free to flood my inbox with how I got it all wrong.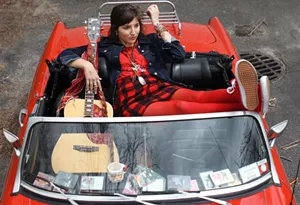 Courtesy Of Caroline Rose
Caroline Rose
2015 will be the year of Caroline Rose. After breaking into the national consciousness with her remarkable 2014 record, I Will Not Be Afraid, Rose will sign with a prestigious label — you listening, Sub Pop? — that unleashes her hellaciously good punkabilly EP on the world. That recording will grace innumerable year-end best-of lists around the globe. She'll close 2015 by inheriting the Higher Ground Ballroom New Year's Eve gigs previously occupied by GPN, Rubblebucket and, most recently, the Devil Makes Three.
Kyle Thompson, aka Fattie B, will be among the top-five best-selling authors from Vermont. And his memoir, I Was a 400 Pound 80's DJ, will easily be the funniest book from the Green Mountains this year. It's not finished yet, and as of this writing doesn't have a publisher, but if the batshit-crazy stories that Thompson has told me over the years about his time in the DJ booth are any indication, I feel pretty good about this one.
The new record from Phil Yates & the Affiliates, No Need to Beg, will be a sleeper contender as one of the best local albums of the year. Though a little overlooked, for my money Yates is one of the finest rock songwriters in Vermont. A sneak-peek single he recently sent my way has a little bit of "angry young man"-era Elvis Costello to it that I really dig. See for yourself when his band plays the Monkey House in Winooski this Saturday, January 10.
Courtesy Of Gina D'amico
Phil Yates & the Affiliates
The new record from Maryse Smith and Michael Chorney will join the likes of Guppyboy's Jeffersonville, Wooden Dinosaur's Spaces and the Pants' Eat Crow in the pantheon of all-time great Vermont records. Point of order, I haven't heard any of it yet, so this is purely speculation. But Chorney's track record with promising young songwriters is unimpeachable — see: Mitchell, Anaïs. And from what I've seen live, I fully expect a stunner from those two in 2015. (No pressure, guys!)
When I interview him prior to his Higher Ground show in February, country-music messiah Sturgill Simpson — excuse me, Grammy-nominated country-music messiah Sturgill Simpson — will reveal, for the first time, the real meaning behind his song "Turtles All the Way Down." So what if his management team has repeatedly declined my interview requests and stopped taking my calls? (Call me, Sturg!)
Longtime ramblin' man Rick Norcross and his band, the All-Star Ramblers, will win at least one award in the six categories for which they have been nominated in the 2014 Academy of Western Artists awards. These include Best Western Swing Group/Duo, Best Western Swing Album (Welcome to OUR Vermont) Best Western Swing Female (Taryn Noelle) and three nominations for Best Western Swing Song. Norcross and co. were finalists in that first category last year, but came up empty. I say the Academy makes it up to them at the awards ceremony in Dallas this year. Question: Do they have to stay at a Best Western to win? Don't leave anything to chance, guys.
Last but not least, 2015 will be another remarkable year in Vermont music, filled with landmark records, once-in-a-lifetime shows, and no shortage of thrills, chills and surprises. We'll have highs, we'll have lows and we may not always see eye to eye on everything. But it's gonna be a hell of a ride. So here's to 2015!
Listening In
A peek at what was on my iPod, turntable, eight-track player, etc., this week.
Luluc,Passerby
Menace Beach,Ratworld
D'Angelo and The Vanguard, Black Messiah
Run the Jewels,Run the Jewels 2
The Smashing Pumpkins,Monuments to an Elegy
The original print version of this article was headlines "The Sound Man and the Fury"