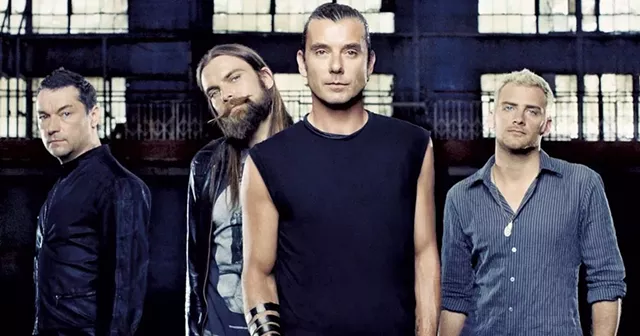 Courtesy Photo
Bush
August Rush
You know that Lloyd Bridges bit from Airplane! in which he keeps saying, "Looks like I picked the wrong week to quit smoking," or, "Looks like I picked the wrong week to stop sniffing glue"? Well, call me Lloyd Bridges, because it looks like I picked the wrong week to go on vacation.
As you're reading this — assuming you picked up the paper the minute it comes out on Wednesday, of course — I'm trapped in a metal canister careening through the sky on my way to the Bay Area to visit family. And, hot damn, am I missing some good stuff back home this week. Though I'm bound to have fun on the West Coast, I'm bummed to be absent for a number of special events. If you're around the 802, you have a lot to choose from.
On Thursday, August 22, indie-rock powerhouse Julia Caesar play their farewell show at Congregation Ruach haMaqom, the synagogue on Archibald Street. The show doubles as an album release show for their long-awaited debut full-length, Mars. Look for a review in Seven Days at some point in the near future.
Only a few years after forming and making an indelible mark on the Queen City's music scene, the group's members are going their separate ways. Acoustic outfits Honey & Soul and Daisy World add support. Of note: This is a dry show, so keep that in mind if you're looking around and can't find the bar.
On Saturday, August 24, Henry Finch & the Capacity Ensemble make their debut at the synagogue. Sharing many members with garage-punk ensemble the Bubs, the soulful rock group is one of the most intriguing bands on the scene right now. If you haven't seen a show at the Old North End house of worship, treat yourself to one or both of these. The venue is quite special.
The Champlain Valley Fair kicks off on Friday, August 23, with one of the most highly anticipated local concerts of the year — if you're into '90s alternative music, that is. Rock legends Bush and Live co-headline the Alt-Imate Tour, which also features a set from Canadian guitar heroes Our Lady Peace. Check out our Q&A with OLP front person Raine Maida.
Side note: I'm perhaps most upset about missing this slice of nostalgia pie, given that I was raised on tracks like Bush's "Mouth," Live's "Dolphin's Cry" and Our Lady Peace's "4am." Look for a special slide show of shots from the concert on our website sometime early next week, courtesy of photo contributor Luke Awtry.
Also on Friday, Rubblebucket co-founder Kalmia Traver returns to the Light Club Lamp Shop with her electro-pop project Kalbells. More than two years have passed since the band released its debut album, Ten Flowers. I suspect new material is imminent.
One thing to keep in mind Friday through Sunday: It's first-year move-in weekend at the University of Vermont. As noted in an uncharacteristically humorous Facebook post from the school's campus police, "May I recommend that you fill up an extra travel mug with the 'Extra Level of Sanity' coffee blend?" The bulletin mostly referred to anticipated traffic snarls, so keep that in mind as you're navigating Burlington this weekend.
However, I've long enjoyed the annual tradition of watching swaths of fresh-faced newcomers rove in packs as they take baby steps into their new worlds. That counts as a nightlife activity, right? You can make a game out of it. Drink every time you see an awkward group of students aimlessly walking down Main Street.
And to any first-year who may be reading this column, um, welcome to Burlington!
Oh! There's one more event I'd like to point out this weekend...
Doll Parts
Courtesy Of Riptide Photography
Miku Daza
...Night Doll Fest! The one-day punk roundup takes over the Junktiques Collective — on two stages, one indoors and one outside — on Saturday, August 24.
Organized by carnival punks Miku Daza, the ferocious affair puts a spotlight on local and regional queer, punk and generally left-of-center bands. Admission is donation-based ($20 is suggested), and all proceeds go to LGBTQ advocacy nonprofit the Pride Center of Vermont.
"I thought there was something missing, punk-wise," says Miku, the band's front person, of Vermont's festival scene. And it's true! Festivals like Waking Windows and Grand Point North skew toward indie rock. Folk and bluegrass festivals outnumber that of any other genre. And perhaps the biggest draw, Burlington Discover Jazz Festival — well, it's right there in the name.
Sets will be largely staggered throughout the day, so you won't have to pick and choose what to see and what to skip. Area punkish favorites such as PREECE, Happy Spangler, Jesse Taylor Band, Yestrogen, Barbacoa, Adrienne Cooper Smith and Miku Daza make their appearances throughout the day. (Disclosure: Seven Days employees appear in Happy Spangler and Barbacoa.)
A few lesser-known Vermont-based artists are set to perform, too, such as dance troupe Dream City Dance. And a few acts are making their proper debuts. Namely, Miku Daza bassist Chris Tranten provides a proper introduction to his live electronica project H.L.H. Check out his Concealed EP on Spotify for a three-song preview.
Performance artists Estefania Puerta, aka HISSSSSSSS, and Edwin Baker, who goes by Giggledom, will each perform an avant-garde set.
New tribute project alert! Miku teams up with Alaina Hall, Jane Boxall and Cassandra Besso for a Blink-182 homage called Pink 802. Expect to hear the pop-punk group's major hits, like "All the Small Things" and "What's My Age Again?"
"The plan further down the road is to make the covers [sound] more original," says Miku, noting that, for this first outing, attendees can expect fairly faithful re-creations of the California band's material.
Courtesy Of Averie Cole
Ecce Shnak
Rounding out the lineup are two revved-up acts from New York City: Monte and Ecce Shnak. Though the bands sound quite different — the former leans more toward riot grrrl, the latter toward expressionistic post-punk — they each bring a welcome fierceness to the pilot event.
To recap: This weekend is full of kick-ass music happenings. You should all go to them, because I can't. Bonus points if you email me some pics!
Listening In
If I were a superhero, my superpower would be the abil ity to get songs stuck in other people's heads. Here are five songs that have been stuck in my head this week. May they also get stuck in yours. Follow sevendaysvt on Spotify for weekly playlists with tunes by artists featured in the music section.
Djo, "Roddy"
From 'Repo! The Genetic Opera', "Infected"
WILLOW, "Wait a Minute!"
Young Galaxy, "Blown Minded"
Parallels, "Find the Fire"