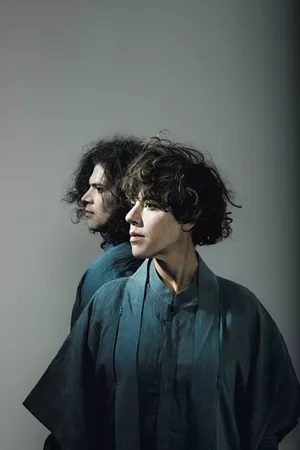 When I was sliding sideways and backwards in my car down Burlington's Cliff Street during last week's flash ice storm, I found myself longing for spring. Weird, right? Perhaps it was having to awkwardly hunch over and crouch down to lower my center of gravity as I took baby steps on the frozen sidewalks that made me pine for warmer temps. Or maybe it was the fact that I had to ditch my car in a stranger's driveway — because there was no way I would make it home without smashing up a ton of cars — that made me think, You know what, winter? I'm over you.
Fortunately, a beacon of hope cut through the frigid darkness of February last week: Waking Windows announced its preliminary lineup. If that doesn't warm your heart, you might be a White Walker.
As always, the three-day festival descends on downtown Winooski during the first weekend of May, with this year's festivities landing on Friday, May 3, through Sunday, May 5. And though spring technically begins on Wednesday, March 20, I think we all know that it doesn't really kick off until Waking Windows. At least not 'round these parts.
The initial announcement included a buttload of hot talent, and a few acts in particular caught my ear. Headliners tUnE-yArDs and Twin Peaks have done well in the area on past visits, and I anticipate that both bands will put on a hell of a show. But I'm also pretty stoked to catch &More, the collaboration of Philadelphia R&B singer-songwriter Donn T and rapper Chill Moody. I missed their set when they opened for fellow Philadelphians Low Cut Connie at Higher Ground last fall. You gotta love a second chance.
High on my must-see list are New York City-based Colombian psych-fusion group Combo Chimbita, as well as Toronto avant-pop outfit Jaunt. I could go on and on. But I'll save it for another day. For now, let's just collectively bask in the forthcoming awesomeness.
Ono You Didn't
Grandmother of the avant-garde Yoko Ono turns 86 on Monday, February 18. To celebrate — and to hopefully shake off the unjust stigma that's dogged the conceptual artist/musician for decades — a group of local experimental musicians is teaming up to pay tribute at Burlington's Radio Bean.
Cellist and sound artist Lauren Costello — who performs under the mystifying moniker ouzkxqlzn — and fellow Ono-heads present a number of performances that abstractly explore the artist's work.
"I was surprised that so many people were enthusiastic at the idea of celebrating her," Costello told Seven Days by phone. She referred to the fact that many people still cling to the idea that Ono broke up the Beatles. Did it ever occur to anyone that maybe the Beatles broke up the Beatles?
"I came to explore Yoko more recently," Costello continued. "I feel like part of me is like, Why didn't I get a chance to know her as an artist? The stigma, to me, overshadowed [her work]."
In addition to Costello, experimental aficionados Gahlord Dewald and Jo Bled (aka JB Ledoux) plus poets Shawn Corey and Estafania Puerta will present interpretations of and pieces inspired by Ono's work.
Dream Factory
On Saturday, February 16, Radio Bean and the Skinny Pancake team up for what sounds like an out-of-this-world event at Burlington's Main Street Landing. Dubbed a Midwinter Night's Dream, the immersive happening features musical contributions from art-pop group Arc Iris, New York City dark electro-pop outfit Superhuman Happiness and, from Montréal, the Barr Brothers' Brad Barr. Additionally, lighting designer Jason Liggett, known for his work on "Saturday Night Live" and "The Late Show With Stephen Colbert," will handle the ambience.
But don't expect to simply stand around watching the bands play. This event isn't a concert but rather an interactive dreamscape playland.
"We're really gonna try to trip people the fuck out," Radio Bean owner Lee Anderson told Seven Days by phone.
In typical Anderson fashion, he left out most of the details. No one likes spoilers, after all. But he gave the impression that the evening is going to be in a state of constant motion with many "right angles," similar to how dreams often seem to put you in a series of interconnected but conceptually very different states. Also, he mentioned "surrealist passed appetizers." Um, yummy?
If you attend, plan on participating. Expect music and sounds to emanate from unexpected places with rapid set changes and nonprescriptive, fully interactive installation-type setups. Again, it really sounds like the kind of thing you'll have to experience in person to understand — just like dreams.
Bigger and Better
After 10 years on Bank Street, Burlington Records has found a new home just a hop, skip and a jump away. The vinyl shop opened its doors in its new location on College Street on Saturday, February 9.
"What we've sacrificed in façade exposure, we've made up for in literally everything else," proprietor Ian Doerner told Seven Days via email. He refers to the fact that he's basically doubled his square footage in the new space, despite the fact that the new storefront is much more narrow.
Not only is there more space to walk around, but there are also hella more records to peruse. Doerner says the old location offered approximately 60 stock boxes through which to dig. Now the number is closer to 100, and it's expected to be closer to 125 once he settles in a bit more.
In case you didn't realize it, Burlington Records' new location is just a half block away from Pure Pop Records — which will likely make vinyl hounds happy. Is College Street turning into Burlington's record district? Probably not. But it sure is convenient having two top-notch record shops so close to each other.