Courtesy Photo
Future Islands
Open Shutter
I can't think of a better way to begin this week's column than to herald the initial lineup announcement for Waking Windows 2020. The three-day music and arts festival celebrates its 10-year anniversary as it takes over Winooski from Friday, May 1, through Sunday, May 3.
Perhaps the most significant announcement so far are new-wave powerhouses Future Islands, who headline the Main Stage on Saturday, May 2. Not only is the Baltimore outfit "basically the entire [Waking Windows] crew's favorite band," according to a message from cofounder Brian Nagle (aka DJ Disco Phantom), the group performed at the initial Waking Windows festival. Talk about coming full roundabout — er, circle.
Also taking top billing this year is alt-pop artist Japanese Breakfast, the moniker of singer-songwriter Michelle Zauner. Seven Days caught up with Zauner during a Vermont stopover in July of 2018. Revisit the conversation on our website.
The rest of the preliminary bill includes indie-rock group Vundabar, folk artist Molly Sarlé (of Mountain Man), retro-pop group Habibi, Montréal punks Pottery, jangle-pop band Dehd, and a joint effort between the Vermont Symphony Orchestra's Jukebox Quartet and musician, composer and activist Daniel Bernard Roumain. Better known as DBR, the violinist is in the midst of a residency with the Flynn Center for the Performing Arts and has performed numerous times in the Burlington area throughout the past six months, including a 24-hour protest performance on the Church Street Marketplace.
That's it for now, folks. Be on the lookout for more lineup announcements in the coming months.
Straight From the Horseman's Mouth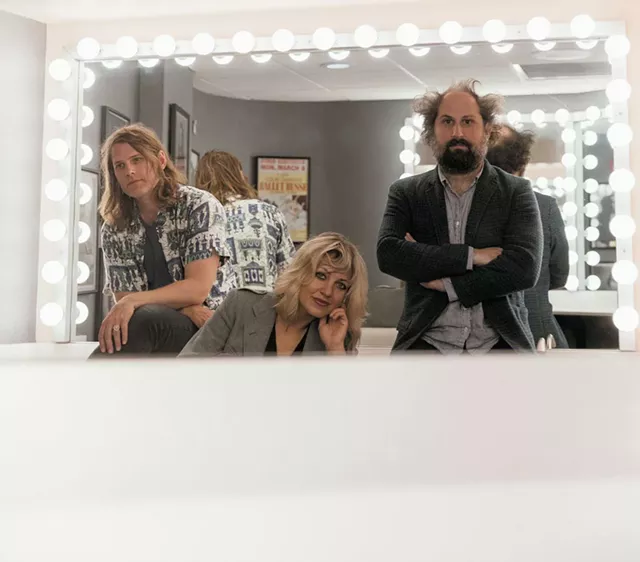 Courtesy Of Nolan Knight
From left: Eric D. Johnson, AnaÏs Mitchell and Josh Kaufman
Anaïs Mitchell is on a roll. Last week, the Vermont-born singer-songwriter picked up a Grammy Award for Best Musical Theater Album for her critically acclaimed Broadway show, Hadestown. Many years ago, the show debuted at the Old Labor Hall in Barre before its long journey to Broadway.
This week, the artist continues her hot streak of must-see, must-hear musical endeavors with a new band called Bonny Light Horseman. The trio, which includes Eric D. Johnson (Fruit Bats) and Josh Kaufman (Josh Ritter, the National), makes its Vermont debut on Saturday, February 8, at the Higher Ground Ballroom in South Burlington.
Via email, Mitchell said that the group first came together after she and Kaufman worked together on a one-off track with British folk-rocker Kate Stables of This Is the Kit. That led the pair to dive into the traditional music of the British Isles. Shortly thereafter, Kaufman looped Johnson into their exploration, and the three started working on material that would eventually become Bonny Light Horseman. A performance at the 2018 Eaux Claires music and art festival in Eau Claire, Wis., sealed the deal.
"Many of the songs are straight-up arrangements or interpolations of traditional songs, mostly from across the pond," Mitchell wrote. "Many more have original music and trad text. I see it all as a spectrum, like the veil between interpreting and creating is very thin. The language is both exotic and familiar, and the themes are totally timeless."
The group just released its first album, and the self-titled collection garnered significant praise. Pitchfork contributor Grayson Haver Currin wrote in his review, "Mitchell, Kaufman and Johnson have rarely sounded better than they do together, locked in these scenes with the intimacy of siblings." NPR listed the album among its top 10 of January 2020.
"Another really beautiful thing about the band is there's no one really 'in charge,'" Mitchell wrote. "Eric has helmed his own band for so long, and me too — though I often play with fewer players. There's a sense of burden of 'carrying' a show energetically when you're the lead singer. But in Bonny Light Horseman, Eric and I share all the lead singing, and Josh, as producer ... is equally 'leading.'"
Mitchell added that developing Bonny Light Horseman was a "kind of antidote or compliment [sic] to the other music we were making."
"In my case, I was living in a state of passionate anxiety about Hadestown for many, many years," she continued. "Bonny Light Horseman came along to remind me what it is to just make music for the sake of music again."
Of course, I had to ask Mitchell if she has a favorite tune.
"I love the [traditional folk] song 'Bonny Light Horseman,' our title tune," she wrote. "Ours is quite an impressionistic version. I love the song but I especially love the recording, which was one of the first ones we made. The room was full of people. There are many bars at the top of the song and it's like you can hear everyone kind of spiritually 'tuning' before the song begins."
Miraculously, the Higher Ground show isn't yet sold out (as of press time). That's an interesting contrast to Mitchell's performance at Burlington's First Unitarian Universalist Society last October, which sold out quickly. I suspect as much of this show as the date draws nearer.
BiteTorrent
Fans of synthesizers, circuit-bending and sound manipulation ought to check out a special performance on Saturday, February 8, at Stage 33 Live in Bellows Falls. Though the full lineup is still being finalized, the bill features a couple of Vermont-based artists, including duos Five Before Chaos and Infinite Is, as well as Greenfield, Mass., producer tOOthpAAt. Players will set up in the middle of the performance space, with audience members in the round.
Stage 33 Live is, according to its website, a listening room. But it's also known for producing high-quality live-performance videos for the artists who perform there. Check out its YouTube channel to see videos from Vermont artists such as the Jobz, David Rosane & the Zookeepers, and Spike Dogtooth.
Comedians Anthony Atamanuik and James Adomian return to the Vermont Comedy Club this weekend to reprise "Trump Vs. Bernie," a series they brought to the club in 2016. The two comics are well known for their portrayals of President Donald Trump and Sen. Bernie Sanders (I-Vt.), respectively. In the show, which runs Thursday, February 6, through Saturday, February 8, the comics go head-to-head, in character, in a series of mock-town-hall-style presidential debates.
Speaking of summer concert announcements, Higher Ground Presents just announced its first show in the Ben & Jerry's Concerts on the Green series at the Shelburne Museum: The Head and the Heart bring their rousing pop-Americana to the sunset-facing patch of grass on Sunday, May 24. (That's the day before Memorial Day, which, from what I understand, is a holiday that a lot of people get to take off from work.) In addition to the Seattle folk-rock ensemble, Nashville, Tenn., country superstar Margo Price adds support.
Listening In
If I were a superhero, my superpower would be the ability to get songs stuck in other people's heads. Here are five songs that have been stuck in my head this week. May they also get stuck in yours. Follow sevendaysvt on Spotify for weekly playlists with tunes by artists featured in the music section.
ME & LP, "Bonnie Says"
Dragonette, "Take It Like a Man"
CocknBullKid, "Cocknbullkid"
Fitz and the Tantrums, "Don't Gotta Work It Out"
Gravy Train!!!!, "Sippin' 40z"
Correction, February 5, 2020: An earlier version of this story incorrectly stated the origin of Bonny Light Horseman. Anaïs Mitchell and Josh Kaufman worked together before bringing in Eric Johnson.