Courtesy Of Sebastian Kim
Annie Hart
On Friday, Waking Windows announced the initial lineup for its three-day festival in Winooski. The music and arts hootenanny spans Friday, May 4, through Sunday, May 6, at more than a dozen locations throughout the Onion City. And, by initial lineup, I mean, like, more than 100 bands, artists and DJs — hardly the pint-size reveal of 10 to 12 names I expected. The teeny-tiny preview I anticipated turned out to be a Thanksgiving-size smorgasbord — and now I'm metaphorically sprawled out on the sofa, pants unbuttoned, snoring away in a deep food coma as my cousin's annoying kids play Pokémon Go nearby. I'm sure you are, too.
First of all, I want to start out with a little gratitude: Thank you, WW, for clickable links! Unlike last year's online lineup page, nearly every name on 2018's roll call is clickable, directing the user to the entity's official website, Facebook page, SoundCloud account or Bandcamp profile. Rather than googling band by band, you're now just one click away from everything you need to know. This makes it a bajillion times easier to get to know this year's roster — especially if you're lazy AF like me.
Another thing: WW didn't toot its own horn like Moogfest did last year with its self-congratulatory 2018 lineup announcement, so allow me to do it. I have to give it up for the diversity in this year's talent. Not only does the fest offer many musical styles, but women and people of color are more prominent and visible than ever. And the inclusiveness trickles down from the artists on the Outdoor Main Stage to acts populating the hole-in-the-wall spaces. That's impressive and significant.
I realize that many local festivals aren't able to offer nearly as many slots as WW can and therefore must be incredibly streamlined and selective. But I feel like we should see this level of inclusion as the new standard — or the new normal. Once it is, it won't need to be mentioned.
As for the lineup itself, hot damn, have I got some homework to do! As WW's Brian Nagle (aka DJ Disco Phantom) and I were discussing the other night at the Monkey House, whenever a fresh artist crosses my path and catches my interest, I have to stop what I'm doing and devour every morsel I can find. For example, I've already begun digging into Detroit's Double Winter. The indie-rock quartet is totally new to me. I'm also really feeling Impossible Accomplice, the debut album from Au Revoir Simone's Annie Hart.
And then there are artists I've meant to see on several occasions but, for one reason or another, I've missed. I'm talking specifically about Hoops, Bedouine, Norwegian Arms and Braids. Please, God, let there be no conflicts among these artists when the schedule is released.
I'm also pleased as punch to see that a couple of folks I interviewed in the last year are turning up — namely electro-R&B maven Anna Wise and avant-singer-songwriter Steve Gunn.
In early 2016, I saw Wise open for Petite Noir at the Mercury Lounge in New York City, and I've been a follower ever since. Fun fact: During my conversation with the artist last April, I found out that her Mercury Lounge show was actually her first-ever solo performance — though the audience likely had no idea since she didn't mention it at the time. The Grammy Award winner had the confidence of a seasoned pro, and you'll be wise — er, smart — not to miss her in May.
We can expect more music announcements in the coming weeks and months. That much is made explicitly clear on WW's website. And, if last year's spread tells us what to expect this year, we're still anticipating a slew of DJ sets, standup comedy showcases, special presentations, poetry and literature events, and art installations.
I can't freaking wait.
Peak Perfection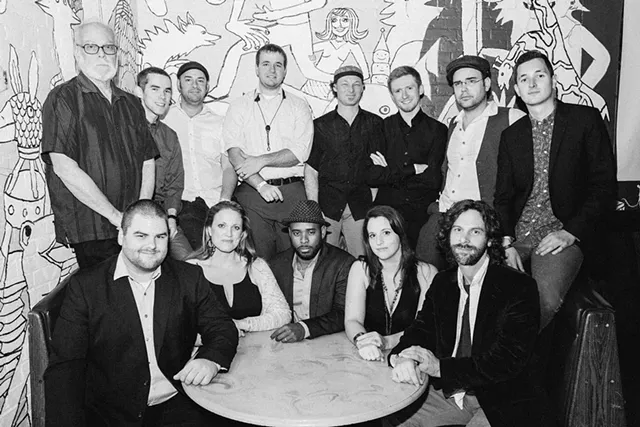 Courtesy Of Monika Rivard
APEX Ensemble
APEX Ensemble, the massive modern jazz ensemble known for its interpretations of well-known works — such as Stevie Wonder's Songs in the Key of Life — is back at Stowe's Spruce Peak Performing Arts Center on Saturday, February 24. For this show, rather than reimagining the works of big-time celebs, APEX looks to composers from its home state for inspiration — a couple of whom are actually members of the band.
Saturday's outing features exclusively the works of Vermont-based composers. The group performs the work of APEX trumpeter Brian Boyes and keyboardist Ira Friedman, along with compositions from noteworthy VT artists Erik Nielsen, Patricia Julien, Bruce Sklar, Rob Morse and Kyle Saulnier, a formerly NYC-based musician who recently relocated to Colchester. In addition to Boyes and Friedman, Nielsen, Julien and Sklar will be in attendance for a meet and greet after the show.
55 Years and Counting
Rick Norcross of Rick & the All Star Ramblers Western Swing Band is currently celebrating his 55th year as a working musician, and he recently announced the first of several anniversary concerts expected to materialize throughout 2018.
On Saturday, Norcross invites you to get cozy at Burlington's Willard Street Inn as he intimately showcases a collection of his kitschy songs about life in the Green Mountains. Prior to the show, the bandleader presents a photographic retrospective of his entire run. And during intermission, he shows off his archive of photos of rock legends including Elvis Presley, Janis Joplin and Chuck Berry, all taken while he was a staff writer and photographer for the Tampa Times from 1969 through 1974.
In March, Norcross heads down to Fort Worth, Texas, for the 22nd annual Academy of Western Artists Awards, for which he and the Ramblers nabbed nominations for Best Western Swing Duo/Group and Best Western Swing Album for his 2017 record Welcome to OUR Vermont.
Visit rickandtheramblers.com for the latest on Norcross' banner year.
Listening In
If I were a superhero, my superpower would be the ability to get songs stuck in other people's heads. Here are five songs that have been stuck in my head this week. May they also get stuck in yours. Follow sevendaysvt on Spotify for weekly playlists with tunes by artists featured in the music section.
David Hasselhoff, "True Survivor"
The Crystals, "Da Doo Ron Ron"
PREP, "Sunburnt Through the Glass"
Caroline Rose, "Soul No. 5"
WESLEE, "Gassed"