Courtesy Of King Tuff
King Tuff
Wakeup Call
Last week, we got a glimpse of warmer days ahead in the form of some early announcements for the 2015 Burlington Discover Jazz Festival. That smattering of leaked names helped take some of the chill off what has been a particularly frigid end to Fuck You, Vermont season, also known as winter. Well, if the BDJF announcement nudged the thermostat up a degree or two, then a recent missive from our pals at Waking Windows Presents cranked that sucker to 80.
Last week, the WWP crew didn't just tease with some choice names for the Waking Windows 5 festival in May. They announced (almost) the entire freaking lineup. Your move, other festivals.
(BDJF: "OK.")
Since its inception as a well-intentioned, if overmatched, alternative to BDJF five years ago, WW has blossomed into a truly remarkable and unique festival. Sure, others are much bigger (BDJF), some boast more star power (Grand Point North, Lake Champlain Maritime Festival), and still others trade more overtly on hyperlocal Vermontiness (Eat by Northeast, WYSIWYG, the Precipice). This is not a knock on any of those fests, which are all wonderful in their own distinct and important ways. But as we've opined previously, Waking Windows is quite simply the coolest music festival in Vermont. And it's becoming a monster.
WW5, which runs from Friday, May 1, through Sunday, May 3, will feature more than 100 bands performing at 11 venues in and around downtown Winooski, including an expanded outdoor stage. That includes some new joints, too, such as Four Quarters Brewing, Waterworks Food + Drink and Scout & Co. But really, the entire Onion City is the venue for WW, which is part of what makes the festival so unique.
"One of the main goals of the festival is to spotlight the rapid development, both economically and culturally, of downtown Winooski," writes WW's Matt Rogers in a recent email to Seven Days. Well, that, and some serious rocking.
A hallmark of WW has always been its strong mix of national, regional and local talent. This year, the top of the marquee is more impressive than ever. Headlining acts include, among others, Titus Andronicus, Delicate Steve, Cymbals Eat Guitars, Javelin, O'Death and King Tuff — the last of whom are from Brattleboro, BTW, and so are technically also local. Nifty.
While the wattage of star power at WW5 is high, locals still form the festival's backbone. And the locavore lineup this year reads like nine Paste lists' worth of Vermont bands you should listen to now. Waylon Speed, Madaila, Heloise & the Savoir Faire, Disco Phantom, Blue Button, Swale, Paper Castles and Maryse Smith make up the local section of the marquee. But that's just the tip of the onion. From the conveniently alphabetized remainder of the announced lineup, here are some other local highlights: Alanna Grace Flynn, Alpenglow, And the Kids, argonaut&wasp, Barbacoa, Black Rabbit, Bless the Child, Dino Bravo, the DuPont Brothers, Eastern Mountain Time, Heavy Plains, Joey Pizza Slice, Lowell Thompson, Osage Orange, Phil Yates & the Affiliates, Pours, Ruth Garbus, tooth ache., Vedora and Villanelles. Also, I just left a shitload of bands out. (Sorry! Word count and all. Nothing personal!) And I didn't even mention some of the regional acts or comedians. And they're still adding more bands!
(That sound you just heard was local superfan Tim Lewis' head exploding. Where are we on cloning Tim?)
But really, the heart and soul of Waking Windows isn't increasingly vibrant urban renewal, community building or even a smorgasbord of incredible music.
It's the roundabout.
"It's basically three days of rotary worship with some music," writes WW's Brian Nagle, aka Disco Phantom, of WW. "Walk around it, look at it, think about it. No other festival has one or knows how important they are."
Truth.
Tickets for Waking Windows are on sale now, including the all-inclusive $30 early bird special, which expires this Friday, March 13.
BiteTorrent
Courtesy Of Bonnie Raitt
Bonnie Raitt
I kid you not, as I was typing the sentence, "Your move, other festivals," in the preceding column bit, the BDJF sent an email with the following heading: Discover Jazz Festival Announces Headliner Mavis Staples.
Well played, hepcats. Well played. Also, are you spying on me? Cuz I'm a little freaked out right now. (Frantically erases browser history.)
Staples, one of the most beloved American singers of all time, will headline the Flynn MainStage on Friday, June 12. She's touring behind a 2013 record produced by Wilco's Jeff Tweedy called One True Vine — a follow-up to her Grammy-winning 2011 album, You Are Not Alone, also recorded with Tweedy. That 2013 record is a dark, moving collection of music that features covers of Nick Lowe and Parliament Funkadelic tunes, among others, in addition to a handful of songs written by Tweedy. How's that for variation?
And that wasn't the only big announcement. The BDJF also revealed four more FlynnSpace shows: Steve Lehman Octet (June 7); Joe Locke's Love Is a Pendulum (June 8); Mimi Jones Quartet (June 11); and Colin Stetson and Sarah Neufeld Duo (June 14).
Tickets for all of those shows are also on sale now.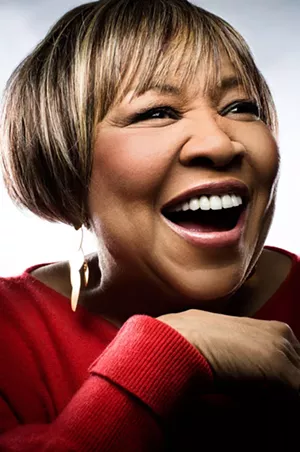 Courtesy Of Mavis Staples
Mavis Staples
Not to be outdone, this week the folks from Higher Ground Presents made the first announcement for the annual Ben & Jerry's Concerts on the Green series at Shelburne Museum. Bonnie Raitt will play the museum's rolling lawn on Tuesday, August 4. Raitt is ... well, she's Bonnie freakin' Raitt! She's won 10 Grammys. She's one of the most famous gingers alive! Do you really need me to spell this one out for you? Didn't think so.
Tickets go on sale this Friday, March 13.
Last but not least, when they returned home from a 2013 commercial fishing voyage in Alaska, Capt. Tony Naples and Villanelles front man Tristan Baribeau made an art film chronicling their adventures called The Pirates of Tebenkov. The film, which caught some press nibbles in this very paper, premiered at a small screening at Hotel Vermont last year. The local reception of the film could basically be summed up like this: "Wow. That was beautiful! ... What happened?"
In a recent email to 7D, Baribeau explains that in its original form, the film was essentially a series of long, scenic shots and cool music that offered very little in the way of explanation. That led to some confusion on the part of audience members.
"Our biggest critique was that people wanted more information as to the actual work we were doing on deck throughout the film, rather than just the romantic shots," writes Baribeau.
So they reworked the movie, adding narration and explanation regarding the various mechanisms they used while trolling the depths of the north Pacific — fishing machinery that's probably pretty alien to landlocked Vermont hipsters.
Baribeau and Naples will screen the newly recut and revamped film at ArtsRiot in Burlington this Saturday, March 14. They'll be on hand to answer questions about that 2013 expedition, presumably in pirate voices. (That last part is unconfirmed as of press time.)
Oh, also on hand to lend some musical support will be Michael Nau of excellent indie-folk outfit Cotton Jones — talk about burying the lede, eh? — and locals Maryse Smith and Snakefoot. Yar.
Listening In
A peek at what was on my iPod, turntable, eight-track player, etc., this week.
Life Size Maps, Life Size Maps
Hayden, Hey Love
Nic Hessler, Soft Connections
Reptar, Lurid Glow
Will Butler, Policy