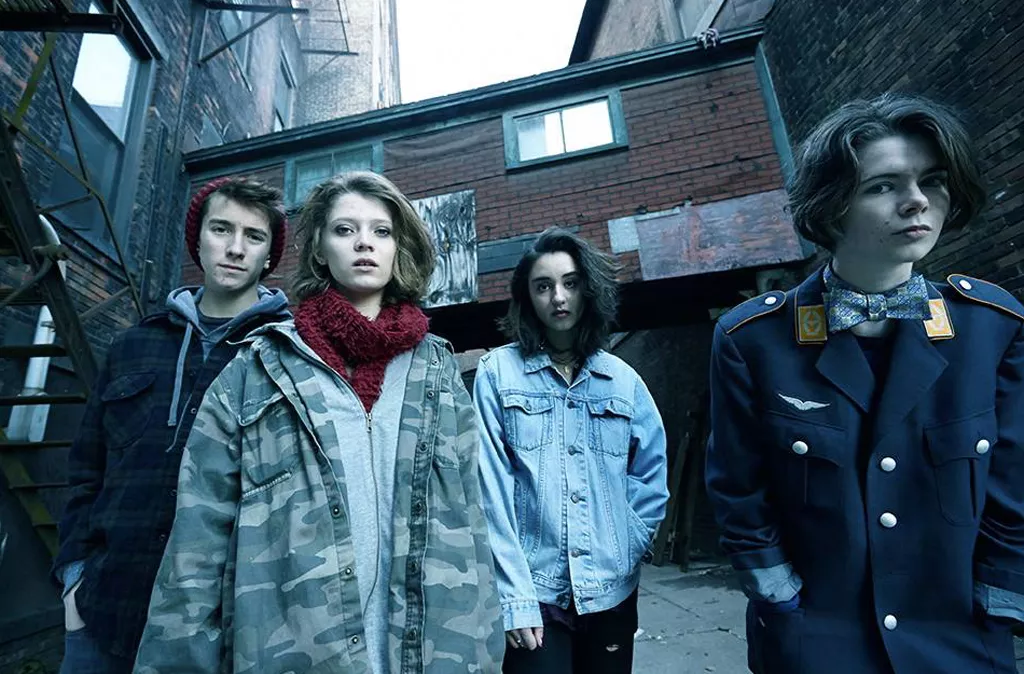 Courtesy Of The Snaz
The Snaz
Go (South) West, Young Man! (And Women!)
For mid-February, it's a remarkably busy week on the local music front. And we'll get to all that in a moment. (Though I'm honestly tempted to just write "Sturgill Simpson" over and over again until I hit my 1,200-word column limit.) But we begin this week's column with an item I should have addressed last week but didn't because ... well, because I'm an idiot sometimes. (Cut to the legion of Dan Bolles critics out there nodding feverishly. I love you, too.)
As I mentioned in this very column last fall, the local do-gooders from Big Heavy World is presenting a Vermont band showcase at this year's South by Southwest in Austin, Texas. As I believe I also mentioned, I was asked to be part of the panel of local music know-it-alls tasked with deciding who, of the crop of locals that applied to be part of SXSW, would make the cut to appear at the largest live-music event on the planet in March. Well, after much discussion and debate, we done figured that shit out. So, without further ado, I'm delighted to announce that the six bands repping the 802 in Austin this year are — drumroll, please! — Waylon Speed, the DuPont Brothers, Lowell Thompson, Zero Circle, Get a Grip and the Snaz.
Not bad, right?
I'm going to go out on a limb and guess most readers are familiar with those first three bands, as they're among the better-known acts that call the Green Mountains home. The other three, however, might be a bit of a mystery to most of you. So just who the hell are these folks?
Glad you asked!
Zero Circle are a Burlington alt-rock band fronted by Tyler Gurwicz, a profoundly talented vocalist perhaps best known for his time in the Urgency, a Vermont pop-punk band that had a cup of coffee with Island/Def Jam about five years back. Urgency fans will likely dig ZC, too, though the latter band's melodic pop-punk inclinations are tempered by a harder instrumental edge. Angsty teenage me loves this shit. (Even-keeled thirtysomething me thinks it's pretty good, too.)
Not to delve into the sausage-making process too deeply, but two things the BHW panel collectively agreed were important in making our decisions were to look beyond Burlington and to find representation from the state's hardcore/punk scene. Rutland's Get a Grip, likely the reigning kings of local hardcore, were a natural choice, fitting both designations. Also, they rawk wikkid hahd.
That brings us to my favorite selection of the bunch: Brattleboro indie-rockers the Snaz. If that name sounds familiar, it could be because you heard them when they were finalists in the NPR Studio 360 Battle of the High School Bands in 2013. That's right. The Snaz members are in high school and range in age from 14 to 16. And they're really, really good. Look for a review of their debut record in the coming weeks.
Courtesy Of Argonaut&wasp
Argonaut&Wasp
(Also, the Snaz must have the coolest parents in the world to let them travel to SXSW. I went two years ago and still can't believe I wasn't required to have parental supervision.)
Anyway, the point of all of this is to let you know that you can catch all six bands at a showcase a little closer to home on Wednesday, February 18, otherwise known as the street date of this week's issue. (See: Shoulda written about this last week, I'm an idiot, above.)
To help defray travel expenses, BHW is hosting a fundraiser at Main Street Landing in Burlington. Obviously, showing up in person to lend your emotional — and financial! — support is preferred. But if you can't make it, you can watch via live stream thanks to RETN, which will host the streaming video on its website as well as on BHW's, and make it available to local TV stations. For a complete list of those, visit bigheavyworld.com, where you can also find info about donating to the cause.
BiteTorrent
Moving on, one of the most pleasant surprises at last summer's Precipice music festival was argonaut&wasp, a newish Burlington act that delivered a solid set of super-tight, innately danceable tunes rooted in a mix of indie R&B and house, and employing both live instrumentation and electronic production. The band is set to debut its EP with a release party at Signal Kitchen on Saturday, February 21, along with Madaila — a band that shares more than a few stylistic similarities — and Disco Phantom.
I've only had my hands on the EP for about a week now, but on cursory listens, I'd say a&w make good on their self-described fusion of indie, funk and dance music. There's a sly mix of PBR&B baby-makin' music, catchy house production and just a hint of guitar-fueled psychedelia. Also, as evidenced by the EP's lead single, "In the Drown," band architects/producers Theo Klein and Trey Schibli know their way around a slinky hook. Also of note, a&w are slated to play SXSW this year, too. Serendipity.
I've spilled a fair amount of ink championing the brilliance of local vagabond/songwriter Caroline Rose. So I'll spare you further ramblings and direct you instead to our arts blog, Live Culture. There you'll find a video Rose and pedal steel player Brett Lanier whipped up just for 7D to preview the band's show at the Higher Ground Showcase Lounge this Saturday, February 21, with Waylon Speed. Rose and Lanier recorded a brand new song "Casino," from the road in North Carolina. In a bathroom. Really. And you wonder why I love Caroline Rose so much.
courtesy of Sekou Kouyate & Joe Driscoll
Sekou Kouyate & Joe Driscoll
Happy birthday to Sundae Soundclash! The monthly DJ night at Club Metronome founded by veteran local DJ Rekkon turns two this Sunday, February 22. Rekkon, aka Walter Peterson, started the event as a way to bring various factions of the electronic dance music community together under one roof to dance, network, chill out and/or eat ice cream. The monthly series has since become an open-decks event, where anyone from newbie DJs to longtime vets can drop in and spin using their preferred means — vinyl, CDs, controllers, etc. In a recent email to 7D, Peterson notes that there isn't another event like it in Vermont. And, yes, there really is ice cream.
Last but not least, earlier this month, American songwriter Joe Driscoll and Guinea native and kora master Sekou Kouyate were forced to cancel their scheduled appearance at ArtsRiot in Burlington, due to some really stupid weirdness involving Kouyate and the Department of Homeland Security that I'd rather not get into lest I end up on a watch list. Seriously, it was ridiculous.
Anyhoo, it seems whatever issues prevented the duo from playing that show have been resolved. While the ArtsRiot show itself has not been rescheduled, you can catch Joe and Sekou at Middlebury's Town Hall Theater with fellow Cumbancha label mates Sierra Leone's Refugee All Stars this Saturday, February 21. And I think you should go becau[REDACTED BY U.S. DEPT. OF HOMELAND SECURITY. HAVE A NICE DAY.]
Listening In
A peek at what was on my iPod, turntable, eight-track player, etc., this week.
Father John Misty,I Love You, Honeybear
Chris Weisman,The Holy Life That's Coming
Six Organs of Admittance,Hexadic
Emmylou Harris,Red Dirt Girl
Keith Jarrett,The Mourning of a Star