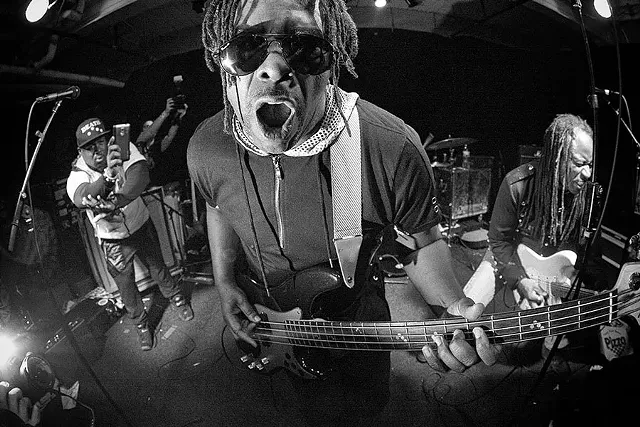 Courtesy Of James Lockbridge
Death at the final 242 Main show
Just under a year ago, Burlington bid adieu to the city-owned, all-ages DIY venue 242 Main. The club provided a substance-free creative space to Vermont's youth for more than 30 years. Municipal entities such as Burlington Parks, Recreation & Waterfront, the Fletcher Free Library, and Burlington City Arts each retained governance over the scrappy music hub at one point or another. As former Seven Days music editor Dan Bolles once wrote, "Essentially, 242 is like a troubled orphan bouncing around from foster home to foster home. No one really seems to know what to do with it."
Earlier in 2016, the building that housed the club, Memorial Auditorium, was deemed unsafe due to structural instability. All tenants were ordered to be out by the end of the year. 242's three-decade run culminated in a monumental final concert on December 3, 2016.
If you weren't able to attend the blowout, there's now a way for you to time-travel back to the night of the show — metaphorically speaking. (At best, time travel is still six to eight years off. Right, Elon Musk?)
On Saturday, November 11, drop into the offices of Burlington's Big Heavy World — or, more accurately, the adjacent South End Arts and Business Association's gallery space — to strap on some HTC Vive virtual-reality goggles to experience the historic music marathon firsthand. The high-tech event is just one of many things happening with BHW this week as part of its Winter Music Summit. (Visit the nonprofit's website for details.)
Cinematographer Don Bateman, of the Los Angeles-based virtual-reality production company Mean Cat Entertainment, captured selections of the commemorative concert. The 360-degree views are from a dizzying, omnipresent vantage point mounted above the stage. Relive the final show from an elevated, godlike perspective.
(Pro tip: If you're prone to motion sickness, maybe come on an empty stomach. But if your constitution is ironclad, feel free to head-bang and mosh your way through it — within reason. Please be safe while you enjoy your VR session!)
Simultaneously, photographer Monika Rivard offers free portrait services to local bands and artists. Remember earlier this year when I gently suggested that all local music makers get themselves some high-resolution, print-quality promo pics? If you haven't already done so, this is your chance! The shoot is drop-in, meaning it's first come, first served. And did I mention it's free?
Finally, another engaging and worthwhile event in the weeklong series is a panel discussion at SEABA's gallery space, on Wednesday, November 8 — aka the street date of this column (apologies for the last-minute notice!). Griffin Jones (Friends + Family), Scottie Raymond (Anthill Collective), Brian LaClair (Better Things) and Meredith Davey (Gestalt) discuss building music communities in Vermont. If you want to listen but can't make it in person, you're in luck! You can listen live on BHW's radio station, 105.9FM the Radiator, and on BHW's website.
Coming Attractions
Speaking of 242, local documentary filmmaker and Vermont Community Access Media's Bill Simmon is working on a forthcoming flick about the venue, No Stage Diving: The Story of 242 Main. Simmon delighted audiences the last time he chronicled a slice of the Burlington music scene with his 2016 feature High Water Mark: The Rise & Fall of the Pants.
Those eager to catch a glimpse of the new film should head over to Rough Francis' show on Friday, November 10, at ArtsRiot in Burlington. Local punkers Blowtorch open the show, but not before a freshly cut trailer is debuted. (Also, be sure to check out our review of Blowtorch's new record, Justice or Else.)
Nostalgia for the compact music hub runs deep. Earlier this year, local metal-heads Rocketsled reunited at Higher Ground in South Burlington to honor 242. As a surprise treat, retired prog-rockers the Cancer Conspiracy dropped in unannounced. It was a tease: The group is reuniting for a full set on Friday, November 17, at the Monkey House in Winooski. More on that show next week.
Robots in Disguise
Jordan Adams
Fauxbots
Last weekend, Radio Bean's annual birthday bash was another high-octane mishmash of 802 music. I didn't marathon the whole thing like I did last year — although a few people I talked to during my four-hour sojourn assumed I was doing that again. C'mon, guys. I'm only human. I'm still recovering from last year's 19-hour binge.
One of the most invigorating performances I caught was the debut of Fauxbots, a newly formed group consisting of multi-instrumentalists and scene veterans Caroline O'Connor (Steady Betty), Aya and Eric Segalstad (the Wee Folkestra), and drummer Dalton Muzzy (Binger). The quartet presented a languid blend of smooth R&B and hypnotic soft rock with heavily filtered cybernetic vocals. It was glorious. Also, fun fact: O'Connor is the only person to have played every single birthday bash. That's 17 years in a row, people!
As of right now, it's unclear whether we'll get to see another performance before the group drops its as-yet-untitled debut EP — and that's a strategic choice.
"We're trying to do everything differently in this band," Eric Segalstad told Seven Days after their set. He clarified that, rather than emphasizing the live aspect, as the musicians have in their past projects, the band is working on getting the EP out into the world before focusing on performance.
I'm a little sad to think that we'll have to wait a while before we get to see Fauxbots perform again, but their plan is solid. I have nothing against the old-fashioned model of building audiences/anticipation through live performance, but generating momentum in digital spaces is a smart move and more in line with contemporary methods.
Chow Down
Give it up for local hip-hoppers Mister Burns and Jarv for their extensive Food for Thought tour. Last weekend, the two MCs embarked on a 20-date, seven-state tour. They're zipping around the Northeast region, spitting rhymes in support of local food banks. The fellas return to VT this weekend with two shows: Friday, November 10, at Two Brothers Tavern in Middlebury; and Saturday, November 11, at Charlie-O's World Famous in Montpelier.
Listening In
If I were a superhero, my superpower would be the ability to get songs stuck in other people's heads. Here are five songs that have been stuck in my head this week. May they also get stuck in yours. Follow sevendaysvt on Spotify for weekly playlists with tunes by artists featured in the music section.
Majid Jordan, "OG Heartthrob"
The Regrettes, "A Living Human Girl"
Tricky, "New Stole feat. Francesca Belmonte"
Francesca Blanchard, "Free"
Kiiara, "Gold"