Sister Sparrow & the Dirty Birds
If you've been following along over the last few years, you might remember that it has become something of an annual tradition for me to gently chide the fine folks at the Vermont Music Fest. Not because I have anything against the two-day hootenanny. In fact, I think it's a great little event. Rather, I tease because that name is about the least creative name there could be for an arts event in the Green Mountains — aside, of course, from Green Mountain Arts Event, which may or may not be a real thing. (OK, it's not. But you had to think about it for a sec, right?)
Anyway, I'm hereby retiring that running gag and will no longer give the VMF guff. Not because I've, like, grown up or anything. Rather, because, as it enters its sixth year, the VMF has.
To refresh your memory, the Vermont Music Fest is a music fest ... in Vermont. (Last one, I swear.) Over the years it's grown from a tiny gathering in central Vermont to become one of the summer's livelier signature events. It's more than quadrupled in size since that first year and has attracted bigger and bigger artists. The VMF has certainly retained its down-home charm, but it has also managed to grow and thrive at a sustainable rate — because we're into that kind of thing here. Also, there's Wiffle ball. (Note to festival promoters: If you want to be assured ink in 7D, skip the yoga and add a Wiffle ball tourney.)
Leading the marquee this year are none other than "hard-soul" outfit Sister Sparrow & the Dirty Birds. The brassy Brooklyn octet has become a local favorite as a result of frequent Vermont appearances in recent years. And the group is breaking out on a national level, too. Media outlets around the country have been praising the band of late. The Washington Post opines that front woman Arleigh Kincheloe — aka Sister Sparrow — is a "soul queen with a voice strong and raspy enough to compete with riffing horns and clipped funk beats." That paragon of culture the Wall Street Journal calls the band's music "stick-to-your-ribs-style rock." And Glamour magazine poses the question: "What do you get when you cross Amy Winehouse and Tina Turner with Mick Jagger?"
(Answer: the weirdest episode of VH1's "Behind the Music" ever.)
The backbone of the VMF is and always has been local music — hence the name, obviously. This year's locavore menu includes banjotar god Bow Thayer, folkie Jon Gailmor, VMF staples Afri-VT, country singer Tim Brick, foxy-folk songwriter Abbie Morin, veteran rocker Aaron Flinn, 17-piece big band Green Mountain Swing — who play swing and hail from the Green Mountains — and indie-dance-pop phenoms Madaila. By the way, my ongoing, unofficial tally of which local band is playing the most VT music festivals this summer has Madaila neck and neck with Dwight & Nicole. With about a month left of summer, it's still anyone's race.
A relative newcomer to the scene is appearing at the VMF: Clever Girls, led by country-folk songwriter Diane Jean. I've yet to see the trio live, but, based on YouTube clips, I'll confirm Jean's statement in a recent email to Seven Days that they "rule." It's raw, rootsy, rambunctious stuff. But I'm really taken by this declaration: "They can all shotgun beer faster than anybody in Chittenden County. Yes, that's a challenge." I don't know about you, but my money might still be on the swing band. Those dudes can get down. But I'm intrigued.
Anyway, come to the VMF for the music and community — and Wiffle ball. Stay for the wildly irresponsible displays of competitive binge drinking.
The VMF runs this Friday and Saturday, August 19 and 20, at Kenyon's Field in Waitsfield. For more info, visit vtmusicfest.org.
Boat People
As noted previously in this space at least a dozen times, it's been yet another banner summer for outdoor music festivals in Vermont. But the rocking hasn't solely been restricted to land. It's been a pretty rollicking season on Lake Champlain, too, with numerous party boats hosting all manner of music nearly every weekend. That trend continues this week with a pair of shipshape cruises.
The first is the Booty Boat with local funk-rockers Gang of Thieves and Tar Iguana on Saturday, August 20. It's the final cruise of Citizen Cider's Lake Hopper Cruise Series presented by Nectar's. The booty thing is two-pronged: It's a double entendre implying both a pirate theme and the parts of the anatomy that will be shakin' aboard the Lake Champlain ferry.
If it seems like it's been a hot minute since we've heard from GoT, it has. That's because the band has been hard at work recording a new album in New Jersey with producer Steve Jankowski, whose credits include Blood, Sweat and Tears, Chicago, and Nile Rodgers, among others. The new record is titled Born to Be Loud and is slated for a September release.
Sunday, August 21, brings the Work the Boat Reggae Cruise. Local rapper S.I.N.siZZle curated the show under his Green Mountain Music Group banner. He'll perform, as will Jamaican Estonian up-and-comer Listonia, NYC dancehall star Lady Elegance, the self-proclaimed "African king of hip-hop" Nana N.Y.C. and DJ duo Sons of Jah.
It's a long-standing Vermont law that you can't have a music cruise without an after-party. The Booty Boat's is at Nectar's with the Atlantic Effect and locals Rumblecat. The Reggae Cruise cool-down is at SideBar, with acts to be announced aboard the boat.
BiteTorrent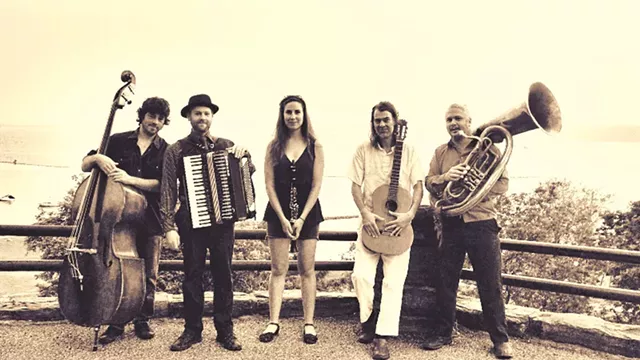 Welcome back, Inner Fire District! The local klezhobos have been out of action since bandleader and accordionist David Symons left town for New Orleans a few years ago. But he's back in the Queen City and getting the band back together for a string of regional dates. They include Friday, August 19, at the Skinny Pancake in Burlington; Saturday, August 20, at the Skinny Pancake in Hanover, N.H.; Sunday, August 21, at Radio Bean in Burlington and Wednesday, August 24, as part of Burlington City Arts' lunchtime music series in City Hall Park. They also have several dates the following week. Check the music listings.
Typically, this would be when I offer a disclaimer about my brother, Tyler Bolles, being in the band. He was, in fact, an original member of IFD. But he's unavailable for the reunion tour. Filling in is bassist John Thompson, who is also pretty damn good.
Kevin Bloom
Zeus Springsteen
Last but not least: New band alert! Zeus Springsteen make their Burlington-area debut this Saturday, August 20, at the Monkey House in Winooski. They'll play alongside locals Black Rabbit, Blue button and snowbirds Cave Bees, who are back for the summer from Austin.
In a recent email, band cofounder — and occasional Seven Days freelancer — Chris Farnsworth (Dino Bravo, ex-Lobot) writes that he and drummer/vocalist David Evans (ex-Lobot) started the trio "because Burlington doesn't have enough bands made up of other older bands." Indeed, ZS' DNA is equal parts Lobot and Dino Bravo, with a pinch of Amadis thrown in courtesy of bassist Josh Shedaker (Dino Bravo, Amadis).
Farnsworth describes the band as veering toward the old Lobot sound, "but a lot weirder." Giddyap.
He adds that he's only slightly worried about getting sued by Bruce Springsteen but hopes that having the same birthplace as the Boss — Freehold, N.J. — might work in his favor.
Listening In
A peek at what was on my iPod, turntable, eight-track player, etc. this week. Follow sevendaysvt on Spotify for weekly playlists with tunes by artists featured in the Music section.
Slow Club, One Day All of This Won't Matter Any More
Of Montreal, Innocence Reaches
Ryley Walker, Golden Sings That Have Been Sung
The Chills, Kaleidoscope World
Toro Y Moi, Live From Trona