COurtesy of JakeAlexander
Strangefolk
Attention, music fans who dwell in the lower elevations of Vermont: You might want to consider taking a hike into the mountains this weekend for a pair of extra-special shows.
Get ready to party like it's 1996, because first up on our alpine double feature is jam-band royalty Strangefolk and their Garden of Eden Festival. The two-day event spans Friday and Saturday, August 11 and 12, at Jay Peak Resort's Stateside Amphitheater, and features a couple of special guests.
A little history: After their formation at the University of Vermont in the early '90s, the band rocked its first Garden of Eden show in 1996 on a diminutive hillside in Eden, Vt. — a quick jaunt from Stateside. The festival continued until 2000, after which the band's lineup changed. It wasn't until 2012 that the original lineup — Jon Trafton, Reid Genauer, Erik Glockler and Luke Smith — reunited. Last summer, for the festival's 20th anniversary, the foursome set up shop at Stateside. And they're bringing it back again this year.
The band will play five sets total — two on Friday night and three on Saturday. Additionally, Jerry Garcia Band tribute act the Garcia Project play a late-night set on Friday. On Saturday night, Burlington funk-jazz outfit Soule Monde take on after-hours duties.
One more little detail: In 2014, UVM alum and the band's former tour manager, Andre Gardner, founded a scholarship at their alma mater, which benefits students of the Rubenstein School of Environment and Natural Resources. At this weekend's fest, 100 percent of proceeds from the sale of their limited-edition Garden of Eden 2017 hats will bolster the scholarship.
A quick aside: If you've been wondering why there have been so many Garcia-related events in your local listings of late, it's because the Grateful Dead founder would have turned 75 on August 1 of this year. Also, he passed away on August 9, 1995 — exactly 22 years ago from this column's street date.
Now, on to the next mountaintop show!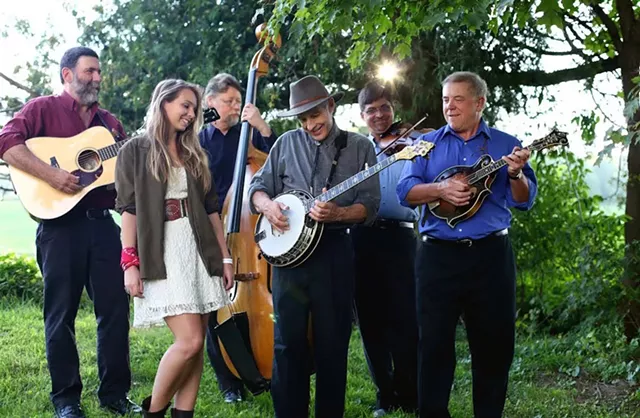 COurtesy photo
Bob Amos and Catamount Crossing
This Saturday, the Spruce Peak Performing Arts Center at the Stowe Mountain Resort hosts Banjo Dan's Bluegrass Revue for the first time. The recurring event is usually held at the Haskell Free Library & Opera House in Derby Line, so the new location is a fairly big change.
The revue is the brainchild of Vermont bluegrass godfather Dan Lindner, who, along with his brother Willy Lindner, fronted Banjo Dan and the Mid-nite Plowboys for more than 40 years until the band's farewell in 2012. The Lindners now perform primarily as the duo the Sky Blue Boys. For this weekend's show, bassist and vocalist Carrie Cook joins the brothers.
Also performing are Catamount Crossing, a five-piece, traditional bluegrass band. Front man and banjo picker Bob Amos leads the group.
BiteTorrent
COurtesy of RobertKosek
Rocky Dawuni
This Friday, Valley Stage Productions, Burlington City Arts and Big Heavy World present a screening of The Shopkeeper at the BCA Center. The film's tagline reads, "Everybody can make a record. Nobody can make a living. Now what?"
Director and musician Rain Perry profiles music producer Mark Hallman and his famed recording studio, the Congress House Studio, in Austin, Texas. The Congress House is the oldest continuously operating recording studio in Austin, but it's not immune to the challenges many professionals in the recording industry have faced in recent years.
Hallman is known for producing legendary artists such as Ani DiFranco and Carole King, among others. The film examines his struggle to keep his business afloat as the industry he once knew crumbles around him, and scrutinizes the impact of streaming music on the music biz as a whole. It features interviews with artists who've worked with Hallman and searches for answers in the face of an ever-changing landscape.
For more info about the screening, visit burlingtoncityarts.org.
Sometimes an anniversary is so sweet you have to celebrate it twice. On Friday, August 12, Charlie-O's World Famous celebrates its 40th anniversary for the second time — the bar's actual 40th was last year. The beloved Montpelier dive's "2nd Annual 40th Anniversary Party" kicks off in the early afternoon and features an all-day, eclectic assortment of Vermont-based talent: Windsor rockers the Pilgrims; Mad River Valley cybernetic surf-punks the Tsunamibots and Burlington funk-rock band Dr. No. The night closes out with back-to-back hip-hop sets from Montpelier-based Boomslang and Windsor crew Maiden Voyage.
On Thursday, August 10, Ghanaian artist Rocky Dawuni returns to ArtsRiot for the first time in nearly two years. The Afro-Caribbean-influenced singer-songwriter is signed to Cumbancha, the world-music label based in Charlotte. In addition to attending the show, a limited number of fans can join Dawuni for a lunchtime conversation at the Barn House at the Clemmons Family Farm. That multipurpose, African American heritage and cultural center is also in Charlotte. Visit clemmonsfamilyfarm.org to RSVP and for additional information.
Last week, when the winners of this year's Seven Daysies awards were announced, there seemed to be quite a kerfuffle surrounding the Lynguistic Civilians' seventh consecutive win in the Best Hip-Hop Artist or Group category. I'd like to direct you to the blog Vermont Hip Hop News, in which Seven Days contributor Justin Boland addresses and dissects their win and also speculates about the future of the category. You should read it. He offers a well-rounded perspective, and you might learn a thing or two!
Listening In
If I were a superhero, my superpower would be the ability to get songs stuck in other people's heads. Here are five songs that have been stuck in my head this week. May they also get stuck in yours. Follow sevendaysvt on Spotify for weekly playlists with tunes by artists featured in the music section.
Sam and Somba, "OTW"
TLC, "Haters"
Beacon, "IM U"
Ruth Brown, "I Want to Do More"
Royal Canoe, "Walk Out on the Water"