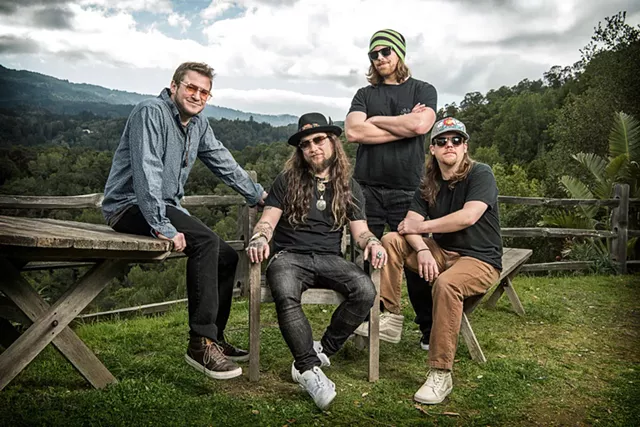 Courtesy of Jay Blakesberg
Twiddle
Brace yourselves, music lovers of Vermont. This week's concert schedule is a veritable Category 5 squall — and it's all hands on deck. So hoist the mains, batten down the hatches and hold on for dear life.
A few of the big to-dos are happening down at Burlington's Waterfront Park, courtesy of Higher Ground Presents and the Lake Champlain Maritime Festival. Four consecutive nights of colossal performances begin on Thursday, July 27, with a co-headlining show from rock monsters Primus and Clutch. The festivities wrap up on Sunday, July 30, with indie superstars the Shins and retro-pop darlings Tennis. Check out our interview with Tennis front woman Alaina Moore.
But on Friday and Saturday, July 28 and 29, Vermont's reigning champions of jam, Twiddle, bring back Tumble Down, which they debuted last summer. The quartet plays two sets each night, in addition to sitting in with various acts throughout the fest. Also on the bill are Fruition, Aqueous, Midnight North, Strange Machines, Holly Bowling and Teddy Midnight, as well as locals Madaila, Navytrain, the Mangroves and Plattsburgh, N.Y.'s Lucid.
Given that this is Twiddle's second time around with Tumble Down, they're feeling confident, and that has taken most of the guesswork out of the equation.
"We're a little more experienced with it now," Twiddle front man Mihali Savoulidis tells Seven Days. "I think the planning of the whole event, the schedule and all that stuff, was much easier for us."
It's been a hot minute since Twiddle have even performed in Burlington — and, honestly, home-state appearances are scant nowadays. So it goes when you blow up — they currently have just under 70,000 Facebook followers. Their last full-band appearance in the Queen City was actually last summer's Tumble Down — though various members of the band perform somewhat regularly at venues such as Nectar's and Club Metronome.
The festival comes on the heels of their latest release, which they dropped last spring. The double album includes a newly remastered version of their 2015 record, Plump Chapter 1, as well as the much-anticipated companion record, Plump Chapter 2. See our review.
Expect the new effort to have a robust influence on this weekend's set lists.
"There are some newer songs that we have not played yet off the new album that we're hoping to get to at Tumble Down," says Savoulidis.
Another reason to be psyched: The brass-tastic Giant Country Horns, of Phish phame, will appear alongside Twiddle, as they did last weekend at a few shows in New York City.
"We've always wanted to do something with them, so adding them into the mix is going to be really nice," says Savoulidis.
In case anyone was wondering why the festival is called Tumble Down (I was), Savoulidis explains:
Courtesy photo
Primus
"We were really kind of at a loss for what to call this thing last year," he says. "A very close friend of the band who lives in Los Angeles has this list of cool words — kind of Twiddle-related things that he would jot down. I called him and said, 'Can you give me some of the words on your list?'"
Apparently the list contains some choice Twiddle lyrics, among other things.
"I say the words 'tumble down' in a few songs," he continues, referring to tracks such as "Amydst the Myst" from Chapter 1. "That one kind of stuck out to us — picturing everyone tumbling down to the waterfront to come see us."
Tumble down they shall. And afterward, I assume most folks will stumble up to one or more of the official after-parties.
On Friday night, the Higher Ground Ballroom hosts the improvisational free-for-all Everyone Orchestra with conductor Matt Butler. The Twiddle posse, members of Fruition, Midnight North and Holly Bowling round out the ensemble. And over at Club Metronome, funk-rockers Gang of Thieves and Backup Planet are responsible for keeping the party going.
Saturday's post-festival activities include a jam with Mihali & Friends, who take over the Higher Ground Ballroom. Expect to see an unpredictable cavalcade of the day's performers. Aside from Savoulidis and the rest of Twiddle, we truly won't know the full lineup until it starts. And back at Nectar's, lespecial and the Jauntee keep the jams jamming and the funk pumping.
Check out highergroundmusic.com for show times and additional info.
Ramble Strip
Even if your weekend is already filled with Twiddling and Tumbling, you might want to cram your overcrowded entertainment schedule with some tuneage in the Old North End. On Saturday, Burlington's scrappiest neighborhood shows off its charm and community spirit with the yearly Ramble. The sprawling hootenanny fills every corner of the district. It features block parties, a screen-printing workshop, a talent show at North End Studios, a walking tour, an epic group bike ride and, of course, boatloads of live music.
In some cases, residents invite you right into their homes. For instance, Steph Pappas of the Steph Pappas Experience delivers a concert of outlaw country and Americana underground right from her front porch at the corner of Crombie Street and North Winooski Avenue. And over at 120 Lakeview Terrace, Montréal's DJ Rush'n Noiz lays down chill, deep-house beats at the Backyard Splash.
Over at Decaturfest, the Decatur Street block party, get hip to the DJ stylings of DJs Mae and Regicide, indie rockers the Zii Trees and surf-rockers Barbacoa.
You should also check out the Bermuda Triangle — aka the triangular parking lot at the corner of North Winooski Ave. and Archibald Street. Ska-fusion band Skeleton Dancer lay down some reggae-rumba delightfulness, and DJ Taka spins assorted vinyl grooves.
The whole thing culminates at the Round Up, the outdoor stage at the corner of Drew and North streets. Comedian Eric Dreiblatt hosts a truly eclectic lineup: Caribbean-infused Honeybee Steelband, hip-hop collective A2VT, DJ Rush'n Noiz, Barbacoa, dance-rockers Appalled Eagles and psychedelic jam band Binger. And Swan Dojo's Lois Trombley leads a hip-hop dance workshop, as she does every year.
Pay Tribute
This week, Nectar's is the place to be for engaging tribute acts. On Thursday, Healing Exchange hosts the official Primus/Clutch after-party, Chop Suey! Tweaked-out prog-rockers Coquette step out of retirement for a one-off tribute to System of a Down. With Reverser's Jackson Jacques taking on vocal duties, the group performs its rendition of SoaD's breakthrough album, Toxicity.
On Friday, Dennis Lemoine hosts his yearly homage to the one and only Mick Jagger with the Jagg Off 7. What started as a small, private party in Lemoine's living room has grown into a huge annual event. In honor of the Jagg's birthday — which is actually Wednesday, July 26 — Lemoine assembles some of the best rock and blues musicians in the area, including Seth Yacovone, Collin Craig, Alex Budney, Sean Preece, Mike Fried and Joe Moore.
In other news, Mick Jagger is still alive. Somehow.
Listening In
If I were a superhero, my superpower would be the ability to get songs stuck in other people's heads. Here are five songs that have been stuck in my head this week. May they also get stuck in yours. Follow sevendaysvt on Spotify for weekly playlists with tunes by artists featured in the music section.
The Temptators, "Cheyanne"
Willverine, "Pull Me Away"
Major Player, "Hailey"
RÜFÜS DU SOL, "Say a Prayer for Me"
Mark Ronson & the Business Intl, "Record Collection"