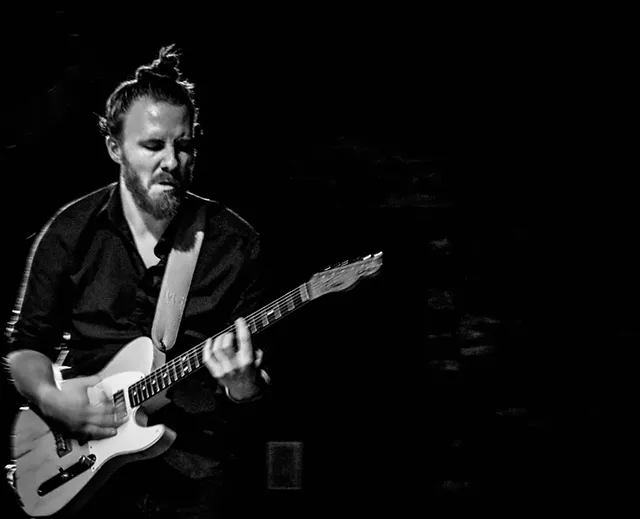 With little more than a week until some of us celebrate the birth of Santa, the slate of holiday-themed rock shows is stuffed like stockings. And I don't mean with lumps of coal. Or with terribly contrived holiday metaphors like the one I just attempted. I do mean neatly wrapped presents of rock-and-roll awesomeness. We'll get to those in a second. But we begin with a holiday spectacular of a slightly different variety: the Marigold Holiday Express, which is performing George Harrison's Concert for Bangladesh this Saturday, December 19, at the Higher Ground Ballroom.
If you're unfamiliar, the Concert for Bangladesh was a 1971 all-star bash orchestrated by the former Beatle and the (recently deceased) sitar legend Ravi Shankar at Madison Square Garden. It featured a cavalcade of stars including another Beatle, Ringo Starr, Eric Clapton, Bob Dylan, Billy Preston, Leon Russell and Badfinger. The goal of the concert was to raise awareness and aid for refugees of East Pakistan who were displaced following the Bangladesh genocide and subsequent Bangladesh Liberation War.
It is widely considered to be the first to popularize the idea of large-scale benefit concerts. The triple live album that followed won the 1973 Grammy Award for Album of the Year. The concert even spawned an acclaimed 1972 documentary film, also called The Concert for Bangladesh.
Flash to the present: The Marigold Holiday Express is an all-star band with local guitar ace Bob Wagner (Kat Wright & the Indomitable Soul Band) in the Harrison role, both on guitar and as ringleader. Dylan and Clapton were busy Saturday, so Wagner went locavore to round out the band, settling on 18 supremely talented Vermont musicians to re-create that landmark concert album. These include Kat Wright, Dwight & Nicole, the DuPont Brothers, Seth Yacovone, Lowell Thompson and Guster's Ryan Miller. And those are just the vocalists.
If you've ever heard the record, you know it was a freewheelin' affair. In keeping with that spirit, expect musicians to rotate instrumental duties and vocalists to jump in whenever and wherever. In a recent email, Wagner writes that the band is playing some material pretty much straight up, but that it's taking artistic liberties, as well.
Here's another fun note about that album and concert. It opened with a 30-minute set of Indian classical music by Shankar. Wagner's got that covered, too. Opening the Higher Ground show is local Indian classical group Bada Raga.
As mentioned, the original Concert for Bangladesh was a benefit for Bengali refugees. Considering the current plight of Syrian and other refugees, it's certainly timely to re-create the show. And the proceeds will go to a worthy organization, Maher. The Indian group, which has strong ties to Vermont, works to "bring safety, agency and opportunity to oppressed and vulnerable populations in three Indian states."
Burlington's Mikaela Keepin has been working with Maher since 2007. She's also the founder of U.S. Maher Friends, which is based in Burlington. Keepin writes in an email that the word "maher" is Marathi for "mother's home." Maher runs 37 centers, including safe homes for women, homes for children and the elderly, and homes for disabled adults. The organization also has grassroots community outreach programs focused on women's rights, education and sustainable financial growth. Maher is interfaith, caste-free and staffed by locals. It currently cares for 860 Indian children. Keepin says that the center has had a profound impact on those children.
"The children at Maher are incredibly welcoming and sharing, bright little beings," she writes. "They are so happy in their environments and so proud of their homes. They're proud to introduce you to their housemothers, to show you their schoolbooks, to teach you how to eat with your hands. Their joy in life, while not perfect, is true, and so sweet."
Wagner says he's wanted to do Concert for Bangladesh for at least two years. After seeing the impact that benefit shows such as the Hug Your Farmer concerts have had locally, and throwing a smaller benefit for Maher a few years ago, the stars finally aligned.
"I have a need inside of me to use music as a force for good things in the world," Wagner writes. "For me, that means throwing a concert every once in a while to raise money for people that just need it more than I do. I've learned how to lead a band over the years, so it just makes sense to me to do this whenever I have time, and I feel the holidays is the right time to throw a show like this."
Ho-Ho-Holy Shit!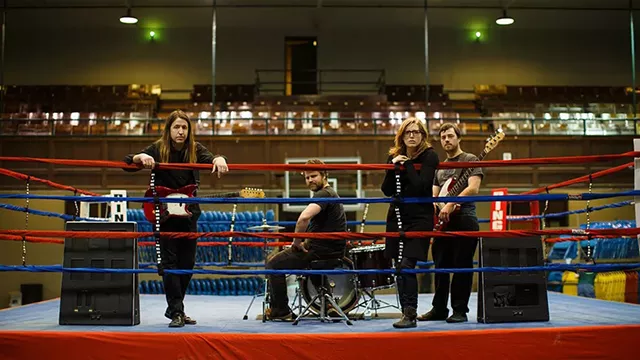 Shem Roose
Swale
In other news, Jiminy Christmas, there are a lot of holiday shows this week! Let's get right to 'em.
We begin at ArtsRiot this Friday, December 18, with an all-star spectacular of epic proportions: Ho-Ho a Go-Go, a rock-and-roll holiday revue. The show features a sleigh-full of local talent, including — as always, read these in your best Don Pardo — Kat Wright, Bobby Hackney Jr., Heloise Williams, Caroline O'Connor, Miriam Bernardo, Ryan Ober, the Essex Green, Josh Panda, Lowell Thompson, James Kochalka, and Swale's Eric Olsen and Amanda Gustafson. They'll be backed by a house band called — wait for it — Sleigher & the Ornaments.
I went to a version of this same show at the Skinny Pancake last year. Going in, I confess I wasn't much feeling the holiday spirit. That changed right around the time Olsen and Gustafson offered up their rendition of the Pogues' "Fairytale of New York." I'm not kidding when I say they saved my Christmas. Thanks, guys.
Speaking of Swale, on Thursday, December 17, they'll host a holiday-themed version of their Swaleoke set at the Monkey House, with support from Osage Orange and DJ Disco Phantom. For the uninitiated, Swaleoke is live karaoke with Swale as the backing band, and it's exactly as awesome as it sounds.
On Monday, December 21, at Nectar's, another local tradition continues: the fourth annual Metal Monday Xmas Bash. This is a fun one, and not solely because of killer acts such as Savage Hen, Vaporizer and Patrick Brownson serving up thrashing renditions of holiday favorites. That helps, but I'm equally partial to the Yankee swap and, of course, the upside-down Christmas tree. Hail Santa.
Finally, if you're hoping to find a Grateful Dead bootleg from 1967 at Winterland under the tree, I might suggest swinging by Nectar's this Friday, December 18. Local Dead acolytes Blues for Breakfast will be playing their last gig of 2015: the Holiday Hoedown. As for why BFB won't be playing again this year, I'm not sure. I will point out, however, that no one has ever seen front man Charlie Frazier and Santa in the same place at the same time. Just sayin'...
[Disclaimer: Swale bassist Tyler Bolles is my brother. And Bobby Hackney Jr. works for Seven Days. In fact, he laid out this very page. Nice work, Bobby!]
RIP, Tuna
We end on a down note this week to pass along news that University of Vermont forensics professor and debate team director Alfred "Tuna" Snider has passed away. That's music news because Snider was a driving force behind UVM radio station WRUV 90.1 FM as the station's faculty adviser. He was also a hugely influential and important figure to local reggae fans. He hosted the radio show "Reggae Lunch" every Wednesday for 15 years and was a cofounder of the fabled Vermont Reggae Festival.
But that's not all. Snider taught a course that married his twin loves of debate and island grooves: the Rhetoric of Reggae Music. The class explored the history of the genre — fascinating in its own right — and drew connections to the music's influence on social and political issues.
WRUV will host a tribute to Snider by the station's studio on the first floor of the Dudley H. Davis Center this Wednesday, December 16, at 8-10 p.m. The station's DJs will play some of his favorite reggae songs, as well as clips from his show. Anyone who would like to share or hear stories abut the man is invited to attend.
Rest in piece, Tuna.
Listening In
A peek at what was on my iPod, turntable, eight-track player, etc., this week.
Low, Ones and Sixes
Mark Lanegan, One Way Street
Baroness, Purple
Unknown Mortal Orchestra, Multi-Love
Vince Guaraldi Trio, A Charlie Brown Christmas