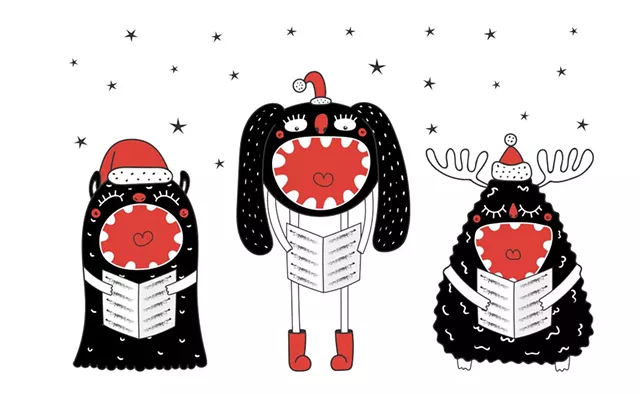 'Tis the week before New Year's, and I've gotta say
We've much to discuss before the big day
Or, I suppose, the big night, as it were
Lest it pass you by in a big, foggy blur
It's nice to have someone point events out
And that's what this poem is all about
I'll clue you in to what's happening this week
And give you a hearty New Year's sneak peek
Read on for tips about how to get down
With all the best parties happening in town.
Now wait up, please, hold on just a minute
Just a clarification before I begin it
By no means is this list at all comprehensive
If I miss your show, please don't get defensive
Consider this selection but a holiday sample
It's not the last word, more like an example
Of where I would go if I could hit every party
Of course that's impossible, or at least foolhardy
So strap in, get comfy and read on to find
A bounty of concerts, if you're so inclined.
Noise Ordinance celebrates the Christmas season
This Thursday eve, and if you need a reason
To head down to SideBar, perhaps peep the lineup
Check the Facebook event page to see who has signed up
The showcase is full of Queen City noisemakers
Like J Bengoy, DIGGS and, of course, the Dead Shakers
Swimmer, the Pyros and Entrance to Trains
They're sure to fog up the club's windowpanes
The extravaganza deserves recognition
For its second year of this yuletide tradition!
Also on Thursday, at the Vermont Comedy Club
Aka B-town's most sidesplitting hub
The club's improv team, called the Unmentionables
Shows you why prudes might find them objectionable
This time around, they're taking on yule
With scene suggestions from local comics who'll
Package naughty objects as Christmas presents
The team then unwraps them all in our presence
It's a shtick in a box that sets up the next scene
It sounds like a hoot, and a little obscene.
For anyone who's ever had a hankerin' to learn
How to spin records, you should take a turn
At DJ SVPPLY's pop-up DJ lesson
On 12/23 at Half Lounge, I'm guessin'
Just kidding, it's Half Lounge for sure, don't you know
Sometimes I just need a rhyme for the flow
Speaking of SVPPLY, he has up his sleeve
A slammin' batch of bangers for New Year's Eve
At Club Metronome, he's playing nonstop
A selection of all the best 2000s hip-hop.
But before we get sucked in to end-of-year fêtes
Swale have a night you won't soon forget
On Saturday evening, 12/22
The mainstay rockers are planning for you
A festive and merry musical smorgasbord
You'll be entranced from their very first chord
Guest musicians like Ryans Ober and Miller
Join up with Swale, it's gonna be killer
Three nights before Christmas Day you will see
That the Light Club Lamp Shop is the place to be.
So now, let's talk about 12/31
A night that's traditionally all about fun
Big changes hit the Queen City, that's right
It's the first New Year's Eve without First Night
Since 1983, the year I was born
But now that you've had enough time to mourn
Say hello to Highlight, to the new substitution
It's sure to become a beloved institution
Signal Kitchen and Burlington City Arts
Worked hard to win a new place in our hearts.
For nostalgic punks who miss club 242
There's really no question of what you should do
North End Studios hosts an event
To remind you of all the best nights that you spent
Thrashing your body at the city's teen center
Make sure you purchase a ticket to enter
Five punk bands currently sit on the bill
There's no freakin' way that you can stand still
For Gallon of Milk, Nick Grandchamp and the People Watchers
The Joke's on Us, Paper Boats and Potentially Lobsters.
Down on the waterfront, there's much to be seen
Like DJs and bands, you can choose between
The ECHO Center and nearby Foam Brewers
You'll have a great time, nothing could be truer
Moochie, Local Dork, Taka and SVPPLY
Bid 2018 a special goodbye
At the brewery, but also at ECHO, a few steps away
A bunch of musicians are planning to play
A selection of classic '70s yacht rock
It sounds chill AF, but just up the block...
Hip-hip sensations 99 Neighbors
Are planning to showcase the fruits of their labors
At Burlington City Hall Auditorium
Consider it a one-stop hip-hop emporium
An art show, fashion show and concert in one
This crew of MCs just gets shit done
There's so much more on the bill for Highlight
I don't even have space to preview it right
Check online for full information
As I steer you toward one last occasion.
Higher Ground serves up heaping plates
Of hot entertainment on multiple dates
Kat Wright hits the stage two nights in a row
12/30 and 31 and also, in tow,
She brings along some righteous support
Specifically, I am happy to report
Francesca Blanchard and JUPTR on the docket
Plus Upstate and SoundCheck are ready to rock it
You can't go wrong with a lineup this great
They'll get you movin' right out of the gate.
Once again, I must say, this is but a sample
Of entertainment offerings in a region so ample
I hope you find yourself surrounded by friends
As the holiday season comes to an end
Hopefully you'll find something awesome to do
And I hope that none of your plans fall through
Wherever you end up, get there in one piece
I know we all want a cathartic release
Just remember to keep your wits about you
Or else your crew might leave the party without you.
Listening In
If I were a superhero, my superpower would be the ability to get songs stuck in other people's heads. Here are five songs that have been stuck in my head this week. May they also get stuck in yours. Follow sevendaysvt on Spotify for weekly playlists with tunes by artists featured in the music section.
The Lovemakers, "Set Me Free"
Roosevelt, "Wait Up"
Skin Town, "Lucky"
St. Lucia, "Paradise Is Waiting"
Miley Cyrus & Mark Ronson, "(Happy Xmas) War Is Over [featuring Sean Ono Lennon]"