Courtesy Photo
James Kochalka
Last year, offbeat singer-songwriter James Kochalka Superstar played his last show ever — probably. I'd wager not even the beloved goofball himself can say with absolute certainty whether the concert he touted as final was truly his last. But at least that's how the Burlington-based artist described it when we checked in with him last May.
Despite his retirement from the stage, here's one thing we know for sure: Kochalka will continue to record music as well as write and illustrate comics. Last week, he graced the web with a new album, How to Tie a Tie on the Internet, full of eccentric, ludicrous pop tunes. More on that in a minute.
Additionally, the "Hockey Monkey" singer appears on a new compilation tribute to Dr. Demento, the famed radio personality and novelty music enthusiast who got his start in the early 1970s.
Dr. Demento Covered in Punk is a double album featuring contributions from all manner of oddball bands, musicians and well-known personalities. The zany rogues' gallery is a beautiful hot mess. To wit: William Shatner makes an appearance, as do "Weird Al" Yankovic; Fred Schneider of the B-52's; "Movie Macabre" host Elvira, Mistress of the Dark; Hanna-Barbera/Adult Swim cartoon character Brak (voiced by Andy Merrill); pop-punk bands Shonen Knife and Nobunny; and others. Each contributor covers a song made famous on Demento's radio program. Kochalka's is a head-bangin' version of Ogden Edsl's morose, bittersweet song "Dead Puppies."
And check out this accomplishment: The album currently sits at No. 1 on Billboard's comedy charts.
And now, a few thoughts on the Superstar's new record.
First of all, its title reminds me of an anecdote from when I was 19.
It was 2002, and I was living in New York City. I was about to start my first shift at Landmark's Sunshine Cinema, a movie theater that permanently closed this month. I'd never worked anywhere that had a dress code. White button-down shirts, black slacks and ties were mandatory. As I was getting dressed, I had an epiphany: I did not know how to tie a tie.
I'd somehow managed to go 19 years without ever learning the double Windsor knot. I needed help, but both of my roommates were out of town, and I didn't know anyone else in my building or even my neighborhood. I was stuck with both ends of my tie dangling around my neck.
Then it dawned on me: the internet.
At that point in my life, I hardly ever went online. I was a CDs and VHS tapes kinda guy. But I felt a sudden wave of relief when it occurred to me that the guidance I sought was likely housed somewhere on the World Wide Web.
Needless to say, I found what I was looking for with just a few keystrokes and clicks. (Thanks a million, howtotieatie.com!) The seemingly insignificant memory always sticks out in my mind as a time before "google it" was an automatic response. Simpler times, dude.
As for the record itself, it's another heaping serving of what Kochalka does best: bite-size, zany punk- and hip-hop-infused songs that sound like the soundtrack to a Saturday morning kids' show crossed with a subversive "Saturday Night Live" parody of said show. (Think kindergarten sing-along with repeated use of the word "fuck.")
"I'm So Woke" is one my favorites. It parodies the sanctimonious, progressive-er-than-thou spats you might see on Twitter and also offers a potential way to save yourself from the stress of comment wars: Leave your phone at home.
How to Tie a Tie on the Internet is available at kochalka.bandcamp.com.
Time to Make the Donuts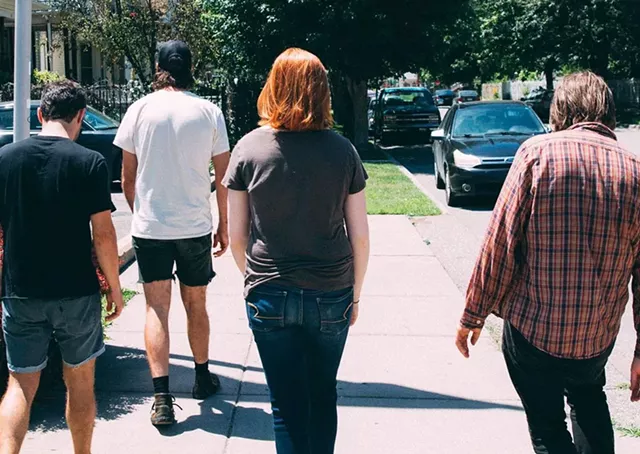 Courtesy Photo
Paper Castles
Nearly 12 years ago, just days after the release of his sophomore studio album, Donuts, hip-hop producer J Dilla passed away after struggling with the blood disorder TTP (thrombotic thrombocytopenic purpura). Incidentally, he dropped the album — arguably his best and most recognizable work — on February 7, 2006, his 32nd birthday, three days before his death.
Fans all over the country, from San Francisco to Miami to New York City, honor the influential beatsmith with annual Dilla Day celebrations, which usually take place around the first week of February to coincide with his birthday and the anniversaries of Donuts' release and the artist's death.
Burlington's Dilla Day throwdown is Saturday, February 3, at SideBar. Andrew Goss — aka SVPPLY, whom you've probably seen behind the decks at one of his roughly 500 weekly DJ nights around town — hosts the event. The night features DJ sets from Loupo, Old Gold and Crusty Cuts, as well as a live performance from rappers Sam Paulino and Hanknative (fka HC) and producer Somba.
Goss tells Seven Days that sets won't exclusively feature J Dilla's material but rather a mixture of his tracks, selections from his production discography and other artists the DJs feel are influenced by the deceased icon.
Shop Talk
[image-3]
Have y'all ever checked out Rocket Shop Live? Big Heavy World co-presents the free, monthly event at ArtsRiot in Burlington, which features a Q&A and performances from two local acts. Each show is recorded and distributed through a variety of platforms, including a live broadcast on BHW's radio station, the Radiator, WOMM-LP 105.9 FM — home to the weekly local music radio show Rocket Shop, BTW.
This week, slacker rockers Paper Castles and indie-folk singer-songwriter Erin Cassels-Brown take the stage on Wednesday, February 7.
We can expect the series to continue all year, but so far only the next three installments are booked, including this week's. Indie-folk artists Francesca Blanchard and Cricket Blue play on Wednesday, March 14, and indie rockers J Bengoy turn up on Wednesday, April 4, with support TBA.