Jordan Adams
Chromatics at Higher Ground
Sounding Off
This column primarily functions as a way to highlight local music news and interesting events, and usually there's plenty of stuff to write about. Occasionally, though, the column can provide an arena for your humble Seven Days music editor to express his personal views. Sure, a lot is going on this week, too, but I just have to get a couple of things off my chest. So, strap in for a little exercise in pure opinion.
Wrong Side of the Tracks?
Last week, the Burlington City Council nearly unanimously voted for a change in zoning regulations in the South End that would allow Burton Snowboards to add dining and entertainment facilities, particularly a music venue, to its campus. The obvious choice to come aboard? Higher Ground, duh.
It's important to know that, as of right now, this is all speculative. That is, zoning in the Industrial Parkway area has indeed been revised, and Burton does plan to erect some kind of new recreational hub. But how that will take shape is still up in the air.
Those who attended the council's public forum to speak on the issue raised a lot of concerns. Chief among them: Will plopping the state's largest rock club into a quiet residential neighborhood be disruptive? I'd say that depends on a number of factors.
I don't think that neighbors would be disturbed by the music happening inside the club. The building will likely be state-of-the-art and soundproof. Even now, at Higher Ground's South Burlington location, not much sound bleeds out the doors. So, anyone who brought up that issue can put it away.
The bigger issue is traffic, especially at the end of the night. Currently, there are two ways out of Industrial Parkway, which spans Home Avenue to Queen City Park Road. The first is to head east on Queen City Park Road, which leads to Pine Street, Route 7 and Interstate 189. A problem: In order to get to any of those roads, you have to cross a one-lane bridge over the train tracks.
Presumably, nearly all of the postshow traffic would flow in the same direction. There likely wouldn't be a ton of traffic heading into the area late at night when shows end — except for all of the Ubers and Lyfts likely to be called forth. If even one car tries to head west, say, into the Queen City Park neighborhood, it could become a serious disruption as cars try to negotiate the one-lane bridge. I could also foresee cars heading east in a continuous stream, not allowing any cars to head west. Motorists often don't know how to navigate such situations without someone directing traffic.
At the other end of the street — assuming no train is coming — it should be fairly easy to file out onto Home Avenue. Lyfts and Ubers could also enter Industrial Parkway from that end of the street.
Of course, this doesn't account for patrons leaving on foot or bike. I'd like to think people would be church-mouse quiet on their walk home as they decompress from the show, but that's probably asking a lot. Even conversations at regular volume could feel disruptive to neighbors.
But you can't really blame people for that. Part of the risk of living in cities is that they change and grow. Nothing is forever. Even if residents in that section of the South End think they're living in a quiet bedroom community, they're actually not.
Of all the concerns that citizens raised at the council meeting, no one voiced what I think is the main issue here: Should we be psyched that Higher Ground might move even farther away from downtown than it is now? That's the plight of the current Higher Ground. Aside from Al's French Frys and a couple of middling restaurants, there's not much else going on over on Williston Road. In my fantasy, Higher Ground relocates to a part of Burlington where there are already lots of other things to see, do, eat and drink. Yes, Burton's proposed pleasure center would have gourmet nom-noms and potent potables. But it can't have as many choices as are available just a couple of miles north.
Don't get me wrong. I'm all about Higher Ground finding a new home if that's what it wants to do — especially if the new facility will be bigger and better. A higher-capacity venue would open our small market to bigger acts. We're already getting many high-profile acts that often play venues three times the size of the Higher Ground Ballroom, but a room with a higher head count could only bolster Burlington's clout in the Northeast music circuit.
It's not like I — or probably anyone else — would turn up my nose at Higher Ground's potential new location because it's too far out of the way. But is it truly the best choice? Hey, I seem to recall a big, gaping hole in the middle of downtown Burlington that the city doesn't seem to know what to do with...
Dead Comedians Society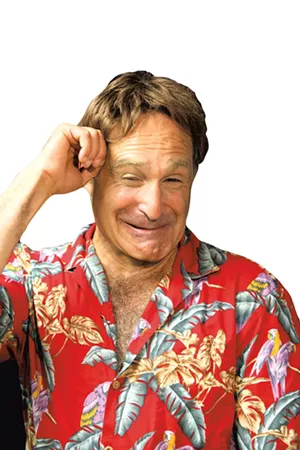 Courtesy Of The Strand Center For The Arts
Roger Kabler as Robin Williams
Tribute culture has gone too far this time. On Friday, June 28, impression comedian Roger Kabler presents The Ultimate Robin Williams Experience at the Strand Center for the Arts in Plattsburgh. Yup, it's a whole show in which the former Zima spokesperson performs as the late, great Robin Williams.
Kabler built his career on impressions. But there's a difference between impersonating celebrities as part of your tight 10 and building an entire show around pretending to be freaking Robin Williams. Nostalgia may be king right now, but certain lines just shouldn't be crossed. The legendary funnyman was himself a comedian. It's one thing for a group of musicians to pay homage to famous, established artists. Covering other people's work is a normal part of music culture. But it's another thing to "cover" a comedian's bits. To my knowledge, it just isn't done. The show isn't satire, and he doesn't reveal something deeper about society or Williams' career by impersonating him.
Also, how is this different from watching a hologram, which is generally regarded to be among the tackiest developments in music culture? See "Rachel, Jack and Ashley, Too," an episode of "Black Mirror," for more on that subject. Who the fuck would pay money to see this? The whole thing feels soulless to me.
Listening In
If I were a superhero, my superpower would be the ability to get songs stuck in other people's heads. Here are five songs that have been stuck in my head this week. May they also get stuck in yours. Follow sevendaysvt on Spotify for weekly playlists with tunes by artists featured in the music section.
Creedence Clearwater Revival, "Lookin' Out My Back Door"
Run the Jewels, "Get It"
Lionel Richie, "All Night Long"
Kelis, "Bossy (Featuring Too $hort)"
Museum of Bellas Artes, "Who Do You Love"