Courtesy Photo
Big Nazo
In case you missed it, Seven Days broke some interesting news last week: This year, there shall be no parade at Magic Hat Brewing's annual Mardi Gras celebration. The weekend festival, which runs from Friday, March 29, through Sunday, March 31, usually includes a processional of floats from local businesses and organizations cascading down Burlington's Main Street. (Disclosure: Seven Days has long been a sponsor of the event.) But, citing typically frigid temperatures and a desire to shake things up to better serve the community, the company announced last week via a press release that it's nixing the parade and putting the focus on street performances and live music.
Based on the comments section on our Facebook post that linked to the story, people seemed downright pissed off about the cancellation. Collectively, commenters claimed that eliminating the parade makes Mardi Gras less family friendly. Um, y'all do know that the three-day event is sponsored by a beer company, right? I think the naysayers may have been deluding themselves with regard to how family friendly the event actually was.
As much fun as the parade may have been for some, it was kind of a nightmare for others. Can you imagine how much debris had to be cleaned up afterward? Between multicolored plastic beads and moon-pie wrappers, the waste added up. Also, the parade disrupted downtown traffic and eliminated parking spaces. In my opinion, people should ideally be out of their cars and into the fun, not circling around looking for parking. The new plan means that people will likely be coming and going all day, as opposed to all showing up at the same time, competing for parking and generally jamming things up.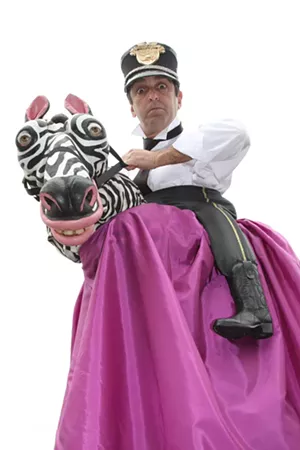 Courtesy Photo
El Gleno Grande
Also, a side note: Would it be OK if there were a major cultural or entertainment event locally that wasn't family friendly, at least in the traditional, mainstream concept of what is appropriate for all ages? Would that be so bad? Other than the Vermont Brewers Festival, nearly every large-scale celebration in the area is a family affair, so please excuse my eye roll at the misplaced incredulity.
Another thing: The event used to take place in early March. Now that it's at the end of that month, we're likelier to have better weather. Sure, anything can happen. I seem to recall last that March was particularly unforgiving in terms of ice and snow. But it stands to reason that we'll enjoy milder conditions during the currently scheduled weekend than if the event happened in early March. Did you really love freezing your ass off for the sake of some beads?
Oh, I forgot to mention: Performance tents along Church Street, including a big-top-style, 100-person-capacity space on the street's top block, will all be heated. No one is going to freeze this year.
What's especially frustrating about the negative reaction is the fact that Magic Hat's Mardi Gras is still super-duper family friendly. Instead of a parade, the entire length of the Church Street Marketplace will be crawling with cool things to see and do with the fam. Namely: the vaudevillian shenanigans of performance group Daredevil Chicken; "America's Got Talent" break dancer Snag Boogie; circus-arts street performer Derek McAlister; prop-centric visual comedian El Gleno Grande; and Providence, R.I., performance art group Big Nazo. More acts, including a slew of music events, will be announced soon. We'll be sure to keep you in the know as more names are revealed.
Speaking of Big Nazo: Hot damn, am I psyched that they're coming. I've been super stoked to lay my eyes on the troupe's surreal, squishy, full-body costumes since fellow Rhode Islander Jocie Adams of Arc Iris mentioned them during our late 2018 interview.
Several of the group's members appear in the art-pop band's video for the B-side "Long Time Coming." That part of my conversation with Adams didn't make it into the final version — damn you, word count! But I highly recommend watching the clip to get familiar with the weird and wacky characters of Big Nazo. To me, they look like some Muppets got all jacked up during a freak matter-transport experiment with the cast of "Yo Gabba Gabba!" In other words, they're fantastically weird and grotesque in the best way possible.
I personally applaud Magic Hat for having the guts to do something different. It's risky to make such a huge alteration in programming. People don't like things to change. For instance, I'm sure the announcement that Burlington's First Night wasn't returning this past New Year's Eve gave folks some anxiety. But look at what happened: Burlington City Arts teamed up with Signal Kitchen to form Highlight, which presented some seriously dope NYE entertainment. Indeed, the parade was a much-loved occurrence for many folks in the area, especially for those who created and rode on the floats. But I think once we get a taste of the new Mardi Gras, we'll be having too much fun to miss the parade.
Complete Unknowns
It's easy — and, admittedly, lazy — to compare a garden-variety male acoustic singer-songwriter to Bob Dylan. I'm guilty of it myself. The famed New York City folk singer is the quintessential troubadour of the recorded music era. Anyone playing that genre of music has undoubtedly been influenced at least to some degree by the American legend.
Here's a chance to release your inner Dylan. Barre's Mingle Nightclub is staging a Bob Dylan wannabe contest on Saturday, February 9. Entrants are encouraged to really get into it. Costumes and mimicry are strongly encouraged. Perhaps a viewing of Cate Blanchett's performance in Todd Haynes' 2007 pseudo Dylan biopic, I'm Not There, will inspire you.
The stakes aren't terribly high. There's no cash prize involved. But the winner receives a specialty art print of the bard. And if you're good enough at impersonating the artist to win a contest, chances are you'll be down to add a sweet print of Dylan to your art collection.
By the way, you know which local rocker does a really good Dylan impression? Steven Yardley of garage-rock band the Pyros and Sonic Steve & the Jammbulance. It's uncanny.
Listening In
If I were a superhero, my superpower would be the ability to get songs stuck in other people's heads. Here are five songs that have been stuck in my head this week. May they also get stuck in yours. Follow sevendaysvt on Spotify for weekly playlists with tunes by artists featured in the music section.
Nao, "Inhale Exhale"
AlunaGeorge, "Best Be Believing"
Peaches, "Stuff Me Up"
Mazde, "Shifted Thoughts (featuring La Mar)"
Luscious Jackson, "Naked Eye"