courtesy of Ben Hudson
Grace Potter
Before we dig into the news of the week, I'd like to take a moment to reflect on last weekend's Grand Point North festival and the unofficial close of festival season. In a word: Fun! In a few more words...
I actually didn't catch nearly as much of Grand Point North this year as I typically do. But what I did experience reaffirmed something I've felt for, well, about as long as the festival has been happening. And that is this: Grace Potter really does give a shit. Particularly since she went solo, but even before, she's been an easy target for critics, myself included. Some of the criticism is legit, some isn't — the latter I think to be mostly the product of jealousy. But whatever you think of her music or her public persona, she cares about Vermont, Vermont music and her fans. Grand Point North is the embodiment of those feelings. And it's a very special thing for us to have.
When it comes to music festivals, we have an embarrassment of riches here. From Waking Windows in early May to Grand Point North in mid-September, hardly a weekend goes by without a festival or six happening somewhere in the state. And most of them are unique and great. Sometimes I think we take that for granted, that we're a little spoiled — again, myself very much included. We have high expectations, especially for the bigger fests like WW, GPN, Burlington Discover Jazz Festival, the Frendly Gathering, etc. And really, our expectations are a compliment to the folks who make those festivals happen. We expect excellence because that is so frequently what we get.
I confess I wasn't overwhelmed by this year's GPN lineup. I thought it was good but not quite great — again, lofty expectations. But walking around the grounds Sunday afternoon, I realized that I didn't really care how much I was or wasn't into the act onstage. Sitting on the rocks with friends watching the sunset or mingling with the crowd — even shooting the breeze with security — I was struck by how the sense of community has become one of my favorite parts of not just GPN but every festival. It would seem odd to say the music is secondary, and it's not. But, at the very least, I'll say that the atmosphere of our best festivals is as important as who's playing. Really, there's nothing else quite like the scene at GPN. So thanks again, Grace. See ya next year.
Great Lake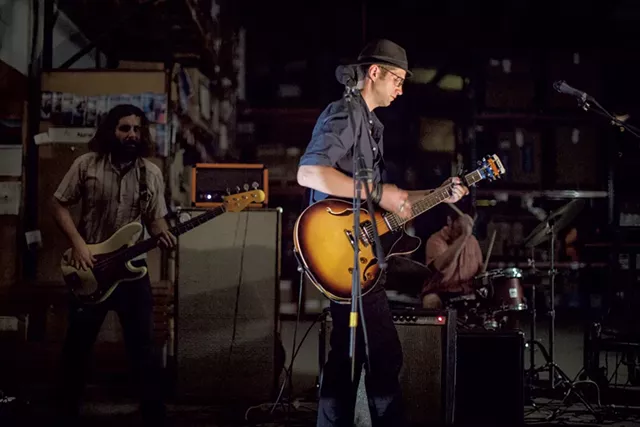 Courtesy of Luke Awtry photograpy
Lake Superior
It seems it's been an especially fertile spring and summer for local bands making records. This week alone, several big projects hit our eager ears. These include Dave Keller's new record Right Back Atcha (review here) and Kelly Ravin's remarkable new solo album Bonneville (see here). As we head into fall, a flood of highly anticipated recordings are on the way, including from Madaila, Kat Wright and the Indomitable Soul Band, and Gang of Thieves, to name but a few.
In addition to Ravin and Keller's records, you should know about another cool album coming out this week: Demon Eyes from Lake Superior.
Since last we heard from LS, the Montpelier outfit has expanded from a duo to a trio, with the addition of bassist Jason Pappas to the core duo of guitarist/vocalist Pete Rahn and drummer Jeff Thomson. We'll run a full review soon, but for now know that Pappas' low end adds some welcome muscle to Lake Superior's shaggy, psychedelic take on garage-blues. Rahn — who is now based in Brooklyn — has really upped his songwriting game. Inevitably, bluesy guitar-drums garage duos elicit comparisons to the White Stripes, and in the band's early output that might have been valid. Not so much anymore. Their fuller sound allows for more sonic variation, and LS have ventured into headier 1960s garage-psych territory. I dig it. If you think you might, too, check out Demon Eyes at lakesuperiorband.bandcamp.com. And maybe swing by Lake Superior's release show at Positive Pie in Montpelier this Friday, September 23. Local punks Black Rabbit open.
BiteTorrent
Speaking of new records — and, I suppose, Grace Potter — former Nocturnals guitarist Scott Tournet is releasing a new album this week with his new band, Elektric Voodoo. The self-titled record drops on Wednesday, September 28.
I've only given it a cursory listen, but I like what I hear so far. It's funky and weird in ways that probably couldn't have passed muster in the Nocturnals. Tournet's underrated 2013 solo album, Ver La Luz, is probably my favorite GPN-related release. The new record doesn't sound much like that album, but it's pretty cool.
In a recent email, Tournet writes that he has no immediate plans to play Vermont, but that it's likely to happen before too long. We'll have a full review of the record in the coming weeks. In the meantime, you can give it a listen at elektricvoodoo.com.
Obviously, this column is the first place you turn to for breaking news on classical music in Vermont, right? OK, that's not even remotely true. But sometimes, you gotta class it up a bit and expand your intellectual horizons. Don't worry, I'll make it easy on you.
Bassist Reed Mathis is best known for his time in Billy & the Kids, Jacob Fred Jazz Odyssey and Tea Leaf Green. But lately he's taken to rearranging Beethoven symphonies for rock bands. Nifty, huh? He recently released an album featuring Beethoven's Symphony No. 3 and Symphony No. 8. And he deployed some talented friends to round out his rock orchestra, including Andrew Barr, Marco Benevento, Joe Russo, Galactic's Stanton Moore, and some guys named Mike Gordon and Page McConnell.
This Saturday, September 24, Mathis brings a touring version of that band to Nectar's to perform No. 3 in its entirety. The band includes Primus' Jay Lane, RAQ and Kung Fu's Todd Stoops, TLG's Cochrane McMillan, and Clay Welch.
See, you feel smarter already, don't you?
Last but not least, welcome home, Maryse Smith! Astute readers who checked out the aforementioned feature on Ravin's new record might have noticed a familiar name in the show's info slug. Indeed, Smith, who is now based in Philly, is opening for Ravin at ArtsRiot this Saturday, September 24.
Longtime readers likely know I've been a huge fan of Smith since her first record, Is Becomes Was, back in 2009. Her 2015 album, The Way It Is, recorded with Michael Chorney, was not only one of the best records of that year, I believe it's one of the best Vermont albums in the past decade, if not longer. Simply put, Smith is among the most talented songwriters ever to call VT home. Any time she comes back is reason to celebrate.