Courtesy Of Kayhl Cooper
Top row, left to right: Rachel Capobianco, Alyssa Solomon, Joshua Speers, Abbie Morin, Emily Harrington, Liz Stafford, Katy Hellman, Shawn Corey and Laura Keating. Bottom row, left to right: Steven Lebel, Caroline Rose, Megan Rice, Jenna Brower, Betsy Rose Besser and Willoughby Morse
Something has been freaking me out lately: 2017 is almost over, which means we're entering Vermont's annual hibernation period. As much as I'm looking forward to some downtime — during which I'll reconnect with friends and family, binge-watch the new seasons of "Lady Dynamite" and "Outlander," and catch up on some sleep — the arrival of the holidays usually means an overall lull in exciting music happenings. This poses a unique challenge for someone whose job includes highlighting noteworthy events. (And then there's the fact that I've been writing this weekly column for almost a full year, which completely blows my mind.)
In the past, former Seven Days music editor Dan Bolles used the Thanksgiving edition of this column to note things in the local scene for which he was thankful. At first, I resisted the idea of doing that myself, because I'm my own damn person, dammit. I somewhat facetiously admit that the mentor-mentee dynamic bears a striking resemblance to that of father and son. Cue the Harry Chapin song...
After giving it some thought, I decided not to be different for the sake of being different — at least this year. More than a few things in Vermont's music scene deserve some appreciation. I'm generally more salty than sweet, so it's probably good for me to get out of my comfort zone and sprinkle a little sugar on y'all this week.
I'm grateful for the overwhelming support from everyone who showed up to ArtsRiot last Thursday night to rock out with Caroline Rose, Hammydown and Julia Caesar. In case you missed it — and by "it," I mean both the event itself and our coverage a couple of weeks back — the show was specifically designed to highlight the work of female and nonbinary music professionals, both onstage and behind the scenes.
And when I say, "everyone who showed up," I mean everyone. To wit: The club was practically at capacity, and the crowd was a veritable who's who of noteworthy bands in Burlington. Actions speak louder than words, and the statement that night was that this scene cares about inclusivity, diversity and listening. It was an energizing step in the right direction. I hope the night won't be remembered as an isolated incident but rather a turning point.
I'm also thankful for organizations such as Girls Rock Vermont and the Tuned In Collective, both of which were represented at the show and are working to shape new waves of empowered female and non-gender-conforming musicians.
I'm thankful for local musicians' commitment to charitable causes. In the wake of the 2016 presidential election, the future of organizations such as Planned Parenthood seemed to be in jeopardy. Almost instantly, more than a few bands and artists jumped at the chance to rock out in the name of justice and tolerance. Forgive me for not keeping better track of everyone who organized or participated in a benefit concert this year, but I want to take a minute to give a shout-out to a few people.
Big thanks to Sean Hood for organizing the Show Up Shows, a series of fundraising events that have featured Erin Cassels-Brown, Lily & the Baby, Little Slugger, Cricket Blue, the Parts, Phil Yates & the Affiliates, Silver Bridget, Pariah Beat, Swale, the Welterweights, Wren Kitz, and Hood's band Eastern Mountain Time. Noble causes such as the American Civil Liberties Union and Black Lives Matter Vermont, among other beneficiaries, received support because of these folks.
In October, Marcie Hernandez, John Thompson-Figueroa, Mal Maiz, Ray Vega, Daniel Gaviria, DJ Jah Red and others rallied at North End Studios' new event space, raising more than $4,000 for relief efforts in Puerto Rico after the devastation of Hurricane Maria.
After Tom Petty's untimely passing last month, Kat Wright guitarist Bob Wagner and a hotshot team of scenesters, including Wright herself, Lowell Thompson, Ryan Miller (Guster, Bwahaha) Swale's Tyler Bolles and Amanda Gustafson, Bill Mullins (Barbacoa, Blowtorch), and Steve Hadeka (Seth Yacovone Band, Josh Panda & the Hot Damned), teamed up for an epic tribute concert to the fallen "Heartbreaker." They raised more than $4,000 for the Turning Point Center of Chittenden County, a multipurpose nonprofit that provides assistance and a substance-free environment for those overcoming addiction.
A huge thanks goes to everyone who made these events, and many other benefit shows, successful.
I'm thankful that Brian Nagle, aka DJ Disco Phantom, had a night off for once. The omnipresent vinyl overlord gigs almost every night of the week, if he's not holding down the fort at the Monkey House. But last Friday, you may have seen him at Kamasi Washington's high-octane performance at Higher Ground or later in the evening at Sinkane's set at ArtsRiot. If you caught a glimpse of the overbooked turntablist, you likely noticed how giddy he was just to be in the crowd. Adorbs!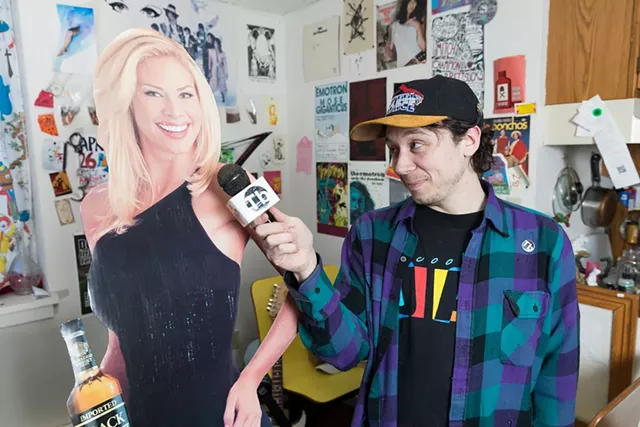 File: Gabe Dickens
Matt Hall
I'm thankful for Marco Polio's Matt Hall. The Plattsburgh, N.Y., musician works tirelessly to foster a creative community in a region that doesn't seem to want to rock as hard as he does. DIY communities crumble if no one is there do the work, and the dude is a freakin' Clydesdale.
I think we're all thankful that Half Lounge finally reopened. Aside from expanding the scene with its near-nightly entertainment lineup, I'm thankful that it's given me a place to hide.
Allow me to explain: The other night, I was waiting for a friend on a particularly busy downtown evening. I had more than an hour to kill, so I ducked into the wee club to escape the dinner crowds, theatergoers and endless parade of shoppers.
A few cocktail sippers sat at the bar, but the subterranean lounge was body-free. I sat in the corner, read the news on my phone and drank a beer in absolute solitude. I'm probably blowing up my own spot by announcing that an empty Half Lounge basement is an introvert's dream come true. Nonetheless, I was thankful to have a little slice of paradise all to myself on an otherwise hustling, bustling downtown evening.
Finally, I'm constantly thankful for the vastness of Vermont's music scene. The fact that a person can go out and see live music every night of the week is special, and we're lucky to live in a place where that's possible.
I don't know that I've ever said this publically before, but I actually didn't know how wide and varied Vermont's music scene was, and is, before I took up this post — living out of state for nearly a decade rendered me ignorant.
My local scene education is an ongoing process, and I'm thankful for those who've taken the time to share their work with me and to get me up to speed. I know no one expects me to suddenly know the entire history, interconnectedness and legacy of everyone's projects, but your patience has meant the world to me.
Happy Thanksgiving. Do something nice for someone. And for yourself.
Listening In
If I were a superhero, my superpower would be the ability to get songs stuck in other people's heads. Here are five songs that have been stuck in my head this week. May they also get stuck in yours. Follow sevendaysvt on Spotify for weekly playlists with tunes by artists featured in the music section.
Fabiana Palladino, "Mystery"
Ruthven, "Evil"
Dornik, "Bestie"
JUPTR, "Pictures of You"
WESLEE, "Bathwater"