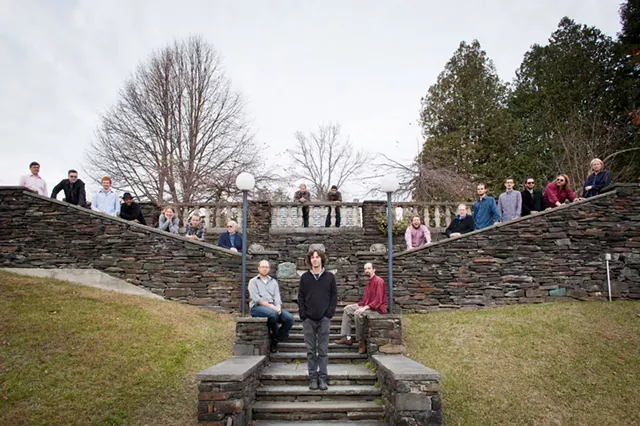 Courtesy Of Monica Donovan
The Saturn People's Sound Collective
Stellar Job
This week marks the return of one of the most ambitious Vermont-based projects in recent years. Experimental "creative music" ensemble the Saturn People's Sound Collective perform on Saturday, December 14, at Zenbarn in Waterbury.
The collective is the brainchild of composer, music educator and trumpeter Brian Boyes (viperHouse). He also oversees the teen social justice band SoundCheck. Boyes first unveiled the SPSC almost exactly six years ago, and he only followed up the debut with one performance at the Burlington Discover Jazz Festival in 2014.
"I'm really drawn to large-ensemble music," Boyes said via phone. "I was curious about the intersection of global music with orchestral music. What can we do with this music at these crossroads?"
As it turns out, a whole damn lot.
Boyes described the music as postmodern rock or long-form composition.
"It's not your standard verse-chorus stuff," he continued, noting a "sonic alchemy of mixing timbres." He also name-checked several inspirations, namely minimalist composer Steve Reich, Afrofuturism pioneer Sun Ra and postpunk greats Sonic Youth.
"A guiding principle for me is to write music that's challenging but not challenging to listen to," he said. "We're creating a visceral experience for the listeners while also sparking the imagination through the blending of timbre, form and theme."
Seventeen musicians will join Boyes on Saturday. They comprise full woodwind and brass sections along with a standard rock core, not to mention three vocalists — Amber deLaurentis, Ella Holter and Stefanie Weigand — and two drummers, Simeon Chapin and Dan Ryan.
"People connect to voice and percussion as some of the most immediate sounds, so I wanted that up front," Boyes said. He also pointed out that former versions of the SPSC had only one drummer.
Along with original music, the group will perform the works of some well-known artists, such as Radiohead, Low and Björk.
As a formerly die-hard Björk-head, I had to find out which of the Icelandic superstar's tunes they plan to play. Turns out they'll be taking on emotional roller coaster "Hyperballad," from her sophomore album Post. The arrangement comes from Travis Sullivan's Björkestra, another 18-piece group based in New York City that's dedicated solely to reimagining the works of the "It's Oh So Quiet" singer.
Boyes also points out that recent NYC transplant Kyle Saulnier (the Awakening Orchestra), a composer and baritone saxophonist, arranged several of the group's new works.
"He's one of the best big-band arrangers," Boyes said.
Given the laborious nature of the type of music the group plays, and how many people are involved, this may be the only chance to catch the SPSC for a good little while, so don't sleep on it.
The A-Word
Courtesy Photo
From left: Anthony Apodaca, Daniel Trigg and Jenna Emerson of Abortion: The Musical
If there's one topic everyone from your conservative aunt to your woke-AF cousin loves to discuss, it's abortion. There are, like, hardly any pitfalls or controversies when it comes to a woman's right to choose, am I right? I kid, I kid. I'd say the big A ranks highly in most folks' top-five topics to avoid in general conversation.
So, of course, the creative minds over at Burlington's Revelry Theater have put their heads together and come up with a definitive answer to the abortion debate: Abortion: The Musical, which plays for one night only on Saturday, December 14. (Note: At no point did anyone from Revelry Theater claim to me that they had solved the abortion issue.)
The concept, as Revelry cofounder Anthony Apodaca told Seven Days on a recent phone call, stemmed from the tiny black-box theater's recurring event Sex w/Jenna. The hybrid informational-improv-sketch-comedy-standup event features Revelry board member Jenna Emerson, who also serves as a health educator at the University of Vermont. A particular installment about abortion inspired the forthcoming show.
Emerson, Adam Rabin, Daniel Trigg, Heather Caldera and Apodaca cowrote the show "through the process of improvisation and collective writing," Apodaca said. The group would improvise scenes, talk about them, discuss what they had created, figure out what they liked and could use, and tweak the material from there. The five also star in the show, and Apodaca directs.
"We wanted to represent different viewpoints without [using] dumb caricature[s]," he said, noting that, despite the group's enthusiasm, the subject matter is extremely sensitive. "Context is super important," Apodaca continued. "It's hard to provide all of the context you might need that deals with the gravity of the situation."
A description on the show's Facebook event page reads, "Rosemary [is] a young woman who is down on her luck, until she finds out some amazing, yet terrifying, news about her uterus. Torn by her options, her faith and this country's broken medical system, Rosemary turns to a few unlikely sources for wisdom and inspiration on her journey towards liberation and self-determination."
Without revealing much about the plot, Apodaca explained that the show is about "a woman's journey from feeling uncertain about herself and looking for other people to validate her, to her own liberation and finding her own self-worth." Plus, you know, songs.
"I want the first group of people to go in not knowing much about it," he said. "I want to see how people react to it blind."
Apodaca noted that the musical isn't necessarily a finished product and that the first show is a test run. So, if you go, feel free to give the creators some feedback.
Listening In
If I were a superhero, my superpower would be the ability to get songs stuck in other people's heads. Here are five songs that have been stuck in my head this week. May they also get stuck in yours. Follow sevendaysvt on Spotify for weekly playlists with tunes by artists featured in the music section.
Camila Cabello, "Liar"
Maker, "Good Woman"
Discovery, "Can You Discover?"
Skin Town, "Tease Ya"
Greenskeepers, "Lotion"