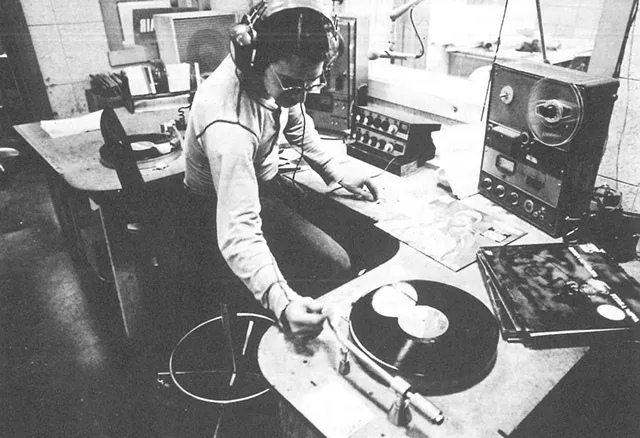 Courtesy Of Wgdr
A WGDR-FM DJ in the mid-1970s
Some big news out of Goddard College: Its radio station, WGDR-FM, is in the process of becoming an independent entity after nearly 50 years of operation. While it's possible that the physical station itself, including tens of thousands of dollars' worth of broadcasting equipment, a performance area and other facilities, will remain on the Plainfield college's campus, operations and licensure are currently being transferred to an independent group of citizen media volunteers. Going forward, the station will be known as Central Vermont Community Radio, and its call letters will not change.
WGDR's impending departure from Goddard is the result of several years of budget restructuring as the college has worked to maintain its accreditation with the New England Commission of Higher Education, according to station director (and pop-Americana singer-songwriter) Kris Gruen. He explained that WGDR is no longer able to meet the financial requirements set in place by the Corporation for Public Broadcasting's Community Service Grant. Without that grant, the college cannot afford to keep the station operational.
That's why Goddard is essentially gifting the service to CVCR. Gruen, along with a new governing board and network of community supporters, spearheaded the rebirth. Currently, the station is fundraising to ensure a smooth transition. It aims to collect $50,000 by the end of 2020 and is already a good way toward that goal. WGDR's website lays out its monthly operating costs, as well as expenses tied to the transformation, such as $6,000 in legal fees that come with the license transfer.
The new board consists of Joseph Gainza, former Vermont field secretary of the American Friends Service Committee and current head of Vermont Action for Peace; Jude Sargent, a longtime social justice activist (and co-owner of Pie-in-the-Sky Bed & Breakfast and Retreat); and Mark Michaelis, host of the station's long-running folk music program "Acoustic Harmony."
Despite the tight December 31 fundraising deadline, Gruen said in a video chat that donations have been rolling in and he's feeling optimistic. He explained that WGDR, though housed and previously funded by Goddard and grant money from the Corporation for Public Broadcasting, has always been primarily staffed and bolstered by community members, rather than the school's students. This differs from other Vermont college radio stations, such as the University of Vermont's WRUV-FM, which is staffed largely by UVMers.
"One of the things that makes WGDR so unique but also challenges it so much is that it's always been a two-headed hydra," Gruen said. "It's always had an obligation to be a necessity to its listenership in central Vermont and beyond — but also, off-air, how it can be valuable to Goddard's product, which is academic programs and enrollment."
Courtesy Of Wgdr
Kris Gruen
According to Gruen, social justice has long been a key tenet of WGDR, which will continue post-transition.
"[It's] rare for a media outlet of any kind to claim a bias like that," Gruen said.
Currently, WGDR offers a combination of locally produced shows and syndicated programs distributed by Pacifica Network. He noted the station's history of covering such topics as workers' rights, homelessness and LGBTQ issues. He pointed to the weekly show "Moccasin Tracks" as unique to Vermont airwaves. The program, which airs Mondays at 10 a.m. and Tuesdays at 4 p.m., is dedicated to perspectives germane to the Abenaki Nation and other Indigenous North American populations.
WGDR changing hands is a bigger deal than it may seem. Of course, a college losing its student-run radio station would be disappointing and detrimental in its own way. But, as I know from my own experiences deejaying on a couple of community stations in San Francisco, such outlets have irreplaceable value; they offer not just a platform to promote social justice but a much wider diversity of perspectives and formats than do commercial stations.
Community stations are true pipelines for the First Amendment, ensuring that regular people can take control of the airwaves, if only for an hour or two per week. And generally, such stations aren't beholden to the interests of advertisers or corporate underwriters. Additionally, terrestrial broadcasts are more financially accessible than internet-only stations: If you have a radio, you have free, around-the-clock access.
There's also less of a barrier to creating content. People who are still developing their skills can take the mic and tell their stories. Gruen conceded that because WGDR's programming is assembled by seasoned pros and novices alike, it sometimes "comes across as less careful." But, he added, "to our listenership, it feels extra-genuine and unguarded and raw.
"What's so important about this is that [WGDR] is a place where you can witness true public care for a community," Gruen continued. "It's citizen action through media. People ... want to improve their community, region, country and world so much."
Gruen Pains
While I'm on the subject of Gruen, he and I commiserated during the aforementioned video chat about a shared disappointment earlier in the year. Pre-pandemic, we both had planned to be in Copenhagen, Denmark, during the first week of April, I as a tourist and he as direct support for rock singer-songwriter Jesse Malin. Neither happened, and the timing of the world shutting down just weeks prior felt pretty cruel. I'm mostly over it now.
We were supposed to meet up at some sweet café or whatever, shoot the shit, and talk about Gruen's forthcoming album — which was pushed back because of the pandemic. For now, you should check out some of his recently released singles, such as the thigh-thumping "Nothing in the World," on Spotify.
Listening In
If I were a superhero, my superpower would be the ability to get songs stuck in other people's heads. Here are five songs that have been stuck in my head this week. May they also get stuck in yours.
Bryan Ferry, "Slave to Love"
Aztec Camera, "Good Morning Britain"
Tracey Ullman, "They Don't Know"
Will Keeper, "Queen"
Lipps, Inc., "The Gossip Song"
Correction, December 18, 2020: An earlier version of this story incorrectly stated Gruen's association with the new CVCR board. Though not a board member himself, he helped create it.