Lynguistic Civility
Last week, Burlington was abuzz over a feature published on the VICE music blog Noisey about the Burlington music scene called "Phorget Phish: Burlington, Vermont's Eclectic Scene Goes Way Beyond Jam Bands and Ice Cream." Written by Ray Padgett, who moved to Burlington in 2014 and has freelanced for the likes of SPIN and Mashable, it was an entertaining and informative piece that gave well-deserved national exposure to some of the best and brightest in our cozy li'l scene. But not everyone was happy about it. Namely, the local hip-hop community.
I was a source for that piece and was quoted on the diversity of styles in Vermont music at the moment. After quoting me on that, Padgett wrote the following: "[Bolles] went on to note some of the scene's most prominent genres; by the end he had listed just about any genre you could name, and he's not wrong (though I remain unconvinced the city is pulling its weight in hip-hop, perhaps a symptom of a broader issue: Vermont is the second whitest state in the country)."
(That sound you just heard was the needle scratching off of the turntables of every hip-hop DJ in Burlington.)
Unsurprisingly, Padgett's view on local hip-hop ruffled some feathers in the Queen City. So I emailed him for clarification.
"I have heard and seen a number of the bigger local hip-hop acts, and nothing has stood out to me," writes Padgett, who adds that he chose his words carefully in that particular section of the Noisey piece. He also points out that it was the only time in the piece he wrote in first person, which was meant to emphasize that his thoughts on local hip-hop were simply his opinion. "There is no doubt stuff I haven't heard — in that and every other genre — and obviously people's tastes differ," he continues. "The diversity of tastes and opinions is one thing that makes the Burlington music scene special, and I'm happy to be involved in the conversation, disagreements and all."
On that, at least, we can agree. Setting aside the thorny invocation of race as a reason to dismiss local hip-hop, I disagree with Padgett's assessment of the genre in Vermont. However, I don't find his take surprising. Though hip-hop has a long history in the state, it continues to face an uphill battle garnering respect from general audiences. And that's a shame. Because Vermont hip-hop has had worthy ambassadors dating back to Eye Oh You and Belizbeha in the 1990s, and later in the Loyalists, the Aztext and the VT Union. And the current crop of DJs, rappers and producers more than carry the torch. Take for example, the Lynguistic Civilians, who are not only Vermont's highest-profile hip-hop group at the moment, they're one of the state's most popular and talented bands in any genre. As it turns out, they're also among the most altruistic.
All month long, the LCs have been working to raise money for their forthcoming new album, Gratified Existence, and for the Vermont Foodbank. As is the fashion of the time, they're employing a crowdfunding campaign for the album. But 20 percent of that campaign is going directly to the Foodbank, with the ultimate goal being a $5,000 donation. Not only that, but 20 percent of the record's sales will also go to the same nonprofit, in perpetuity.
The LCs are also touring New England to support the foodbank under the banner Turning Music Into Food. They have three local shows this week: Wednesday, November 18, at Club Metronome in Burlington; Friday, November 20, at Positive Pie in Montpelier; and Saturday, November 21, at Olive Ridley's in Plattsburgh, N.Y. With help from Switchback Brewing, at each show the band is donating 100 percent of proceeds from a raffle called the Beirut Challenge. Which is exactly what it sounds like. You buy a Switchback to play the drinking game Beirut at an LCs show, the money goes to the Foodbank, and you win some cool schwag based on how many Solo cups you hit. See? It turns out your six and a half years in college was good for something after all.
The LCs are no strangers to charitable pursuits. For the past two years, they've run a similar fundraiser called the Tossin' Out Turkeys Tour, which benefitted the Chittenden Emergency Food Shelf.
"We're trying to make a bigger impact this year," says LCs MC Vermonty Burns. "The Foodbank supplies all the food shelves around, so it made sense to go right to them."
"That's what hip-hop is all about; giving back to the community," adds MC Walshie Steez. "We want to make sure that everybody gets fed."
"If you look at the numbers of people who struggle with hunger in Vermont, it's astounding," says Burns.
He's right. According to a 2014 study by the VT Foodbank and Feeding America, one in four Vermonters, an estimated 153,000 people, "turn to food shelves and meal-service programs to feed themselves and their families."
"Believe it or not, people want to be good," says Walsh. "They want to help out. They want to listen to music and have a good time. This is a way we can help people do both."
As for the album, it was recorded at and will be released by local imprint Future Fields. Last year, that label produced one of the best local hip-hop albums in recent memory, This Is How It Must Be, by the Precepts. That record was a live band collaboration of FF founders Jer Coons and Eric Maier, both of Madaila, and the Aztext's Learic. The LCs album will likely have a similar vibe, in that it was recorded with the group backed by a live band featuring members of Binger and Tar Iguana. It's also packed with a cavalcade of guest stars, including saxophonist Dave Grippo, vocalist Haley Fenn Ahearn, Eye Oh You rapper Konflik and members of Vermont's Maiden Voyage and Gang of Thieves. Also making a cameo are Masta Ace, Wordsworth and Stricklin from NYC's iconic underground hip-hop group eMC.
Those in need of convincing on Vermont hip-hop might do well to check out Gratified Existence when it's released on December 4.
BiteTorrent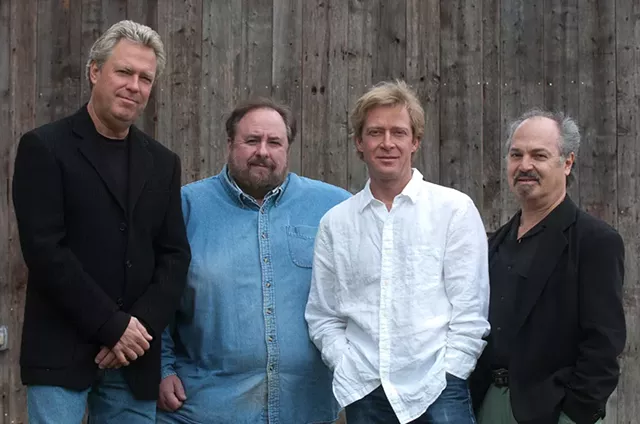 Moving on, Nectar's has been celebrating its 40th anniversary with special shows all year long. One such performance this Thursday, November 19, upstairs at Club Metronome might be the most special of all: the return of the Unknown Blues Band.
For the unfamiliar, the UBB was the backing band for Burlington blues icon Big Joe Burrell for 27 years, right up until his passing in 2005. Big Joe, of course, was immortalized with a statue on the top block of the Church Street Marketplace. The gig will see the band's original lineup of Chuck Eller, Paul Asbell, Tony Markellis and Lucas Adler reuniting for the first time in many years. That's exciting, of course. But it does leave open a rather important question: Who's gonna front the band?
Big Joe obviously left some equally big shoes to fill. So the UBB will rely on a collection of talented locals, including Dwight & Nicole, Dave Grippo and, according Eller, "Several of the Unknown Horns."
Last but not least, congrats to Natalie Miller and Nathan Hartswick, the first couple of local comedy. Their new comedy venue, the Vermont Comedy Club, opens on Wednesday, November 18, with the 2015 Vermont's Funniest Comedian contest, which runs through Saturday, November 21. And I, for one, couldn't be more excited about it.
Listening In
A peek at what was on my iPod, turntable, eight-track player, etc., this week.
Chastity Belt, Time to Go Home
Grave Babies, Holographic Violence
La Luz, Weirdo Shrine
Grimes, Art Angels
Shannon and the Clams, Gone by the Dawn