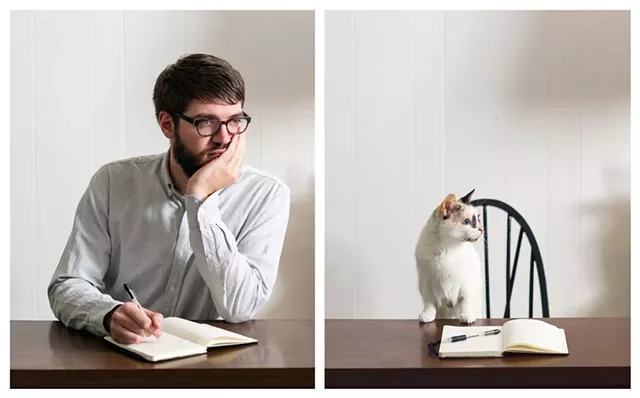 Courtesy of Lauren Mazzotta
Tyler Daniel Bean
Hello! Wow, only one word into this introduction and already I feel awkward. It's probably because I've never addressed an audience in this way. But I had better get used to it because, as you might have heard, I am the new music editor Seven Days. Nice to meet you.
I'm the fourth person in 21 years to hold this position — not including the paper's original music editor, Pamela Polston, who is also 7D's co-owner, cofounder, associate publisher and coeditor. I'm truly honored. My predecessor, Dan Bolles, held the position for nigh on a decade, so I have some pretty big shoes to fill. Actually, I've never gotten a good look at his feet, so it's possible I've got some slightly smaller shoes to cram my dogs into. Either way, it's a new era of Soundbites, and I'm excited. And terrified. Excerrified, actually, which is a new term I just coined, inspired by a new emotion I just discovered.
Before we get into this week's music news, here's a little about me: I'm a native Vermonter. I live for karaoke. I have experience in pirate radio and amateur musical theater. I've never been in a band, but I am a songwriter. I do not consider myself to be a music oracle. When I go to a concert, I'm in church. Music is my higher power.
I spent a big chunk of the 2000s and a smaller chunk of the 2010s living in San Francisco. I loved living in the Bay Area, but it changed profoundly throughout my time there. I'll put it this way: When I first moved to San Francisco, iPhones didn't exist. Enough said. After eight years on the left coast, Vermont's siren song called me back. And I'm so happy it did.
I encourage all of you to reach out to me with any questions, corrections, hot news tips, album submissions, newly released singles, music videos and anything else music-related — even if you think I wouldn't be interested. I may surprise you, and I look forward to working with you.
When I assumed this position, I was warned that January can be a slow month for area music happenings. I wasn't surprised, because the same can be said for most markets. People are tired, worn out from the holidays, focused on New Year's resolutions and just trying to get a grip on reality. It's as true for fans as it is for music makers. However, it seems that we're bucking tradition, because plenty of exciting things are brewing this week and throughout the month of January. Now, on to the news!
Mark and the Funky Bunch
Paul Reynolds Photography
Mark Daly
Madaila's Mark Daly is returning to form with a weekly solo residency — called "Where My Ladies At?" — every Wednesday in January at the Light Club Lamp Shop. If you recall, Daly performed as a solo artist before Madaila's inception, so he's no stranger to being the only one in the spotlight. Daly will perform covers of one legendary female artist every week.
Daly is known to sing in a somewhat girlish — er, I mean, super-duper manly — high falsetto. So, is it any wonder he's choosing to cover some of his favorite lady singers? His residency began last Wednesday, January 4, when he performed selections by Feist. On Wednesday, January 11, he takes on Erykah Badu. For the remainder of the residency, Daly will announce the artist he's covering at the beginning of each week. (Oh, sweet lord, let him choose Björk for one of them!)
The series is for a good cause, too. A portion of the proceeds collected at his shows will go to the local nonprofit Steps to End Domestic Violence — formerly known as Women Helping Battered Women. For more than 40 years, that organization has provided assistance and support for those who've experienced domestic violence.
Speaking of Madaila, did you happen to catch either of their year-end performances at the Higher Ground Ballroom? In Madaila tradition, the shows were given a title: "The Secret." Mystery is a surefire way to build buzz, and I had a few theories about what the band's secret might've been. But none turned out to be correct. (I was kind of expecting someone to get shot out of a cannon like the Great Gonzo.)
Two of the smaller reveals were custom digital projections from the local design firm Solidarity of Unbridled Labour during the shows and free Madaila bandanas for the first 100 people to enter the venue on New Year's Eve. But the big secret was something else.
Madaila opened their first set of the night on NYE with a song I didn't recognize. Then they played another song I didn't recognize. At first I thought they were playing covers and that I was painfully out of the loop. But then Daly announced that we had just heard a bit of brand-new material called Songs in C. Secret revealed! It was the first time the songs had been played live. They will likely be released as an EP at some point in 2017. Shoot it my way when you're done, boys.
BiteTorrent
Courtesy of Troy Acevedo
Sacha Robotti
Local master of doom and gloom Tyler Daniel Bean is holding an album release party on Friday, January 13, at Signal Kitchen in Burlington. It's the first time we'll get to hear his latest album, On Days Soon to Pass, live in its full glory. A number of guest musicians and frequent collaborators will join him, such as Shannon Stott-Rigsbee, Kevin Yando, Joe Cross, Dan Smith and Ian Senesac (CBRASNKE), and Steve Sharp (Vultures of Cult). Oh, and the show is free. There's an RSVP link on Signal Kitchen's website, so be a dear and let them know if you're planning to attend — they'd like to get a head count. Choke Up, Reservoir and locals Clever Girls open.
If Bean's brand of sad indie isn't your thing, check out a special happening over in Winooski at the Monkey House that same night: "Gone Country at the Monkey: A Tribute to Country Music." Hosted by Eastern Mountain Time's Sean Hood, the showcase sounds like it has the potential to become a popular recurring event.
Gone Country features a bunch of local bands, many of them specifically not country bands. But that's part of the fun! Each band will perform twangified versions of its own material, plus some country music covers, as well. Currently on the bill are Cam Will, Cricket Blue, DJ Disco Phantom, Erin Cassels-Brown, Joe Adler & the Rangers of Danger, Lily & the Baby, Parmelee, the Parts, Phil Yates & the Affiliates, Silver Bridget, SWALE and, of course, Eastern Mountain Time. (Disclosure: Parmelee's Bryan Parmelee is a 7D employee.)
Nexus Artist Management's long-running house music series, Sunday Night Mass, returns to Club Metronome on Sunday, January 15, with Belgian house master Sacha Robotti of Dirtybird Records. Originally a weekly series, then monthly, SNM will only occur a handful of times this year when major acts, such as Robotti, warrant. So jump on it!
Burlington's beloved used books and records store Speaking Volumes is moving ... across the street! Now that vintage clothing store Battery Street Jeans is slated to move to a new location on College Street, Speaking Volumes will pack up its records, books and gear and set up shop across Pine Street in BSJ's old space at 7 Marble Avenue. We're just glad that SV is staying in the South End. The shop will open its new digs sometime in February.
Finally, I'm putting out a call to any local bands and artists who would like to participate in a recurring feature for the music section, tentatively called "Touring Horror Stories." Do you have a particularly arduous story about something that happened to you while you were on the road? Want to talk about it? Get at me. There's nothing I love more than embarrassment, pain and emotional anguish — especially when enough time has passed that we can all laugh about it.