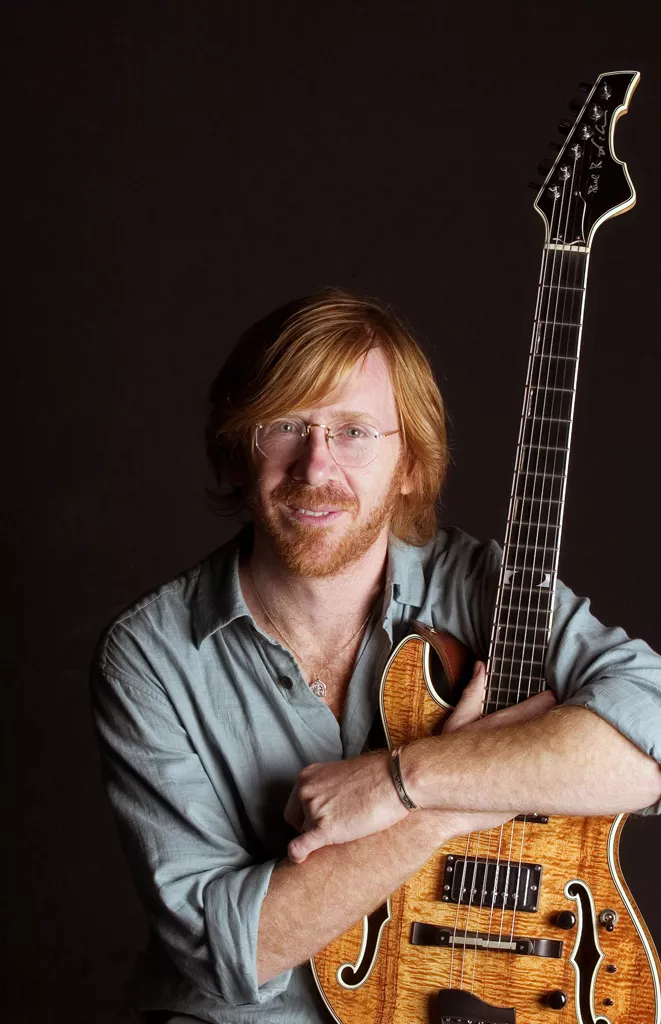 courtesy of Trey Anastasio
Trey Anastasio
There was big, big news for jam fans, local and beyond, last week. If you missed it, congrats on waking up from the coma you must have been in until just now.
Anyhoo, the four surviving members of the Grateful Dead — aka the Core Four — announced that they will reunite for what will very likely be the band's final performances ever. The shows, collectively dubbed "Fare Thee Well" after a line in the Dead classic "Brokedown Palace," will take place at Soldier Field in Chicago from July 3 to 5. These come almost 20 years to the day after the Dead's final performance with guitarist Jerry Garcia on July 9, 1995, also at Soldier Field. Garcia died exactly one month later, on August 9, 1995.
By itself, a final Dead reunion is monumental news, even historic. What makes the announcement even grander is how the band plans to deal with the absence of its most iconic member.
Two words: hologram Jerry.
OK, fine. I'm kidding. (And props to our old pal Mia "the Club Goddess" Sladyk for beating me to that joke on Facebook last week. Great gingers think alike.) The real solution, and the local hook, is that Phish icon — and fellow ginger — Trey Anastasio will stand in for Captain Trips. (That sound you're hearing is the collective "Duuuuuuuuuuuuuuude!" exhaling from the giddy local jam community.)
This might surprise longtime readers familiar with my distaste for seaphood, but I think this is patently fucking amazing.
Phish fans, in particular, have long bristled at the Dead and Phish being lumped together under one tie-dyed umbrella. And they have a point. The two bands share little in common, musically, aside from a predilection for heady improvisation. Those who dismiss them as two sides of the same musical dime (bag) display a willful ignorance toward both bands. (I confess I've probably been guilty of that transgression at certain points over the years.)
Of course, what inextricably links the two bands is the cultural phenomenon both became. For many, following either band transcended mere fandom and became a lifestyle choice. That's a sociological condition Phish inherited from the Dead. You could argue Phish wouldn't be Phish without the cultural framework the Dead and their fans created. To invite Trey to close the final chapter of the Dead's career is an acknowledgment of that shared lineage and, in some ways, a belated passing of the torch. And that's pretty cool.
It's also worth noting that there is really no obvious heir apparent to Phish. Granted, even after 30-plus years, the band shows no signs of slowing down anytime soon. But someday they, too, will play their final pharewell. Who picks up the jam-band mantle or when is anyone's guess. It's possible, or even likely, that no one does, which places even more historical importance on the Dead-Trey union.
Also interesting (albeit maybe only to me): Keyboardist Bruce Hornsby, who played with the Dead a bunch in the 1980s and '90s, will be on hand in Chicago — as will RatDog's Jeff Chimenti, BTW. I mention that only because it's a chance to bring up one of my favorite random rock-star anecdotes.
Hornsby is tight with Windham Hill Records founder and reluctant New-Age-music paragon Will Ackerman, whom I wrote about last year. The two used to play pickup basketball together and, apparently, Hornsby is a capital-b Baller.
"You always wanted him on your team in pickup games," Ackerman told me of Hornsby's b-ball prowess. "Otherwise he was gonna reverse dunk on you."
Jam on, indeed.
Gotcha Covered
Even in the age of Obamacare and whatever the hell it is we're doing, or not doing, about health care in Vermont, ensuring that musicians are properly insured is an uphill battle. That's hardly news. For a variety of reasons — inconsistent to nonexistent incomes, the fact that many working musicians are young and feel they don't need health insurance, etc. — musicians have long been a decidedly underinsured segment of the population. And that's a recipe for tragedy.
A famous recent example is late Big Star front man Alex Chilton. Chilton died of a heart attack in 2010. Even though he'd reported ominous symptoms to friends and family in the weeks prior to his death, he never sought medical attention. Why? Because he had no health insurance.
Courtesy Of Friends For A-dog
Andy Williams
While it's impossible to say for certain that Chilton would be alive today if he'd had insurance and thus more freedom to seek help, it's reasonable to wonder if easier access to preventative care might have saved his life. To bring the point closer to home, when Andy Williams — aka DJ A-Dog — was diagnosed with leukemia in 2012, he was woefully underinsured. I can't speculate on whether more comprehensive coverage would have made a difference in Williams' case — he passed away in late 2013. But it's safe to say better insurance wouldn't have hurt. Also, we miss ya, Andy.
The point is, this stuff is important. Fortunately, access to health insurance has never been easier. The trick, especially where musicians are concerned — for all their other talents, artists tend not to be great at logistical minutiae — is educating people on how it works. I won't pretend to have the facility to do that — see the opening line of this segment. But I can point you toward people who can.
On Wednesday, January 28, at the Community Health Centers of Burlington, MusiCares will present its Every Artist Insured! workshop. For the uninitiated, MusicCares is an organization founded by the Recording Academy — those are the people who bring you the Grammy Awards, BTW — to serve as "a safety net of critical assistance for music people in times of need." In this case, that means helping musicians navigate the ins and outs of getting health insurance.
MusicCares reps will discuss topics ranging from the cost of health insurance to whether you might be eligible for subsidies to just about anything else you'd want to know. Oh, and it's free. For more info, visit grammy.org.
Going Home With Fattie B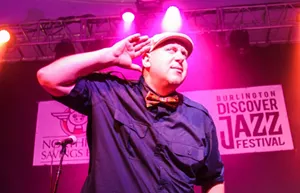 Courtesy Of Kyle Thompson
Kyle Thompson
Last but not least, I've been meaning to pass this tidbit along for a few weeks now. Just before Christmas, local DJ Fattie B — aka Kyle Thompson — gave locals a generous gift: a series of mixtapes made by other local DJs called "Back 2 My Place."
The concept was to give fans a glimpse at what DJs listen to as they unwind after a long night catering to the tastes of total strangers. It's no surprise that mixtapes curated by the likes of Luis Calderin, Zack Johnson, Jahson, Rekkon and Cre8 — to name a few — would make for required listening. What is surprising is the wide array of personal tastes on display.
For example, raise your hand if you would have guessed a club DJ like Mashtodon would chill to cuts by the Steve Miller Band, Bad Company and Phil Collins. Or that veteran house DJ Tricky Pat has such an affinity for Air and Herbie Hancock. Or that Big Dog's taste in reggae is rivaled only by his taste in classic soul. Or that Craig Mitchell reeeeally likes Prince.
OK, fine. No one is surprised by that last one. But as these 15 mixes once again demonstrate, DJs, regardless of their chosen styles, are among the most deeply knowledgeable music fans on the planet — it's something of an occupational requirement. So a chance to peek at the personal stacks of some of the area's finest is quite the gift indeed.
You can check out the whole series, for free, at mixcrate.com/fbee. And I highly recommend that you do. Also, look for another installment of the series later in the year.
Listening In
A peek at what was on my iPod, turntable, eight-track player, etc., this week.
BC Camplight,How to Die in the North
Justin Townes Earle,Absent Fathers
Guster,Evermotion
Mogwai,Music Industry 3. Fitness Industry 1.
Tom Waits,Nighthawks at the Diner
The original print version of this article was headlined "Not Dead Yet"